A REVIEW COPY OF THE STONE HEART WAS PROVIDED BY THE PUBLISHER IN EXCHANGE FOR A FAIR AND HONEST REVIEW. NERDOPHILES WAS NOT COMPENSATED FOR THIS REVIEW. OUR OPINIONS ARE OURS AND OURS ALONE.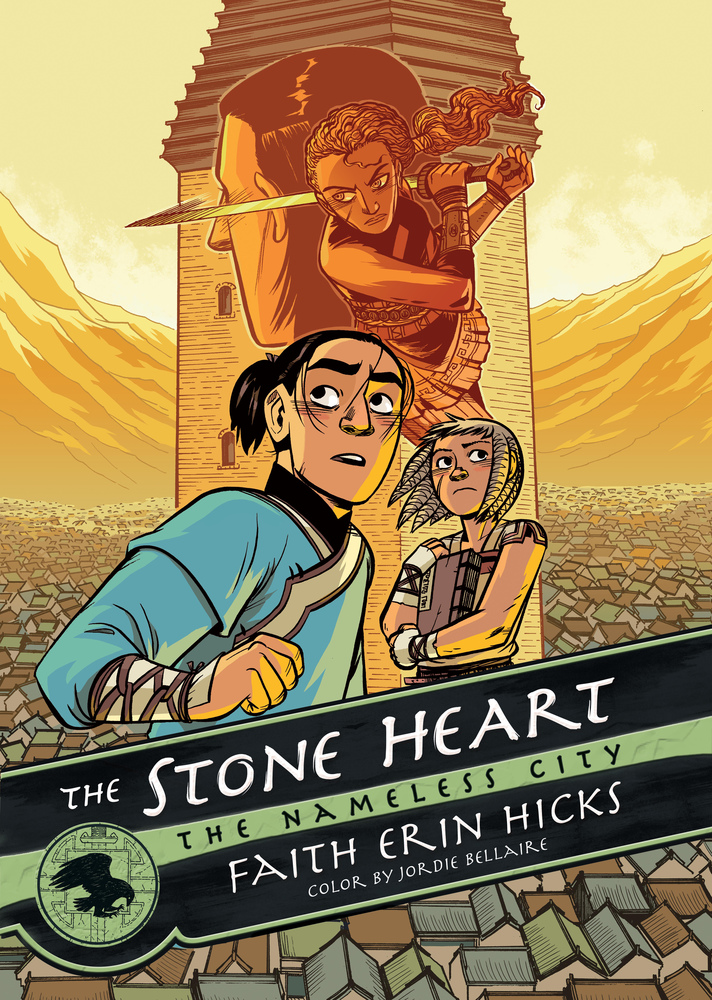 Author: Faith Erin Hicks
Release Date: April 4, 2017
Publisher: First Second
Review Spoilers: Low
GoodReads | Amazon

When
The Nameless City
came out last year we were completely and
totally enamored
with the characters and story. It even topped our
best graphic novels of 2016 list
! So you can probably understand, then, why
The Stone Heart
– the second book in a planned trilogy – was one of our most anticipated graphic novel releases of this year. After how much I loved
The Nameless City
I was a little nervous about how the second book would hold up. But while the first book will always be my favorite,
The Stone Heart
is a really great read that sets up what promises to be an epic finale.
At the end of The Nameless City, Rat and Kai have become heroes after stopping assassins from killing the Dao emperor and his son. In doing so, Rat proves the value of the city's unnamed native population and they inspire the emperor to embrace the idea of a multinational city council.
When we catch up to Rat and Kai in The Stone Heart they have begun to ease back into their daily lives. Rat splits her time between the monks' temple (the titular Stone Heart) and hanging out with Kai while Kai continues his training to become a Dao warrior. They watch from the sidelines as Kai's father and the emperor reach out to the neighboring nations and try to make their council work. But while Rat and Kai are all for it, the same can't be said of everyone else and some people end up making some very devastating decisions.
By the end of the book, everything has changed and Rat and Kai may once again be the only hope the empire – and the city – might have for survival.
In true trilogy fashion, we're left with an Empire Strikes Back-style cliffhanger wondering what will happen next. One of the best things about The Nameless City was that it was it's own, complete story. If there had never been any other books in the series the ending would have been more than satisfying. Unfortunately, while The Stone Heart is full of amazing revelations, dramatic events, and a handful of great new characters, it's only half of a story.
The next book is going to have to pick up immediately after this one ended, meaning it's going to be a while before we get to see how the story ends. Still, it's definitely worth reading now if you're not afraid of the wait. Because along the way to a very dramatic cliffhanger ending, we learn a lot more about our two heroes as well as many of the other characters in the series.
We find out how Rat came to be an orphan and we meet some of her other friends who live in the city. Kai shares with her how his parents met and we discover a bit more about his father, Andren, and his background. Joah and Mura, too, see their histories revealed – and through them we start to unravel some of the secrets of the monks' order and the original founders of the city.
By developing characters further and revealing some of these secrets, we find a lot of great potential moving into the third book. Faith Erin Hicks is an amazing storyteller and artist – so no matter what comes next I'm sure it'll be amazing. It's just a little frustrating to have The Stone Heart end when it does because you're left with so many questions – not to mention worries about Rat and Kai! But, if we're being honest, that's just a testament to what Faith Erin Hicks has done with this series. You care about the characters. You care about the fate of their world.
So, if you have read The Nameless City then you need to read The Stone Heart. And if you haven't read either of them, you need to read them! This is one of my favorite graphic novel series and I'm sure it will remain one of my favorites for many years to come.