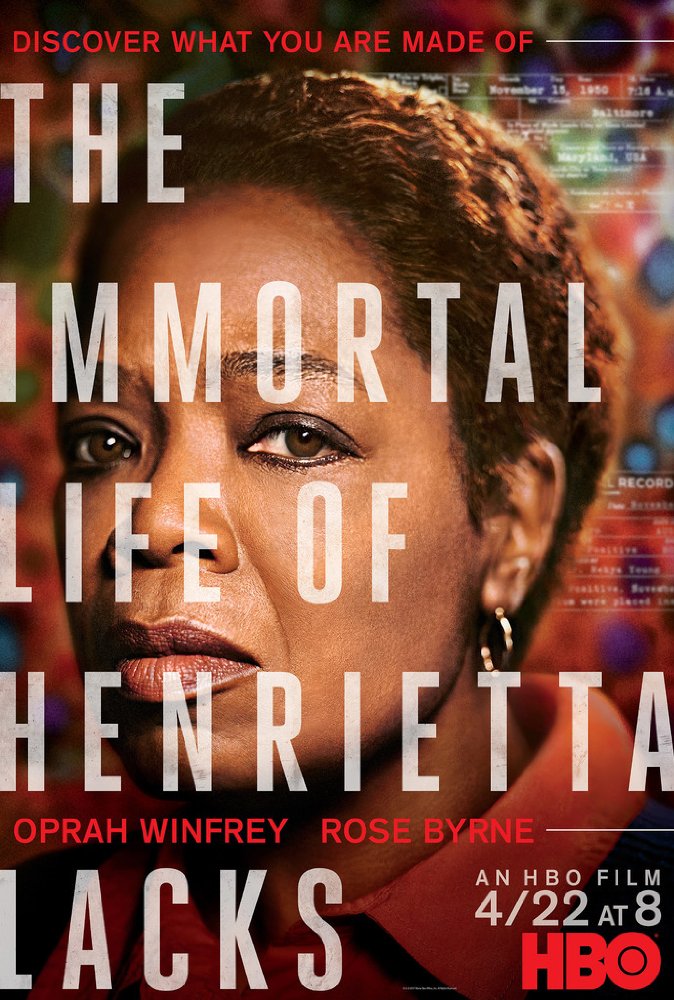 Source Material: The Immortal Life of Henrietta Lacks novel by Rebecca Skloot
Director & Writer: George C. Wolfe
Cast: Oprah Winfrey, Rose Byrne, Renée Elise Goldsberry, Courtney B. Vance, Reg E. Cathey, Ruben Santiago-Hudson, Leslie Uggams

IMDB | RT | Wikipedia
The story of Henrietta Lacks and her immortal cell line is a story of one of the most fascinating scientific discoveries entwined with staggering ethics violations. It is the story of how a black woman's cervical cancer cells were collected and used to produce the first line of 'immortal' cells that could reproduce outside of a host indefinitely. Those cells were at the center of staggering scientific breakthroughs in cell culture and genetics (e.g. the polio vaccine), but Henrietta never gave consent to their collection or their use in research. Furthermore, it is the story of how she and her family were never compensated for her cells, even though they are sold to researchers.
The Immortal Life of Henrietta Lacks as an HBO movie is the story of a white woman telling the story of a black woman's (and her family's) mistreatment at the hands of white, male medical researchers in the mid-20th century.
What's the difference? Well, the movie feels exploitative.
My main problem with this telling is that it turns into a movie more about the reporter than the reporter's subject. I haven't read the book, but from my understanding, it focuses more on the historical narrative of Henrietta's story and significantly less on Rebecca's feelings and experiences while researching Henrietta's story.
In comparison, the movie shows us Rebecca's journey researching Henrietta Lacks, following her challenges and her journey while interviewing Henrietta's family. While the movie tries to shift this narrative to tell the story of Deborah Lacks, Henrietta's mentally-ill daughter who struggles to connect with the mother she never knew, it never quite pivots away from viewing the Lacks' story in relation to Rebecca.
Unethical medical experimentation on vulnerable populations has long been a part of the shadowy, shameful passages of science history. From forced sterilization of minority women to the Tuskegee Syphilis Study, we need to be reminded that scientific discovery has been fueled by marginalized populations.
The problem isn't telling the story of Henrietta Lacks and her eponymous immortal cells – we need more stories about the people in the margins of science textbooks whose contributions aren't acknowledged. We need more stories about the collateral consequences of ethics violations to show young scientists how we owe human subjects respect and dignity. We need to tell the stories of people whose lives and stories were ignored and appropriated in the pursuit of a 'noble' goal so that we do not repeat our shameful past. This is why we should be talking about Henrietta Lacks.
This is also why we don't need is Rose Byrne as Rebecca Skloot inserting herself into her family's narrative.
I'm more disappointed than upset at this movie because it had so much potential. From the science of cell culture to the social science of lab culture to the history of human research to the history of Henrietta's life, this movie could have gone so much deeper into an exploration of power dynamics, race, mortality, and morality.
It hits poignancy the few times it depicts Henrietta Lacks as a dying woman with a young family, but then it misdirects that energy in strange directions, veering into a scene depicting violent rape and the mystery surrounding Henrietta's institutionalized daughter, without bringing the audience back to any sort of meaningful lesson about authority, race, family, or any number of other themes to weave the stories together. Ultimately, the movie left me feeling like Henrietta's story wasn't done justice.