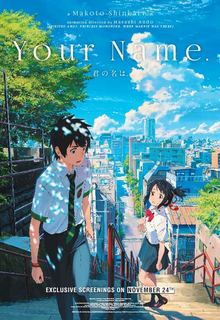 Release Date: April 7, 2017 (US)
Cast: Ryunosuke Kamiki, Mone Kamishiraishi, Masami Nagasawa, Etsuko Ichihara, Aoi Yūki (JP)
Director: Makoto Shinkai
Studio: CoMix Wave Films
Distributor: Funimation (US)
Review Spoilers: Low

You go to sleep.
An alarm goes off, it's morning, but in a room you've never seen before. You realize as you wake up – you're in a strange body, someone else's (you must be dreaming). You are a boy but… definitely a girl's body. Hilarity ensues, but the dream continues. All the while, that girl is having the same dream about you – and then you're both back… Wait, what was that dream about, or who?
Then it happens again.
Your Name. is a fantasy focusing on two teenagers, unlikely ever to meet. A city boy and a small town girl, they lead very separate lives, and very different lifestyles. Which is a problem, more than it first seemed. It's a surprisingly dull title that might give too much away, if the movie weren't equally surprisingly complex and eloquent.
A Capstone Production
Your Name. hits like an even more potent romantic concoction of temporal longing (as from Voices of a Distant Star) and beautiful cinematics (as from 5 Centimeters Per Second) that have become Makoto Shinkai's hallmarks. However, unlike in his previous films focusing fully on star-crossed lovers, new elements are added to that formula that are reminiscent of instant classics like Spirited Away. In fact it now is the second largest grossing domestic film in Japan, behind Spirited Away.
Family, community, and Japanese tradition take turns on centerstage and never get completely overshadowed. A charming juxtaposition of rural and metropolitan life gives way, slowly and then suddenly, into a deep dive mysticism of soul and connection.
Interestingly, these locations are what distinctly grounds the viewer, setting the movie apart from it's spiritual predecessors because it takes place on Earth in present times. Shinkai finds a way to fold his visually stunning stellar and cosmic backdrops into a common celestial happening.
Then the story shines with a weave of time and fate that is unique and magical. While the comedy and drama that unfolds keeps a tempo not unlike The Girl Who Leapt Through Time, ultimately this movie maintains perfect focus on both the body-swapping dynamic duo and the world that surrounds them. That holistic framing is engrossing, the visuals are at times breathtaking or dripping with style, and the romantic heartstrings are tugged with a practiced perfection. So much so, that I was white-knuckled clenching my fists when it came to the last minutes of the film.
Not that you asked, but subbed or dubbed?
This movie is available both subtitled or dubbed, and when it comes to which is better, most viewers already know their preference. If you aren't sure, I highly recommend seeing it in Japanese if you don't strongly dislike subtitles.
I saw both versions but I decided to go against my preference and saw the English dub first. Something is lost in translation in the dub, such as jokes that are unique to Japanese linguistics and awkwardly improvised in English. One critical plot point becomes ambiguous in the dub, and others are at least muddled as well.
I would take a full point off the film rating for the English translation but if you hate subs don't let that discourage you because it's still well worth seeing. Don't take my word for it, I'm convinced these missteps are responsible for some of the criticism in English reviews (though they overwhelmingly conclude the movie was positively entertaining). Also, the Japanese band Radwimps, who are responsible for a big part of the soundtrack performs their beautiful music in unaccented English lyrics for the dub. It's a real nice touch for English only viewers.
Final Thoughts
All told, this is a thoroughly stunning and provocative experience. Fans of the other films mentioned here will find more to enjoy with new style and greater emotional intensity, and the uninitiated should be pleasantly delighted to be introduced to it.


Ross Bennett is a guest contributor. Ross is a hopeless gamer, sickening romantic, full time Anime lover, and working way too hard. You'll find him going coast to coast, alternating catch phrases between "Trust me, I'm an Engineer" and "Hold my beer." Occasionally, he writes things. This is his first contribution to Nerdophiles.