It's here, it's here! After teaser visuals made their way around the web throughout early March, a trailer for Kentarō Hagiwara's live-action adaptation of the popular Tokyo Ghoul anime series was released today. And dare I say, consider my hopes high. It's a short trailer, but the live-action stars look almost indistinguishable to their animated counterparts and the slight peeks we've gotten at the costumes have earned my seal of approval, for now that is.
Tokyo Ghoul is an anime series that began airing from July 2014 and concluded in September 2014, with a second season that ran from January 2015 to March 2015. It was released by Studio Pierrot, which brought us cult hits such as Naruto and Bleach, among others.
Originally adapted from a manga series of the same title by Sui Ishida, the series revolves around a young man who refuses to embrace his newfound monster-hood in a world where occasionally carnivorous semi-humans called "ghouls" live hidden among humans in society. After becoming a ghoul and developing an excruciating hunger solely for human flesh, Ken Kaneki is shunted into an unfamiliar world with no choice other than to reluctantly let it devour him.
On that note, let's take a look at the roster.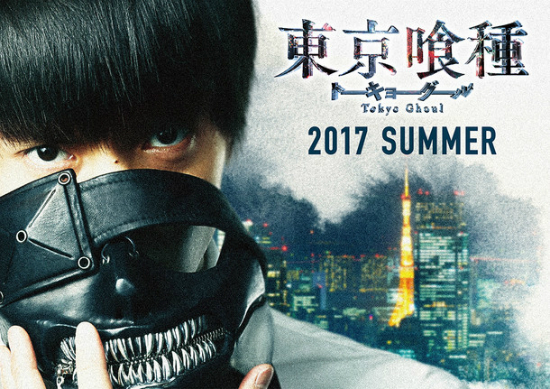 Can't really see his face, I know. In most cases I'd be right by your side brandishing my torch and sharpening my pitch fork. Yet in this case, we've got a good look at the iconic mask from the series and while it's not perfect, it's far from insufficient.
This isn't Masataka Kubota's first performance in the realm of live-action adaptation either and he has fulfilled several of said roles, so I have faith in a possible performance that doesn't reduce the source material to a pile of smoldering ash.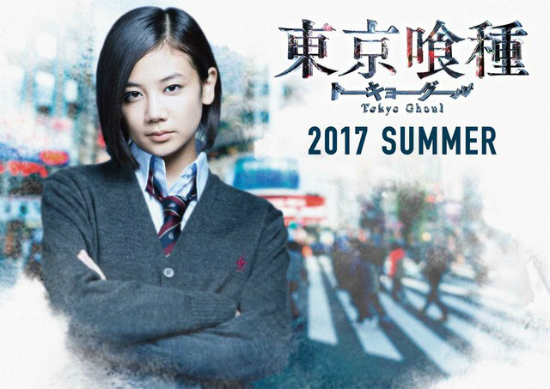 Fumika Shimizu plays the role of Tōka Kirishima. Another veteran to live-action anime adaptations, Shimizu's unreliable status as the film's costar has caused significant production issues along the way.
While on the one hand Shimizu has shown arguable dedication to the role so far by cutting her long hair down to one foot for the first time in over a decade, on the other hand she claimed in early 2017 that she would retire from the entertainment industry to join a religious organization. It goes by the name of Happy Science and many have referred to it as a cult.
However, the film has been given an official release date and the release of the first trailer, although short, is reason to believe Shimizu is still on the project. That, along with the fact that there has been absolutely no updates on her career decision for over a month. Check it out.
July 29, 2017 is when the film officially hits theaters across Japan. I know, for many of us, that's nowhere near our backyard, so it'll be a while before it becomes available to the international mediascape.
Final Thoughts: Succinct and sweet, with vague hints of what's to come. I was not blown away by this trailer, but I have been intrigued and if the film heads in the same direction then it could be magnificent.