A REVIEW COPY OF SEVEN SURRENDERS WAS PROVIDED BY THE PUBLISHER IN EXCHANGE FOR A FAIR AND HONEST REVIEW. NERDOPHILES WAS NOT COMPENSATED FOR THIS REVIEW. OUR OPINIONS ARE OURS AND OURS ALONE.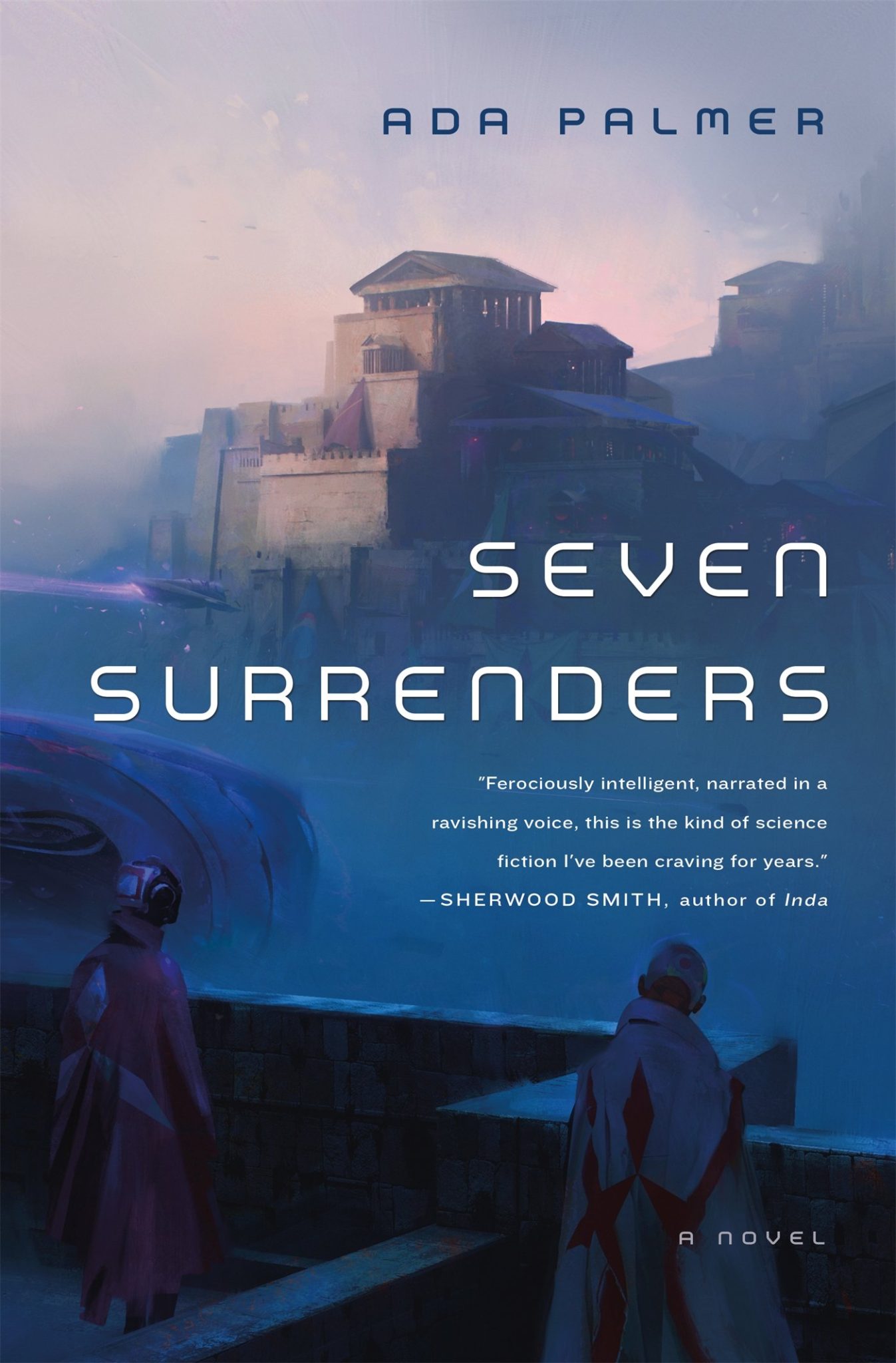 Author: Ada Palmer
Release Date: March 7, 2017
Publisher: Tor Books
Series: Terra Ignota #2
Review Spoilers: Low
GoodReads | Amazon

Last year I fell in love with a book called
Too Like the Lightning
. It was an amazingly unique debut novel from author Ada Palmer and it absolutely blew me away. The way she crafted her futuristic vision of our world was masterfully done. The fact that she then introduced us to this world and it's characters in a prose reminiscent of eighteenth century novelists was just wholly impressive.
Too Like the Lightning
more than earned it's spot on
our list of favorites books from last year
and
Seven Surrenders
is on track to rank highly on this year's list. As much as I loved
Too Like the Lightning
, I can very earnestly say that
Seven Surrenders
is an even better book.
Seven Surrenders picks up right where Too Like the Lighting ended and every problem I had with the first novel as far as pacing went is long forgotten within just the first few chapters of this one. It is clear from the beginning that this is going to be a much faster paced book and that understanding never changes.
Too Like the Lightning set the stage for this book in such a way that the story felt incomplete by the end. And that's because it basically was. Much of the book was spent introducing us to characters and to the future the author had envisioned.
Seven Surrenders takes that foundation the first book built up and rushes ahead at full speed. From start to end, things are happening. Big things. World-altering things.
All the political and social upheaval alluded to and built up throughout Too Like the Lightning comes to a head – and with devastating consequences for everyone involved. Characters that we came to know become very different individuals. Secrets come out that shatter not only these characters and their lives but whole Hives and the lives of everyone in the world. I'm not kidding when I say that everything in the world that Ada Palmer so masterfully created comes crashing down around Mycroft Canner, Bridger, and everyone else.
Our understanding not just of the world but the characters change, too. Pronouns that were assigned to individuals in Took Like the Lightning change fluidly (as this is a world in which pronouns are effectively meaningless and the narrator uses them only for our benefit). What people know about themselves and their families, their bashes, and their Hives becomes entirely altered. We learn more about everyone's pasts and the things they've kept from one another.
Some secrets are so devastating that as a reader my jaw dropped just to read them.
One of the things I enjoyed most about Seven Surrenders was that we see Bridger fully come into his own – for better or worse. I thought that the moments with him and his toy companions were too limited in the last book. While the political and social intrigue were interesting, at least in the first book they weren't really what captured my attention. I was glad to see that this book focused more on his growth and abilities and how he might come to change the world.
Now, as much as I love this series I will freely admit that it's a difficult read. The stylistic choice made by the author is part of what makes this series so amazing – but it's also something that can turn off prospective readers. It's also a pretty heavy read. Palmer's future has a lot to stay about religion, gender, politics, and more.
Still, the Terra Ignota series is one of the most rewarding series I've come across in a long time. It's a challenging read that leaves you feeling accomplished at the end. And the story is so unique and well-written that you're left hankering for the next installment before you're even finished with the book you're currently reading. The good thing for all of us, though, is that I was incorrect in stating in my last review that this was a duology. It's in fact a four-part series and the third book, The Will to Battle, is tentatively set to be released in December. (Though, the first two books are separately connected according to narrator Mycroft himself.)
If you haven't checked out Too Like the Lightning, I recommend you start there. And, if you have, you need to read Seven Surrenders as soon as possible!