A REVIEW COPY OF MOANA ON BLU-RAY COMBO PACK WAS PROVIDED BY DISNEY AND FINGERPAINT MARKETING IN EXCHANGE FOR A FAIR AND HONEST REVIEW. NERDOPHILES WAS NOT COMPENSATED FOR THIS REVIEW. OUR OPINIONS ARE OURS AND OURS ALONE.


Moana (Blu-Ray)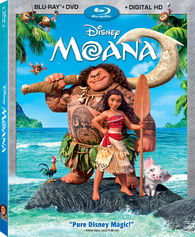 Release Date: March 7, 2017
Cast: Auli'i Cravalho, Dwayne Johnson, Rachel House, Temuera Morrison, Jemaine Clement, Nichole Scherzinger, Alan Tudyk
Director: Ron Clements and John Musker
Studio: Walt Disney Animation Studios
Distributor: Walt Disney Studios
Extra Feature Rating: ★★★★★
Rating: ★★★★★
Review Spoilers: Mild
Amazon | IMDB | Wikipedia | Rotten Tomatoes
One of our favorite films of the year, Moana is an incredible new story from the creative minds over at Disney about one girl's epic journey to save the world. As much as I love Zootopia, I honestly think that I think Moana was robbed at the Academy Awards last week. Moana embraces the Pacific Islander culture and mythology to create a wholly unique story that stands apart from anything else Disney has done up to this point.
The film takes the traditional story of the Disney princess and turns it on it's head – at times poking fun at the idea of the stereotypical Disney princess off on her first adventure. Moana makes it clear several times that she is not a princess but the future chief and leader of her people on their small, Pacific island home. She's a capable character and while her parents are protective and determined keep her at home never try to resign her to any more feminine expectations. From birth she is destined to be the next chief and much like Elsa's ascension to queen in Frozen it's a refreshing reminder that women can be leaders and monarchs, too.
Though her people have learned to fear the ocean over the years, Moana embraces her people's legacy as navigators to embark on an incredibly journey. After being chosen by the ocean to restore order to the world, Moana embarks on a search for the demigod Maui who years prior cursed the world by stealing the Heart of Te Fiti. Over the course of her adventure she finds Maui, encounters strange coconut pirates, learns to navigate the vast ocean like her ancestors, and more.
It's an incredibly inspiring film and Moana's story moved me to tears more than once. You can read our full review here.
What makes this film so great is just how important it was to the filmmakers to do the culture that inspired the story. The amount of care and research that went into portraying Moana as authentically as possible seems evident in every costume, scene, character, and song. Moana's story is accompanied by an amazing score and selection of original songs presented not just in English but in the native languages of the singers they enlisted for the film.
I can't recommend this film enough. And as unique as the story is, it's hard to consider any Disney film without looking back at the company's decades long collection of beloved classics. Fans of Frozen, Brave, and Tangled will love Disney's latest story about an industrious young woman and fans of Hercules will appreciate the look at a new pantheon of mythological characters.
Special Features
Now, while we make it a point to watch and review the special features of every Disney film, I don't think that the special features in any of the other films we've reviewed have moved me to tears the way Voice of the Islands did. The special features on this home blu-ray release are pretty amazing. But Voices of the Islands is particularly moving – not just to viewers but to the numerous native Pacific Islanders who were consulted throughout the creation of Moana.
Voice of the Islands is an extensive featurette that explores the creation of Moana. From the very first rough pitch for a film about a Polynesian princess, Disney wad dedicated to making the film as authentic as possible. They spent five years from 2011 to 2016 traveling the South Pacific islands from Tahiti to New Zealand trying to learn everything they could about the cultures they were hoping to portray. The things they learned about the history of the great Polynesian migration across the region and the peoples' rich history of navigation inspired Moana's own story.
One of the most moving quotes that is shared in Voice of the Islands is this quote from a community elder that the Disney team met: "For years we've been swallowed by your culture… One time can you be swallowed by our culture?"
And that's really what Disney seems to try and do with Moana.
They formed their own "Oceanic Story Trust" full of community leaders, historians, anthropolgicsts and others to help keep Moana's story authentic. Throughout Voice of the Islands you meet these people and see their contributions to the film. From guiding the development of Maui's character design to pointing out scenes that simply wouldn't happen in their culture, they poured their hearts into Moana. One of the women they interview even served as the hair model for Moana, allowing animators to take notes and sketch the movement of her hair in any number of poses and states. The filmmakers even made sure to cast actors and actresses of Pacific Islanders descent, letting them help tell peoples' own story.
It's incredible how much these efforts ended up meaning to the native Pacific Islanders who helped with the cultural development of the film. Several of them end up crying towards the end of the featurette because representation is important. Western culture is a huge threat to native cultures and for once these cultures get the chance to see themselves represented on the big screen. If you've ever doubted just how much that means to people, watch Voice of the Islands.
There are a few other special features that focuse on the film's development. Island Fashion is a special feature primarily about designing costumes fro the various characters in Moana. Meanwhile The Elements Of… are a series of short videos about the animation challenges of the film. From bringing the Ocean to life as a character in it's own right to animating the 2D mini-Maui character on top of a 3D rendered character, they do some pretty amazing things – many that no one had ever done before in any previous Disney films. They Know the Way: Making the Music of Moana is another really great featurette. It follows Opetaia Foa'i, Lin-Manuel Miranda, and Mark Mancina as they develop the songs for Moana.
The Moana blu-ray includes some fun little special features, too. Things You Didn't Know… is a set of videos where interviewers ask random, rapid fire questions of the actors, filmmakers, songwriters. They range from questions about what they ate for breakfast to their favorite Disney songs and more. (One Day My Prince Will Come is a common answer to the latter.) There's also Fishing for Easter Eggs which points out some of the film's Easter eggs including a Baymax shout-out, a cameo from Sven, and an incredible number of Disney references hidden in the tapa clothes throughout the film. And there are two special version of "How Far I'll Go" included. One is a music video for Alessia Cara's version that plays during the credits and the other is a mash-up of the song sung in a wide variety of languages into which it has been translated.
If you like deleted scenes, you're in luck. The Moana blu-ray is full of things that were ultimately cut from the film. There are seven deleted scenes included and a deleted song – "Warrior Face," inspired by the traditional haka. (The "Warrior Face" song included included on the blu-ray was apparently recorded in Lin-Manuel Miranda's dressing room with Hamilton actors which is pretty cool.) As far st he deleted scenes go, most of them are just storyboards with some scenes looking rougher than others. Through these deleted scenes you learn that Moana once had six older brothers (and was treated more like the stereotypical, sheltered princess). You also get to see her meet Pua and sail between islands in a version where her people traveled between a few nearby islands.
Now, what about that film that played before Moana in theatres?
Inner Workings is a film by Leo Matsuda, a young director of Japanese heritage who grew up in Brazil. The film follows a character who seems to be semi-autobiographical in a way. He's a hardworking office worker whose head tells him to work hard but whose heart and soul yearn for something more. The short focuses on him trying to balance those desires. It's a cute film with a good message but it's one of the more adult-oriented Disney shorts I've seen lately. Adults will understand the constant battle between the head and the heart. Kids might not. Luckily, there's a short included for the kiddos. The Maui Mini-Movie: Gone Fishing is a silly little short featuring Maui facing off against the ocean in an attempt to catch a fish.
Final Thoughts
I loved Moana and thought the story was absolutely phenomenal. Girl's deserve kick-ass role models and Moana is nothing short of amazing. She takes the fate of not just her own island but the world into her own hands and that's a truly wonderful thing. I can't wait to see little girls dressed up as Moana for years to come. While our full film review is a little critical of the songs I disagree. I have had the soundtrack on repeat over on Spotify for days now. And I'll have it on repeat for probably weeks to come – and you probably will, too!
Moana is available now on blu-ray combo pack, DVD, and digital HD.