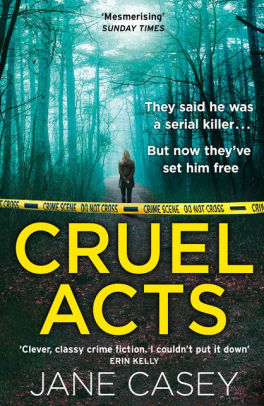 Title: Cruel Acts
Author: Jane Casey
Pub. Date: April 15, 2019
Publisher: HarperCollins Publishers
Pages: 369
Formats: Hardcover, Paperback, eBook
Find it: Goodreads, Amazon, B&N
Synopsis
Leo Stone is a killer. A year ago, he was convicted of murdering two women and sentenced to life without parole. But now, a juror from his trial has revealed the jury was prejudiced, and a retrial is called.
Detectives Maeve Kerrigan and Josh Derwent are tasked with re-examining the evidence. Before long, they uncover links between Stone and a possible third victim.
But with Stone behind bars, a fourth woman disappears in similar circumstances. Is there a copycat killer out there, or have they been wrong about Stone from the start? And will Maeve discover the truth before another innocent victim is killed?
Review
I've been in a mystery mood lately, and Cruel Acts scratched that itch.
Cruel Acts is the 8th book in a police procedural series helmed by the meticulous female detective, Maeve Kerrigan. Though it's the 8th in the series, it functions as a stand-alone book. Even though I haven't read any books in the series, I didn't feel lost at all when I picked up Cruel Acts.
When a serial killer dubbed "The White Knight," for his penchant to rescue and then capture young female victims in distress, is released from prison on a technicality, Maeve Kerrigan and her partner, Josh Derwent, must re-examine the evidence to put him back behind bars.
After a new girl goes missing, Kerrigan investigates whether a copycat is in play, or doubts if the police prosecuted the correct person in the first place.
This is an out-and-out police procedural. It's told from the perspective of Kerrigan as an investigator, combing through evidence, visiting crime scenes, and interviewing witnesses.
We get some sprinkling of personal drama from Kerrigan's recent breakup, a rivalry between a social-climbing coworker, and a smattering of Kerrigan's cats-and-dogs dynamic with her partner, Derwent.
The relationship between Kerrigan and her partner, Derwent, sparkles.
There's a loyalty between the two of them, even when they're constantly arguing – it's a wonderful underlying frisson of tension that suggests they may eventually become romantic.
Kerrigan as a lead is fantastic- she's insightful, competent, empathetic, and smart. She's aware of the politics associated with being a young, female officer, and she earns respect from her superiors by being exceptional at her work. Largely, she doesn't seem to have a dark, tragic backstory- which I really appreciated since I've read a fair share of thrillers with lone-wolf, tortured detective leads.
If anything, my only criticism of the book is that it doesn't focus enough of Maeve and her personal life and relationships. Taking the investigation step-by-step is very satisfying, and the pulse-pounding fight to survive at the end of the book is perfectly dramatic, but I found myself wishing I got to know Maeve better. (And crossing my fingers that Maeve and Josh would end up together!) Luckily, there are plenty more books in the series to do just that!