A REVIEW COPY OF THE QUEEN OF KATWE ON BLU-RAY COMBO PACK WAS PROVIDED BY DISNEY AND FINGERPAINT MARKETING IN EXCHANGE FOR A FAIR AND HONEST REVIEW. NERDOPHILES WAS IN NO WAY COMPENSATED FOR THIS REVIEW. OUR OPINIONS ARE OURS AND OURS ALONE.


Queen of Katwe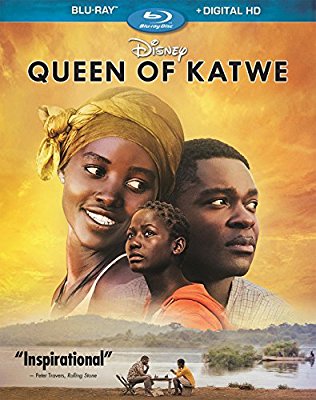 Release Date: January 31, 2017 (Blu-ray)
Cast: Madina Nalwanga, David Oyelowo, Lupita Nyong'o
Director: Mira Nair
Studio: Walt Disney Pictures & ESPN Films
Distributor: Walt Disney Studios
Extra Feature Rating: ?????
Rating: ?????
Review Spoilers: Mild
Amazon | IMDB | Wikipedia | Rotten Tomatoes
If you look at the blu-ray cover for The Queen of Katwe you'll see a one word testimonial – "Inspirational." Knowing the story now, however, I don't think inspirational can even begin to describe the story of Phiona Mutesi. Often one of the common themes in underdog sports stories is that our hero or heroine comes from very humble beginnings and rises up through adversity in order to reach their full potential. But the challenges that Phiona Mutesi faced were greater than I think many viewers – particularly Western audiences – could even begin to imagine.
Born and raised in the Katwe slums of Kampala, Phiona went from having close to nothing to becoming one of the greatest chess players in Uganda — and it was no easy feat. She learned to play chess through a church outreach program after wandering into it in search of a free meal. Over time, and with the help of her coach, Robert Katende, her natural talent at chess would shine through opening up a whole new world of possibilities. In a short period of time Phiona finds herself traveling not just her native Uganda but the world all while following a dream she previously never knew she could even have.
There are so many heartbreaking scenes in this film and yet the determination of Phiona as well as the other children mentored by Robert Katende keeps on inspiring you from start to finish.
Under Katende's tutelage, Phiona embraces a dream to become recognized as a chess master. We watch her hone her craft we also see her fellow Katwe chess players – dubbed the Pioneers – develop their own chess skills. We also learn more about her coach, Robert, who also had a very difficult childhood and whose dedication to these children ultimately helps lead many of them to better lives.
While chess may not be the sort of exciting "sport" you'd expect from a film such as this, you can't help but root for Phiona and the other children from start to finish in every game they play on screen. Even if you don't know the rules of chess yourself that won't distract from the true message of this film.
Because The Queen of Katwe is not just a story about one girl's love and mastery of chess.
It's a story about hope and family. It's a story about perseverance and believing in one's self. It's also a story about Africa, her people, and the great things they can and are accomplishing even in the face of sometimes incredible odds. This is why 'inspiring' doesn't quite cut it for me. The story being told in The Queen of Katwe is simply amazing.
Family is a huge theme in Queen of Katwe. Phiona's mother struggles to keep their family together and to give her children some kind of future. While they may not have much they have one another and their relationships in the film are one of the most moving parts of the story. Phiona's mother (played by Lupita Nyong'o) is an amazing character who loves her children to no end and who wants the best for them – even if she doesn't quite understand chess and the opportunities it can give her daughter at first. The relationship between Phiona and her mother is incredibly powerful and her relationship with her siblings (especially her brothers) is touching. Equally important are the relationships that Phiona forms with her coach and the other children he's teaching.
Despite largely being a movie about hope, Queen of Katwe doesn't shy away from the harsh realities of the world in to which Phiona was born.
Throughout the film Phonia's family is forced to deal with poverty, hunger, and homelessness. Seemingly trapped in a cycle of poverty, we see her go from selling maize in the streets to challenging not only wealthy children in Uganda but chess players from around the world. But even after she begins to win at tournaments and make a name for herself, these themes are still present. She begins to straddle two worlds – the world she's come from and the wider world she comes to know traveling to play chess. And in those early days it really didn't matter how well Phiona played chess, in Katwe her family's entire lives can be upended by something as simple – and yet deadly – as a heavy rainstorm.
The setting and daily struggles of Phiona's family are likely to be rather foreign to some viewers – especially Western viewers. One of the most amazing things about Queen of Katwe is that it's not just an inspiring story but it's truly an African success story. It's a story about people bettering themselves and their communities. Despite the difficulties she faces, Phiona seizes upon her natural talents in chess not just for her own sake but for her family as well. She follows her dreams and seizes upon the opportunity to bring her loved ones along with her.
The cast does a fantastic job of tackling the film. Lupita Nyong'o is amazing in everything she does and David Oyelowo's portrayal of Robert Katende is inspiring. But the kids were the real heart of this movie. Actress Madina Nalwanga who plays Phiona comes from a poor community in Kampala herself – as do pretty much all of the children featured in the film. Despite their inexperience, the children do a really great job throughout. Nalwanga couldn't be more perfect for the role of Phiona and she plays against Nyong'o and Oyelowo – two world renown actors – as if she has done this plenty of times before.
The solid cast, the authentic feel, and the inspirational story really come together to make this a truly (as I've said before) amazing film.
Special Features
Phiona's story only gets more incredible as you explore the special features included on the Queen of Katwe blu-ray disc. While there are a handful of them available, there are only two that everyone watching this movie needs to watch.
The first is Queen of Katwe: Their Story. It's a compilation of three shorter featurettes focusing on the making of the film. But it does so much more than just show you how the film was made. There are interviews with the real Phiona and as you watch, you learn more and more about how dedicated the filmmakers were to telling this story authentically.
The movie truly embraced it's background and it's setting, filming primarily in Katwe itself with a cast of first-time child actors pulled from the surrounding communities. There's an incredibly moving moment in one of the featurettes where Lupita Nyong'o is talking about filming a scene where Phiona's family is being evicted with children who aren't just acting out the scene but acting out something they had experienced themselves personally. Then even filmed the scenes of Phiona and the Pioneers playing chess in their little church in the real church that Phiona had actually learned to play chess in.
These are seriously incredible featurettes that you seriously jut need to watch.
The other one I'd recommend watching is A Fork, A Spoon, and A Knight, a short film that director Mira Nair created about Robert Katende's life. Katende is the coach that discovers Phiona through his ministry outreach program teaching chess. But as we learn in the film, his life was not easy. The same good natured coach whose life calling has been helping these kids had a very difficult childhood himself. At about thirteen minutes, it's a look at the film's other incredibly inspirational figure.
The other special features include two music videos including Alicia Keys' Back to Life (which comes with an accompanying making-of video of it's own) as well as an audio commentary and several deleted scenes. The deleted scenes are really worth watching and the director, Mira Nair, offers a brief commentary as to where they fit into the film and why they were removed.
Final Thoughts
Queen of Katwe is probably the most inspirational film I've seen this year so far. I was entirely captivated by the story of Phiona Mutesi and I shed my share of tears watching this movie. At a time when feel-good stories are few and far between, I appreciate that Disney took a chance on a less traditional, non-Western true story. Even more so, I'm glad that they did everything they could to make it as authentically as possible.
I highly recommend this film. I understand that chess may seem like an odd game for an inspirational, true story to focus on but it's about so much more about chess. It's about love, hope, and the perseverance to necessary to overcome even the most insurmountable obstacles. I absolutely loved it and if you're a sap like me then you probably will, too.
Queen of Katwe is available now on blu-ray combo pack, DVD, and digital HD.