Legend (2015)
Release Date: November 25, 2015
Cast: Tom Hardy, Emily Browning, Christopher Eccleston, Taron Egerton, Colin Morgan, David Thewlis
Director: Brian Helgeland
Studio: Anton Capital Entertainment, Cross Creek Pictures, StudioCanal, Working Title Films
Distributor: Universal Pictures
Genre(s): Crime, Thriller
Based On The Profession of Violence by John Pearson
Rating: ★★★☆☆
Review Spoilers: Medium
IMDB | Rotten Tomatoes | Wikipedia
As far as performances go, Tom Hardy does brilliantly playing Ronnie and Reggie Kray. The gangster twins who ruled the East End of London come off as two very different creatures and Hardy's performance doesn't ever stop being interesting to watch. Hardy showcases his own level of skill and complexity as an actor in Legend and its his skills that hold up an otherwise slightly lackluster film.
On paper, the story of Legend reads like many typical gangster films. There's a rise of success and a fall from the heights due to something like arrogance or a bad temper or whatever else can be thrown between two business partners and brothers. Legend starts off strong, with a bit of humor and violence peppered in with Hardy's chemistry with… himself. Ronnie and Reggie are enigmatic to watch, and in the gangster life they blossom like flowers in Spring.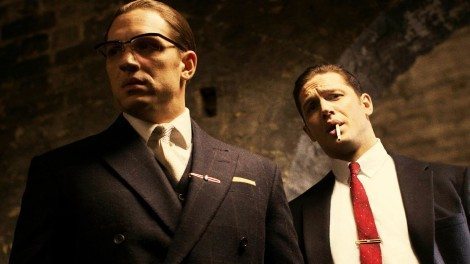 However the film takes a turn as it moves from the classic gangster movie to somewhat of a disjointed film. Varying from a flawed romance between Reggie and his wife Frances, played by Emily Browning, to a crime thriller, to a story between two brothers Legend never quite hits its stride and ends up losing momentum half way through.
Part of the issue laid within the fact that Frances, Reggie's wife, is the narrator of the story. While her narration initially serves as a spotlight into the Kray twins as an insider into the East End, it ends up confusing the focus of the narrative. As Frances becomes more emotionally involved and entangled in the Kray's life, her narration becomes increasingly flawed. We are no longer listening to a simple narrator. She's involved in the story.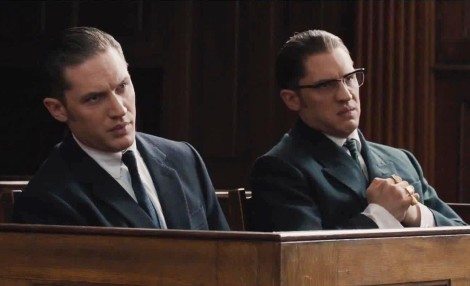 Her part plays something between the innocent lamb lead to slaughter and the introspective loving storyteller. A narrator's role as they guide the viewer is to be a guide, and while her story with the brothers is important and interesting, it's not necessarily the story we're being shown. The neglect of the actual gangster side of things isn't her fault, but the narration ends up pulling from it.
The problems with Legend don't end there, with tonal shifts and incomplete plot arcs I found myself almost wishing Guy Ritchie had gotten his hands on this. It's not like he doesn't already hold a monopoly on London gangster films. Legend certainly misses the panache that is attached to gangster movies, but Hardy does such a good job half of the time it's hard to care.
Final Thoughts: Tom Hardy's performance shows off his range as an actor and is a perfect image of his acting chops. Beyond Hardy, Legend is a flawed gangster film with shifts in tone and an all-too-familiar plot.