It feels like we just never stop with the Marvel content train these days. On February 8th, Legion will premiere and join the ranks of Marvel television on the FX network. But before that happens, New York City dwellers and those willing to make the trek to the Villain warehouse in Williamsburg, Brooklyn can get a look at the new art installation gallery inspired by the show.
The gallery showcases five pieces and will be open to the public from Friday, January 27th, to Sunday, January 29th. The hours for each day are as follows:
Friday, January 27
Time: 12:00 PM– 9:00 PM
7:00 PM– 9:00 PM will feature specialty beer and music by DJ Hesta Prynn (Ages 21+)
Saturday, January 28
Time: 12:00 PM– 9:00 PM
7:00 PM– 9:00 PM will feature specialty beer and music by DJ Alex Merrell (Ages 21+)
Sunday, January 29
Time: 12:00 PM – 4:00 PM
Set within a dark warehouse, the five pieces are spread out throughout the venue, with the first one you encounter being a light and shadow piece called "Lovers" by Kumi Yamashita. It has interactive potential and although it isn't nearly as colorful as some of the other pieces, it was definitely one of my favorites. Looking at the piece from several angles will give you a new perspective every time.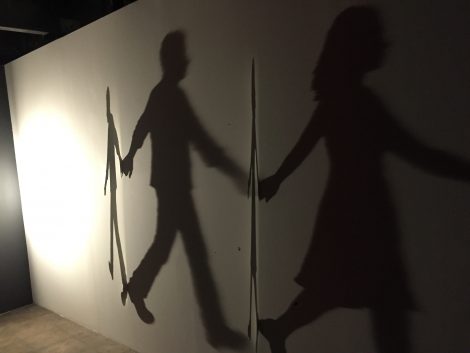 Then as you venture to your left, you'll pass into a larger space where there is the key show art mural "Legion" by David Flores. This piece has an augmented reality component that requires the Blippar app. Calling this an augmented reality might be a little generous given the fact that it is more or less a Snapchat filter with some added promotional content. Still, those curious who aren't able to make it to the Brooklyn venue can also find it on the streets of Brooklyn, Manhattan, Chicago, Los Angeles, and San Francisco (specific crossroads found on the official experience site).
Moving further in and you'll come to the forced perspective art piece called "Suspension of Disbelief" by Michael Murphy. This was by far my most favorite piece in the gallery, with pieces of household items suspended by wire spelling out the word Legion in a forced perspective. It's beautiful to look at and worth a photo op. We have a video of what it looks like in a little more detail on our Facebook page.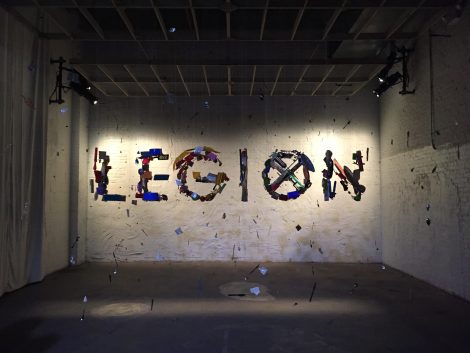 Then in the final room there is a found materials installation called "Doors" by Clemens Behr. I felt like this installation could have benefitted the most from being in a room on its own. With the amount of people hanging around inside the piece, it was difficult at times to really experience it without running into other people along the way. I'm undecided on whether I liked this piece or not.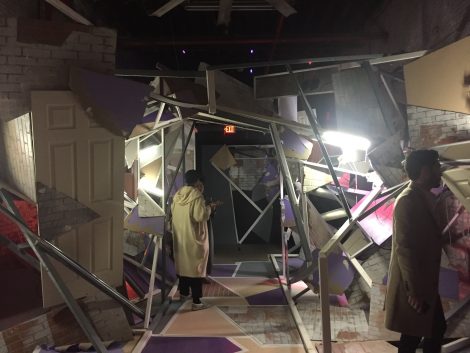 Across from that is a multimedia installation by unknown artists called "Grassy Knoll". Small rolling hills house old televisions that are cushioned in the curves playing little shots from the actual show. In front of the knoll are two hanging swings that are sure to hold great potential for an Instagram photo.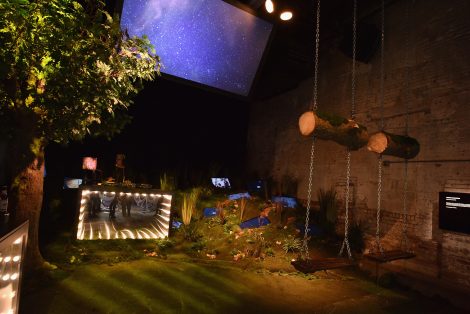 For those interested, the Legion Where?House is located at 50 N 3rd Street in Brooklyn.
If you're not able to get to Brooklyn or one of the five street murals, fans can still go to one of the participating comic book stores in the US to take home a limited edition poster. More information on the warehouse, the street murals, and the specific participating stores where they can get their poster can all be found on the official experience website. You can also find more photos of our coverage of the gallery on our Facebook here.
Legion will be premiering on February 8th, 2017. It will air on Wednesdays at 10pm on FX.