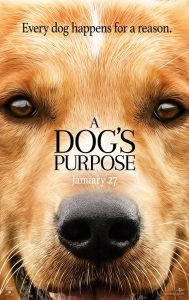 Release Date: January 27th, 2017
Cast: Britt Robertson, K. J. Apa, John Ortiz, Dennis Quaid and Josh Gad.
Director: Lasse Hallström
Studio: Amblin Entertainment, Amblin Partners, Walden Media, Pariah, Dreamworks Pictures
Distributor: Universal Pictures
Genre: Comedy-Drama

Review Spoilers
: Low
IMDB | Rotten Tomatoes | Wikipedia
A Dog's Purpose, the movie would have you believe, is to eat food and have fun, and maybe do some bigger things for his family. Does the movie get that across well? Handled adeptly? Or does it rely on an easily manipulated empathy button? Here's our review of the latest feel-good flick.
The movie posits one central conceit that when a dog… well… when they go up to that Big Farm in the Sky, they are immediately reborn, reincarnated into another life to live out and do their best. The movie gets this across where not 5 minutes into the movie they show a full life cycle of one of the lives of our hero pup.
It is through these myriad lives that the dog, voiced in decidedly 'Meh' fashion by Josh Gad, finds his purpose. He befriends a young boy, learns some dope tricks, becomes a cop dog, eats lots of food, falls in love, comes back home.
Spoiler alert! Not all in the same life! That's right, if you're anything like me, a dog-loving human, full of warm feelings for Man's Best Friend, you're going to spend the 90 or so minutes of this movie with a big ol' lump in your throat. I guess its only been over a month or so since I cried in theaters so I had to do my best to keep it in check here.
With each new life, the movie introduces new characters (dog and human) that rarely are developed past the cardboard cutout stage. I get why this is almost a necessity, as the film has to get through these things rapidly, but that tends to make the stories feel ham-fisted. The writing is equally as unsubtle. Every possible nuance is avoided to make a movie that appeals to the absolute lowest common denominator of audience. And yet, still, it leans on that Easy Mode option of dogs and sympathy.
The producer stated in a recent writing at The Hollywood Reporter that his goal in funding this movie was to rekindle the love of animals that similar movies did for him when younger. While the subject of the film are dogs (indeed cats get a bit rougher rap) the inspiring of love for them seems easy, and almost unnecessary. Everybody loves dogs right? At least the folks who are seeing this movie certainly do. But hey, if this movie sends folks to shelters adopting dogs at an alarming rate, I'd be ok with that.
So then here's the thing. The movie isn't special. It isn't well made. The characters are barely there. The voice of the dog isn't particularly great. But you leave the theater feeling good. You go home, you give your best friend the biggest hug. Maybe, like me, you google "how to show your dog you love them." Really, dogs are the biggest winners here. So I can't hate it too much, as bad and simple as it is.
A Dog's Purpose is in theaters everywhere now. But go pet your dog right now damnit.