Mad Max: Fury Road
Release Date: May 15, 2015
Cast: Tom Hardy, Charlize Theron, Nicholas Hoult, Hugh Keays-Byrne, Rosie Huntington-Whiteley, Zoë Kravitz
Director: George Miller
Studio: Kennedy Miller Mitchell, Village Roadshow Pictures
Distributor: Warner Bros. Pictures
Genre: Post-apocalypse, Action, Thriller
Based On: Mad Max Series by George Miller
Rating: ★★★★★
Review Spoilers: Light
IMDB | Rotten Tomatoes | Wikipedia
It's been over thirty years since the last film in the Mad Max series, and man, did it come back in a big way. There is no other way to describe Mad Max: Fury Road as anything other than over-the-top high-octane fun. If you can watch it in IMAX 3D, if you can watch it in a Dolby Atmos theater, do it.
Fury Road is every inch the combination of post-apocalyptic exaggeration mixed with some hilarious insights into human nature. If there was ever a film detailing the often foolish choices of man, it's Fury Road. The story is a simple one, but while that might inhibit most films, for something as boisterously loud and active as Fury Road it only serves as the frame to the sensory overload.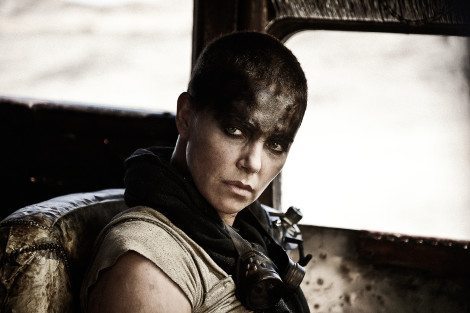 Sustained on nothing more than revenge, redemption, and gasoline, Fury Road brings Tom Hardy's Mad Max and Charlize Theron's Imperator Furiosa together as two avenging angels in a world that has thrown morals and human dignity into the wind. For a film that includes a consistent heavy metal guitarist on a jury rigged mountain of speakers that drives around as the hilarious but totally unnecessary mood music, Fury Road manages to still deliver a punch through the storytelling that stands somewhere between environmental political commentary and straight up hard-lined feminism.
But, trust me, almost all of that takes a back seat to the absolutely breathtaking visual palette of Fury Road. Splashed in tones of yellow, orange, and red, and later deep midnight blue, it's a gorgeous piece of art. From the yellow-gold sandstorms that swallow the outback to the neon flares that explode like fireworks in the sky, it is unforgiving in painting the world with explosive color.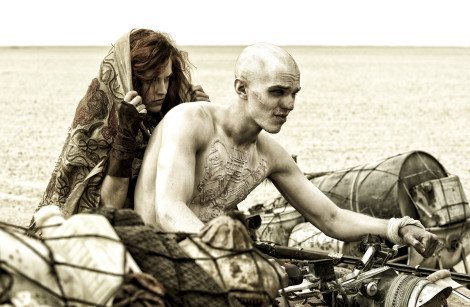 If the visuals don't keep you on the edge of your seat then the roar of the engines sure will, not to mention that killer soundtrack. Visual effects dominate your eyes while the sound of roaring engines, firing bullets, and pounding drums will fill your ears. There are no pulled punches here, and it works out perfectly. You'll be cheering and howling with Furiosa and Max in no time, there is no other alternative.
Final Thoughts: The definition of a wholly unapologetically action-packed film, Mad Max: Fury Road breathes new life into an old series and throws you right back into a world that is hyperbolic and addictive all at once.