This week, Kylee struggled with Hook Jaw #2 from Titan Comics, while Jackson greatly enjoyed Batman #15 from DC Comics with what may be one of the best issues tackling Batman's relationship with Selina Kyle.
We've also got a new reviewer joining us! Renee is looking at two excellent issues from Marvel Comics this week, Black Widow #10 and Spider-Gwen #16!
Want to hear more about what we thought about these issues? Read on – and let us know what you thought in the comments below.


Kylee's Reads
Hook Jaw #2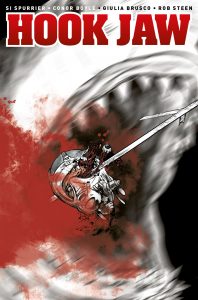 Author: Simon Spurrier
Artist: Conor Boyle
Publisher: Titan Comics
Source: Titan Comics DRC
★★★☆☆
How many tomatoes will I be pelted with if I make a joke about 'jumping the shark?' I was never a fan of the original series (not having known it existed until after the first issue), but the meta nod to it in this issue was immediately groan-worthy to me. I want to love this series, but there is a little too much focus on the bickering of humans to draw me into this second issue. Boots on the ground black ops, some fast-talking, mysterious government forces, and the Somali pirates all detract from what should be the series' stars: the sharks – though maybe that's the point.
Spurrier continues to lend menace to Hook Jaw by giving her actual thoughts that are conveyed throughout the issue and all the conflict does eventually lead back to a discussion of the sharks once more. Conor Boyle's artwork is best when he's allowed to focus on the outdoors setting and the sharks themselves, with large sweeping pictures of the ocean inset with smaller panels.
Issue #2 piles on the issues for the human stars of the series – but really, can we get some of them eaten soon? – and also gives further insight into the Virgin Brides and Hook Jaw, but it does feel like rather forced interaction between the two species at the moment.


Kylee Sills is an associate editor at Nerdophiles. She's not sure they could even get a bigger boat for Hook Jaw. Follow her on Twitter @kyleewho.


Jackson's Reads
Batman #15

Author: Tom King
Artist: Mitch Gerards
Publisher: DC Comics
★★★★★
Like a cat, Selina Kyle expects your love and guarantees nothing in return. She enchants, purrs, and rubs until she gets what she wants with nothing more in return. Selina is every anecdote about cats eating your corpse made manifest. She prospers at the largesse of others and, to some degree, that's a reality every Batman and Catwoman story has to at least acknowledge.
"Rooftops," the two-parter that concludes in this week's Batman #15, sees Bruce and Selina in post-coital glow, examines the nature of their relationship from the first moment to what's lead them to now, with Kyle facing a death sentence for a mass killing.
With a clever visual flourish that mashes up the pair's first meetings in 1940's Batman #1 and in Year One's Batman #404 in 1987, this is an issue all about history, about those spoken and unspoken moments that have defined who these two people are.
It's a careful balancing act Tom King and guest penciller Mitch Gerards have to handle, balancing how a skeptic and realist like Batman can be so weak to a woman he has to know is manipulating him. To their credit, they do manage it. King's dialogue is loaded with ambiguity and double entendre that keeps the reveal a mystery until the final moments. It's a masterful piece of plate-spinning completed by two creators who now how to manage a delicate balancing act.
Batman #15 is a stunningly beautiful issue, richly illustrated and deeply heartfelt. It doesn't sacrifice the witty lyricism of King's run so far or the human stylistic flourishes of Gerards art. It's among the smartest takes on Selina's character since Ed Brubaker's run in 2002 and the most passionate portrayal of her connection with Batman since, well, ever. With an instantly iconic opening and a last panel that will have longtime fans of the characters thinking well after the issue's filed away, this is the first definitive Batman comic since the launch of DC Rebirth.



Jackson Adams is a staff writer at Nerdophiles. He's more of a Bruce and Talia man, if we're being honest. Follow him on Twitter @JacksonInACup.


Renee's Reads
Black Widow #10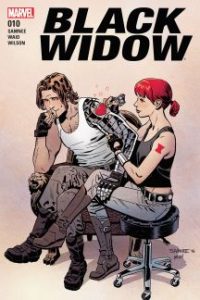 Author: Chris Samnee & Mark Waid
Artist: Chris Samnee
Publisher: Marvel Comics
★★★★★
Black Widow has been on my pull list for awhile now, and I can't get enough of her and her quest for atonement as she tries to move past the mistakes that she has made in her life. This current story arc has reunited Natasha with her old flame, James Barnes and her "sister," Recluse, as Natasha is forced to confront her past from the Red Room.
The current issue finds Natasha, James, and the Weeping Lion flying a decrypt spacecraft to the moon to look for Nick Fury, who is now "The Unseen." The Unseen approaches the small group and Natasha begins to speak to him, explaining that they were looking for information on the Dark Room.
The Weeping Lion had smuggled a stowaway onto the spacecraft, with the intention to kill James and Natasha. The Weeping Lion becomes impatient with The Unseen's stoic and silent approach and pulls on the chains that wrapped around his body. The Unseen shows the Weeping Lion all the knowledge in the world, as James and Natasha watch in horror.
Unable to contain that much information, the Weeping Lion's head explodes. The Unseen writes the word "friendship" in Russian, as the stowaway steals the ship. Realizing that he Weeping Lion lied to them about the amount of oxygen they had and Natasha sacrifices her oxygen for James with a sweet, "My turn to be the savior."
James catches up with the stowaway and jumps onto the ship and rescues Natasha. Believing Natasha is dead even after providing CPR, James wraps Natasha and weeps as he holds her in his arms. Natasha wakes up, and James and Natasha share a sweet kiss. Natasha silences James and informs him that she has a job she needs to do and "romance is not on the docket."
Meanwhile back on Earth, Recluse has found her girls and informed them that the Black Widow was responsible for the Headmistress's death and they must avenge her.
Black Widow #10, continues Natasha's quest for redemption and atonement for her past and shows Natasha trying to save the people around her by offering them the choices she was never able to have. Black Widow offers an added layer to Natasha's character that universally speaks to readers, as she confronts the past she'd rather avoid. Overall, this is a fantastic story arc for our favorite spy-assassin, and though she put the brakes on romance for now, perhaps there will be more of James Barnes in her (and our) future.
Spider-Gwen #16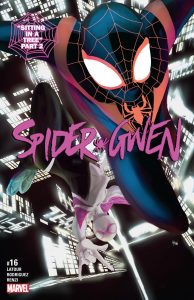 Author: Jason Latour
Artist: Robbie Rodriguez
Publisher: Marvel Comics
★★★★★
Of all the Spider-Verses that have come out so far, Spider-Gwen has become one of my favorites. The world of Earth-65 is the bizarro world of Earth 616 but has lead to Spider-Gwen finding her voice as a character and as a superhero.
On Earth-65, Gwen Stacy lived and was the one bitten by a radioactive spider, while Peter Parker died after attempting to be like her and transforming himself into a giant lizard on prom night. Not realizing that the giant lizard was Peter, Gwen killed Peter to prevent him from harming others. Crucified by the media and her guilt, Gwen has struggled to find her place in this world and what it means to be a superhero, and who she is without those powers.
Spider-Gwen, #16, "Sitting in a Tree part 2" continued Miles Morales' Spider-Man storyline, where Miles is attempting to find his father after he went on an unsanctioned mission for SHIELD. Gwen meets Miles when Matt Murdoch and his ninja clan approach the two and tells Gwen that they need to kill Miles' father. Gwen and Miles refuse to do that, and Gwen attempts to explain to Miles that she no longer has spider powers, but is unable to do so as Miles begins to swing them through the city.
Gwen and Miles end up infiltrating a club, where powerful super villain paraphernalia that S.I.L.K. had stolen were up for auction. A small fight ensues with Doc Ock, but with Miles' help, they defeat him. Gwen and Miles come face to face with Miles' father, who doesn't seem to remember Miles and appears to be the bad guy in this dimension.
This issue brings together my two favorite Spider people who have more in common with one another than they think. Burdened by their super powers and having family members willing to sacrifice themselves for them, they bond and empathize with each other as they discuss feelings and conflicts they have about being a superhero. I love how this issue acknowledges the similarities and differences between Earth 65 and Earth 616, while simultaneously bringing them together.


Renee Marriott is a staff writer at Nerdophiles. Follow her on Twitter @Renie_Day