A REVIEW COPY OF THE HIDDEN PEOPLE WAS PROVIDED BY THE PUBLISHER IN EXCHANGE FOR A FAIR AND HONEST REVIEW. NERDOPHILES WAS NOT COMPENSATED FOR THIS REVIEW. OUR OPINIONS ARE OURS AND OURS ALONE.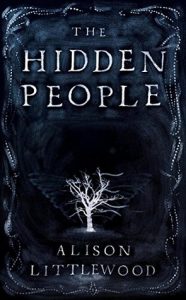 Author: Alison Littlewood
Publisher: Jo Fletcher Books
Publication Date: November 1, 2016
Genres: fiction, fantasy, mystery
Amazon | Goodreads | Barnes & Noble

After a man's cousin is murdered by her husband, he travels to her small village town to investigate. What he finds is a town mired in superstition – and while searching for the truth, he becomes less and less certain of who, or
what
, killed his cousin.
I couldn't finish this book.
I tried really hard, but the protagonist's narration was too self-important and conceited to stand for more than 80 pages. Which is a shame, because this book's premise was very promising. It had the ability to mix superstition and psychological horror in the same masterful way that Daphne DuMaurier's Rebecca does.
The book's plot follows Albie, a bourgeois Londoner who learns that his cousin (Lizzie) was murdered by her husband because she was suspected of being a fairy changeling. Albie, being weirdly incestuously infatuated with his cousin since childhood, travels to his cousin's town to put her affairs in order.
When he arrives, he finds that superstition runs deep, and the more he investigates the circumstances surrounding his cousin's death, the more convinced he is that there's some truth behind the town's superstitious customs.
Unfortunately, as intriguing as the premise is, this book could not get past its unlikeable elitist/white-Darwinist main character and Guy-in-your-MFA tropes enough to succeed.
That, paired with the nearly unreadable Mark Twain-esque pygmy dialogue and the ploddingly slow pace veered this novel into the territory of unreadable.