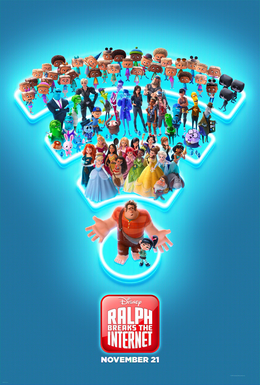 Release Date: November 21st, 2018
Cast: John C. Reilly, Sarah Silverman, Jack McBrayer, Jane Lynch, Ed O'Neill, Alan Tudyk, Gal Gadot, Taraji P. Henson, Bill Hader, and Alfred Molina.
Director: Rich Moore, Phil Johnston
Studio: Walt Disney Pictures and Animation Studios
Distributor: Walt Disney Pictures
Spoilers: Mild
IMDB | Rotten Tomatoes | Wikipedia
Ralph's back and he wants to wreck it! Well, he wants to break it I guess. (Man, they really flubbed that landing huh?). Six years later and Disney has put out their first theatrical sequel to an animated movie since Winnie the Pooh (thanks Wikipedia!)
Is it worth the effort?
Ralph's back with all of his pals from the original but they have a new problem, Vanellope's arcade machine is on the fritz (even more so than last time) and they need to get a part from the fabled…. eBaaaaay.
So begins Ralph's quest to break the internet and save his friendship with Vanellope. Of course, getting on to the internet shakes up all things and soon their relationship is on the rocks. They have to battle apathetic viewers, viruses, and villainy to get everything set right.
The first half of this movie is a bit slow and by-the-numbers. Characters come up with plans because of the slightly misspoken nonsense of another 'Wait, wait, say it again,' that sort of thing.
There's the argument to be made that it's a kids movie and they haven't seen so many other uses of these kinds of basic plot devices or maybe they just don't care but the fact remains. As the movie goes forward it finds it's stride, with fresh new anthropomorphized websites, apps, and programs filling out the supporting cast until we hit Disney-Time.
Much like the original Wreck-It Ralph aimed to be a 'video game' movie and then veered halfway into a Candy Crush take down, the second has a similar diffusion of focus.
Breaks the Internet uses the internet as a means to get to making Disney jokes. With appearances from Star Wars properties and Disney Princesses, the Disney jokes will likely determine whether or not the turn is worth it. For me, I enjoyed the Disney Princess goofs and that made for the best part of the movie.
As with any good Disney animated flick, the Grimms' Fairy Tales of our times, there is a message, a moral to be gleaned from the story. Ralph Breaks the Internet is about a relationship, a friendship and the ways that it can dissolve or be broken because of jealousy and possessiveness.
It's a good one, though why Ralph is so enamored with Vanellope's friendship I will never know, she doesn't do much as a friend for him.
Ralph Wr- Breaks the Internet is in theaters now.