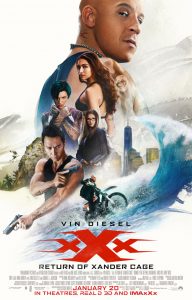 Release Date: January 20th, 2017
Cast: Vin Diesel, Donnie Yen, Deepika Padukone, Kris Wu, Ruby Rose, Tony Jaa, Michael 'the Count' Bisping, Nina Donbrev
Director: D.J. Caruso
Studio: Revolution Studios, Paramount Pictures, One Race Films
Distributor: Paramount Pictures
Genre: Action
Rating: xXx
Review Spoilers: Low
IMDB | Rotten Tomatoes | Wikipedia
What a dumb, dumb, silly, blast of a movie! Vin Diesel is back with his other franchise and the outcome couldn't be any better than you'd expect.
A satellite gets dropped on our boy Nick Fury, I mean Agent Gibbons, and it's up to Xander Cage to find out who did it, and to stop them from further terrorizing the world. Essentially. I'm skipping over a little bit in that summary but come on, you didn't come here for plot did you?
xXx: Return of Xander Cage is the third installment of a series no one thought needed revisiting, clearly, as the last one came out in 2005. Never ultra hits, the movies did well enough as a sort of James Bond for middle school boys, and make no mistake this is more of that same. If you are a middle school boy, or are able to accept this movie for the ridiculously silly juvenile action flick it is, you'll likely find a lot to like.
Guns? Check! Motorcycles? Check! One Dimensional Characters with very specific skills? Check! A scene where a woman rebukes the hero only to have her harem of sexy, tech ladies engage in group sex with said hero? First Twenty Minutes Check! I cannot repeat it enough: it is middle-school boy fantasy, with all the flaws and boons that go with it.
Aside from a few astoundingly bad looking green screen effects, the movie looks fairly good and the action is appealing. Lots of explosions and motor vehicle crashes and otherwise ridiculous things occur over the course of the films 107 minute run-time. Motor cycles go out over the water with skis, men fly through the sky without parachutes, and slo-mo bullets are shot with reckless abandon all followed by a quip or one liner.
Now, to be fair, those one-liners are often down right terrible. I mean truly awful stuff that has no bearing on the situation or the character and suggests that they were pulled from a long list of randomly generated stingers. And yet despite every bit of dialogue, every interaction between characters that flops, every lukewarm performance, I cannot dislike this movie.
There is a moment towards the end that features two of our leads, two bad ass bitches gettin' it done, firing off handguns in slo-mo and thoroughly killing all in their path that had a smile plastered across my face.
To think about any scene for longer than the 90 seconds allowed it would put you on the (for this movie) dangerous path of overthinking. Whereas other dumb action flicks of the era take themselves too seriously and suffer because of the ridiculousness of it, xXx subverts it by wearing it's dumbness as a badge of honor. If you think you can enjoy this type of movie, go check it out. I can't remember the last time I had so much fun shoveling popcorn into my face.