It's a quiet week of highs and lows with Nerdophiles. Kylee loved the latest issue of Cryptocracy from Dark Horse Comics, but she was thoroughly disappointed by the end of Kurt Sutter's Lucas Stand from BOOM! Studios. Jackson was also let down by Ms. Marvel from Marvel Comics for the first time.
Want to hear more about what we thought about these issues? Read on – and let us know what you thought in the comments below.


Kylee's Reads
Cryptocracy #6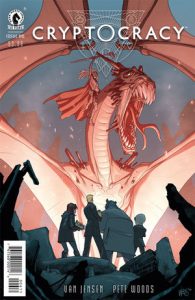 Author: Van Jensen
Artist: Pete Woods
Publisher: Dark Horse Comics
Source: Dark Horse DRC
★★★★☆
If the last issue felt like there was a lot going on, this issue of Cryptocracy continues to up the stakes and put our favorite characters into even more peril. Starting the issue with a helpful recap of the chain of events that led Grahame and the Mars family to this moment, that's the last breather readers get as Van Jensen rips through the showdown with Hum and another prophecy made good – that creatures of the night will stalk into the day and overrun the world of man.
After the explosion masterminded by Bela's listeners, Hum and the cryptids attack. Much of the Mars family arms themselves and Grahame takes survival over controlling and suppressing the situation. Both Pete Woods, the artist, and Nate Piekos, the letterer, shine in this issue, expertly crafting panels that draw the reader in and reflect the specific mood of each scene.
Hum is foreboding, the base is chaotic, and Grahame even finds a moment to visit Nate's resting place and consider a new plan of attack. The coloring and energy of the scenes are easily captured, but my favorite panels to linger on were filled with mysterious cryptids as well as familiar faces, including the Mothmen.
This showdown between Grahame and Hum has been building since the first issue and its payoff is well worth the wait – there's even a fantastic callback for attentive readers. Through the traditional bad guy monologue, more information about Chronos and Grahame's own secret history is revealed, proving that Cryptocracy has a ways to go even after such a fantastic culmination of events so far.
Lucas Stand #6 (of 6)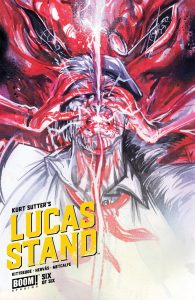 Author: Kurt Sutter & Caitlin Kittredge
Artist: Jesus Hervas
Publisher: BOOM! Studios
Source: BOOM! Studios DRC
★★☆☆☆
Lucas Stand very nearly pulls a Fight Club in this confusing and almost fumbling ending to the limited-run series. Lucas wakes again in the future and recaps everything that's happened up until this point. While that may have been beneficial to readers jumping on and in furtherance of a new arc, this is the end of the series and I doubt any new readers will decide to start Lucas Stand here.
Anyway, Lucas wakes up a second time in some unknown place, which is suspiciously like his old neighborhood, but overrun with kudzu and farmed through the streets with all the Fight Club nonsense. He falls for a woman named Emily there, allowing himself to grow older, comfortable, and somewhat happy – until Cyd shows up, pointing out all the anachronisms of his world.
Jesus Hervas finishes the series strong, with muted memories and muddled backgrounds that felt exactly as eerie as they should have. The pills scattered outside of panels also may have put me in a Fight Club mindset, as the trick was used in the comic sequel Fight Club 2. The coloring from Adam Metcalfe did well to separate the different scenes and settings, salvaging much of the confusion of the issue.
Unfortunately, Kurt Sutter didn't seem to be pulled from his episodic television methods with Lucas Stand and there was a lot of drama at the end that didn't really pay off for readers. I'm not exactly sure where we leave Lucas at the end of this series or what he learned throughout the series, but I wouldn't put it past him to run another minivan off the road. Were any lessons really learned in the end? Lucas Stand might as well have left our protagonist and anti-hero in the same place we found him at the start of the series and that's not saying much…


Kylee Sills is an associate editor at Nerdophiles. She's still probably going to read Kurt Sutter's already-announced next comics offering. Follow her on Twitter @kyleewho.


Jackson's Reads
Ms. Marvel #13

Author: G. Willow Wilson
Artist: Mika Andolfo
Publisher: Marvel Comics
★★☆☆☆
Marvel and DC have a long history of election comics and before 2016's race became the nightmare hellscape we now toil in, it seemed like Ms. Marvel was a book uniquely suited to tell an optimistic political story.
Maybe it could have, but Ms. Marvel #13 is the wrong comic at the wrong time. Releasing three weeks after the election it was obviously supposed to release before, its message is grating, wrongheaded, and hopelessly naive and would have been just as simplistic and idiotic had it come out on Nov. 8.
Here, Kamala gets a lesson in the political process when a redistricting effort by a candidate backed by Hydra brings her brother in law to her high school and a host of questions about who the city will elect as the new mayor. The potentially interesting question about the value of votes in strategically divided cities quickly evaporates though in favor of an argument about the moral righteousness of third party candidates.
There's nothing fundamentally wrong about a comic that's arguing first and foremost that people vote and vote for a candidate they think will do the best job. It's a valid and inspirational message that, obviously, would have been better served releasing before a national election. However, in an issue that already only pays lip service or glosses over so many failings of the democratic system, like redistricting, voter suppression, voter apathy, and special interest groups, Ms. Marvel #13 fundamentally fails to make a case for voting or for itself. It's a book as wide-eyed and naive as its protagonist and the first genuine dud G. Willow Wilson has written on the character.



Jackson Adams is a staff writer at Nerdophiles. At least it's better than the Catwoman Election Special. Follow him on Twitter @JacksonInACup.