Ant-Man and the Wasp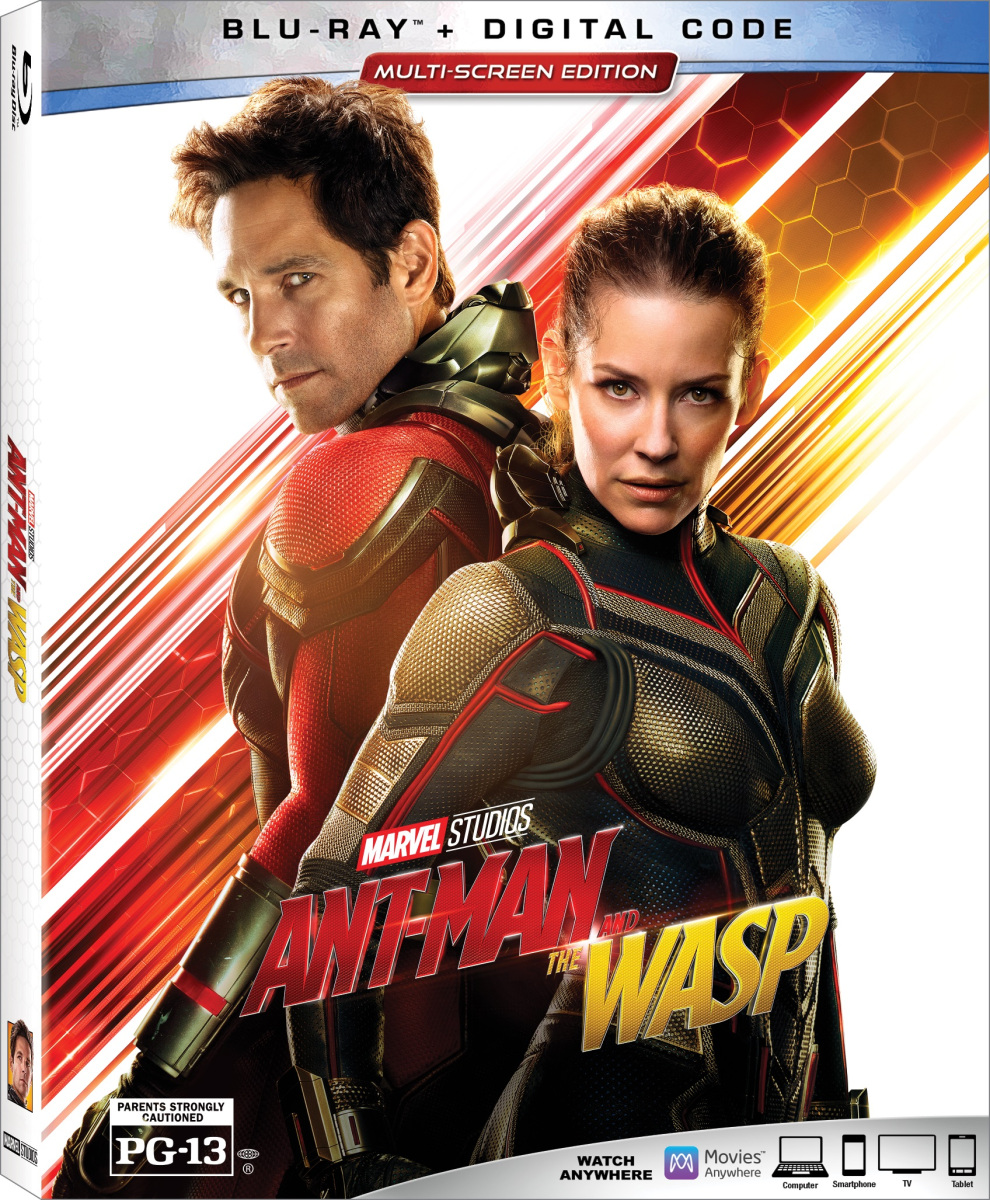 Release Date: October 16, 2018
Cast: Paul Rudd, Evangeline Lilly, Michael Douglas, Laurence Fishburne, Michelle Pfeiffer
Studio: Marvel Studios
Extra Feature Rating: ★★★☆☆
Rating: ★★★★☆
Review Spoilers: Low
Amazon | IMDB | Wikipedia | RT
If you're looking for an easy way to tide yourself over while waiting for the next Avengers movie (or really just Captain Marvel) then look no further than Ant-Man and the Wasp. While not as entertaining as the first film it's definitely worth a watch. Paul Rudd's Scott Lang is a refreshing change to some of the more uptight characters in the Marvel pantheon. And Hope van Dyne finally gets the chance to shine as she rises to the part of co-headliner.
Evangeline Lilly does a fantastic job showing Hope's development from the first film to this one. Much of the initial film served as an origin story for her version of the Wasp. She was a determined woman looking to take up a mantle that was rightfully hers and now she's finally gotten the chance. Not only that, we meet up with her after she's already become comfortable with the suit and it's abilities. She is The Wasp unlike Scott Lang in the first film who struggled to become that heroic presence.
Hope's relationship with her father, Hank, has completely changed and the story is so much more their's than it is Scott's which is nice because Scott's just a guy. That's his strength. But Hank, Hope, and Janet – they're a more classic type of hero with Hank & Janet opening up the MCU to an era that rarely gets the attention it deserves. We also get to see some of the consequences of those early efforts in Pym tech beyond just Janet's disappearance which helps sort of expand Pym's history..
The story wasn't as compelling as I would have hoped but Ant-Man and The Wasp makes up for it in heart. This is just a great cast with some really great characters. The dynamics in this film are just so much different from anything else you'll see. The characters almost feel real and the emphasis on family dynamics and friendship at on a smaller scale really set Ant-Man apart once again. It's something you don't seem in a lot with the usual Marvel fanfare
But it does still acknowledge Scott Lang's part in the bigger picture. If there's any movie so far that has really captured the after effects of the rest of the Marvel Cinematic Universe it's this one. The beginning of the movie sees the titular Ant-Man living under house arrest after the events of Captain America: Civil War while the after-credits scene ties directly into Avengers: Infinity War. Ant-Man has always been one of my favorite Marvel movies because it was a nice change of pace. But once you battle Iron Man alongside Captain America it's hard to move back into the suburbs. And Ant-Man and The Wasp handles all that really well.
It's a solid film that feels a little awkward having taken place and been released after the events of Infinity War. Watch it for the characters — and especially Luis!
Special Features
There are a handful of featurettes on the Ant-Man and the Wasp blu-ray release. They're a really great behind-the-scenes look at the film and they offer some really interesting insight into how the film came about.
Back in the Suit: Scott Lang focuses a lot on what it's like working with Paul Rudd. From what everyone says – and from what he says himself – it sounds like it's exactly as you'd imagine. He seems like a geuninely entertaining person who loves the character. The featurette really highlights his is portrayal of Scott Lang, his sense of humor, and more. Meanwhile, A Suit of Her Own: The Wasp shifts the focus to Evangline Lilly and Hope van Dyne. After years of speculation about a Wasp film we finally get to see Hope suited up and right in the middle of the action. It's a great shift in focus in the films and the filmmakers and cast really offer a lot of great takes on the character's development. But it's not all just about Scott and Hope. Subatomic Super Heroes: Hank & Janet puts the original Ant-Man and The Wasp at the forefront, too!
Less character specific is the Quantum Perspective: The VFX and Production Design of Ant-Man and the Wasp which talks a lot about the actually street-level production of the film. The folks involved in making the film talk about designing costumes, finding the right filming locations, and more. Probably the coolest feaurette, though, is Line by Line: The Art of the Marvel Cinematic Universe. There are lots of different bonus features focusing on how the films pull from the comics but this one really focuses on the efforts of concept artists like Ryan Meinerding as they bring the MCU to life. It's a great look at a part of the filmmaking process a lot of people might not know about and it's an in-depth discussion about how to conceptualize these high-stakes, massive cinematic worlds.
There's also a blooper reel, several deleted scenes (including some hilarious outtake reels), and a commercial for an in-universe online magic university – the same place where Scott learns his close-up magic.
Final Thoughts
Ant-Man and The Wasp is a hard film to critique in comparison to some other Marvel films. After all, the other films tend to focus on a much more global scale whereas Scott Lang's world is much more personal. Still, it's a nice break from the chaos and devastation that came in Avengers: Infinity War. (Just skip the after credits scene.) And it's always nice to see Scott in his element – as a father and an Avenger. Plus who doesn't love Luis's commentary? Besides, this time Hope van Dyne gets the chance to really show her worth and we're all about that. Take what's yours, Hope!
All in all, it's a good film and it's awkward release timing in relation to the last film doesn't detract from it's fun at all. Take a look and then check out Captain Marvel next spring and hope she ends up saving us all (including the Ant-Man folks).