The BFG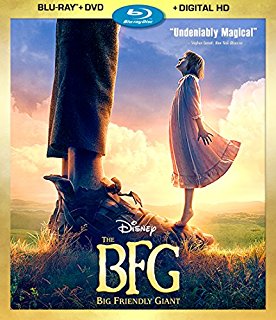 Release Date: November 29, 2016
Cast: Mark Rylance, Ruby Barnhill, Penelope Wilton, Rebecca Hall, Jemaine Clement, Bill Hader
Director: Stephen Spielberg
Studio: Walt Disney Pictures, Amblin Entertainment, et. al.
Extra Feature Rating: ★★★★☆
Rating: ★★★☆☆
Format: Blu-Ray Combo Pack
Review Spoilers: Low
Amazon | IMDB | Wikipedia | RT
I am going to be upfront and honest with all of you right now: I never read The BFG as a child. I read James and the Giant Peach and a handful of other Roald Dahl stories but I never did get around to The BFG. I distinctly remember friends telling me about it and how great it was but something about giants eating children seemed to scary for me. And so for probably close to two decades I've just never gotten over that initial, fleeting opinion enough to give it a try.
After watching this movie, though, I have it on hold at the local library right now.
The BFG surprised me by being a thoroughly enjoyable film. I don't even remember it being in theaters but it's easily one of the best family fantasy adventures I've seen in a long time. It's just fun. We don't have enough movies that are just fun any more. There are some pretty kooky moments and some pretty ridiculous aspects of the world building (which presumably come from the book). But it all works – for the most part.
The film certainly has some darker aspects to it but The BFG doesn't buy into the 'make everything grittier' mentality of a lot of films and adaptations these days. The BFG sticks to it's guns with it's magic, humor, and absolute randomness in story and dialogue. Sometimes it's a little too silly and that can distract from the story as a whole, but for the most part it was a pretty solid film.
The BFG is all about a girl named Sophie who lives an orphanage. One day she's up late and sees a giant who whisks her away to Giant Country. There she learns all about the giants who stalk through the English countryside and cities at night eating up 'human beans.'
But the giant that took her is different. He doesn't eat humans. Instead, he just wants a friend and that's how he earns his nickname – The Big Friendly Giant (or BFG for short). He's just as lonely as Sophie and all alone in the world. Being the smallest of all the giants, he's constantly bullied by the others.
It doesn't help that he has all these crazy notions of not eating humans. But with a little help and encouragement from his new friend, Sophie, it may just be time to turn the tides on the cannibalistic, murderous giants stalking around eating up children.
Their journey takes them from Giant Country to the streets of London to Buckingham palace and introduces them to a host of characters along the way – including Queen Elizabeth! You'll get to hear the BFG talk in his ridiculous manner with all his silly words. You'll see him (and even the queen) drinking soda pop that gives you farts so powerful they'll shoot you up like a rocket. And you'll get to watch a genuinely heartwarming relationship develop between Sophie and her giant.
Even without having read the book, I was absolutely captivated by this film. The cast was amazing, the story was entertaining, and the look and feel of the film were great. I've read a bit on it since and learned that it didn't do very well in theaters. The story is just so great and the filmmakers behind the film so dedicated and talented that I just can't believe it.
I mean, Stephen Spielberg directed and Melissa Mathison wrote the screenplay. Where could you go wrong!? I suspect a lot of it has to do with the fact that the property is a bit dated and that the film competed with some other, higher caliber films.
But now that it's out on blu-ray and DVD you can enjoy it on it's own!
Special Features
There are also some great bonus features on this blu-ray release. They did an awesome job of curating these featurettes and giving us some interesting stuff to watch.
Bringing The BFG to Life is a awesome special feature that anyone will enjoy watching. It doesn't just focus on the filmmaking process itself but the history of the film's adaptation and even Roald Dahl's work with Disney decades ago.
They bring in one of Dahl's daughters to talk about her father and his work along with Stephen Spielberg and Kathleen Kennedy. They talk not just about The BFG but his storytelling methods in general and how his efforts to reach children mirrored a lot of the efforts made by Walt Disney.
Meanwhile you also have the cast and crew coming together to talk about the making of The BFG and how they brought this particular film to life. They talk about the casting and the design and everything else you would expect.
There is so much dedication to this film from the people behind the scenes that it's incredible to see just how it all came together. Definitely a cool featurette to watch – and one of the best making-of featurettes I've probably watched in a long time. Keep in mind, though, that it is twenty-two minutes long so you'll want to set some time aside to watch it all!
Giants 101 offers a little bit more about the giants in the film and bringing them to life but, honestly, it was a pretty forgettable feature. The really cool special features that you'll want to watch are The Big Friendly Giant and Me and Gobblefunk: The Wonderful Words of The BFG. The Big Friendly Giant and Me is a short story briefly viewed in the film itself. It's a book drawn by a little boy who lived with the BFG before Sophie. It's kinda sad, though, because that kid gets eaten by the other giants. Gobblefunk is a really fun short featurette that quizzes you on your ability to understand the BFG's peculiar way of speaking.
There's also a really touching tribute to Melissa Mathison included on the blu-ray. Melissa Mathison wrote the screenplays not just for The BFG but for E.T. the Extra-Terrestrial, The Indian in the Cupboard, The Black Staillion, and more. Sadly she passed away before the film was released. Melissa had a very close relationship with several of the people she worked with on The BFG and they all come together to share their memories of working with Melissa over the years.
There are even interviews with Melissa herself on the set of The BFG presumably filmed for the sort of special featurettes you'll see on this release. It's a really emotional special feature because you can tell how much she meant to the people she worked with and how sad it is that she's gone.
I'm really impressed with these special features. Bringing The BFG to Life is a thoroughly enjoyable watch from start to finish and the tribute to Melissa Mathison is incredibly touching. Seriously, they're all great bonus features and worth watching (with the exception of Giants 101).
Final Thoughts
Even without any prior experience with Roald Dahl's original book, The BFG, I thought this was a really great movie. Sophie is an amazing main character and her relationship with the BFG is really beautiful. I can't give over how much I enjoyed watching this movie and how fun it was.
I highly recommend taking a chance on this film even if you don't know much about it. It's a great family film and it captures a lot of the same old school magic that you'll see in the classic children's films the many great filmmakers involved in this project have worked on previously.
Seriously, if you're looking for a good holiday gift for the kids in your life, check out this film and maybe bundle it together with the book! The BFG is available in both a blu-ray/DVD combo pack as well as Digital HD on a variety of online retailers.

A REVIEW COPY OF THE BFG ON BLU-RAY COMBO PACK WAS PROVIDED BY DISNEY AND FINGERPAINT MARKETING IN EXCHANGE FOR A FAIR AND HONEST REVIEW. NERDOPHILES WAS IN NO WAY COMPENSATED FOR THIS REVIEW. OUR OPINIONS ARE OURS AND OURS ALONE.