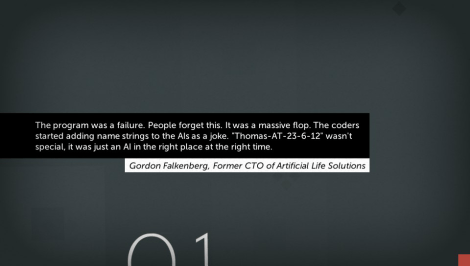 Thomas was Alone started its life a Flash browser game back in 2010 and is now everywhere – on Steam (for Mac and Windows), PS3, PSVITA, PS4, iPad, Wii U, and Xbox One. I personally came across it in the Playstation Plus store a while back and was able to pick it up for free (Playstation Plus is so worth it). It's an indie game originally developed and published by Mike Bithell and narrated by Danny Wallace. Wallace went on to win a British Academy of Film and Television Arts (BAFTA) award for his performance as narrator!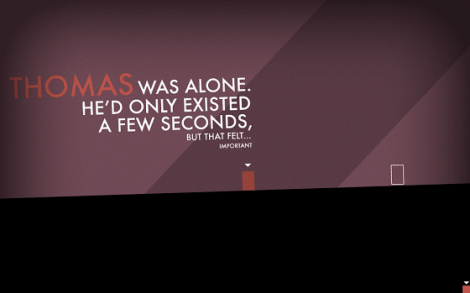 Thomas was Alone is essentially an indie puzzle game. Little rectangles of assorted sizes and abilities work together to go from one area to the next, discovering more about their world and forming inter-relationships. Originally released with 100 levels and 12 characters, Thomas was Alone makes playing with assorted quadrilaterals truly entertaining.There is a DLC that came out in 2013 entitled 'Benjamin's Flight' that adds twenty levels to the game and introduces players to a Benjamin, who seems to have become sentient around the same time as Thomas. It offers the same basic game play style while providing a bit more story line.
Each quadrilateral is a rampant, self-conscious artificial intelligence that is unwittingly being searched for and contaminated by the computer mainframe they occupy. Each artificial intelligence has its own personality and no personality is alike. Thomas-AT-23-6-12 also known as Thomas, is the main character, but not the only character. There's one that fancies herself to be a superhero, one that loves being the center of attention, another that hates everyone. Not only is the main character relatable, but all the characters are. The characters are well thought out and most importantly – they are distinct individuals.
Despite finishing the game within a few hours I had a ton of fun playing through the puzzles! Immediately upon finishing the game my first thought was 'I'm going to play through this again.' The puzzles were a bit easy, though never really monotonous. I would say I would love to see a second installment of this game, but I would hate to have the good name of Thomas was Alone tarnished by a crappy sequel. I will say that I hope Mike Bithell continues to release quirky games, and surpasses Thomas was Alone. With that said, he does seem to have a new game called Volume looking to be released in 2015 that you can read up about here.
Distinct characters accompanied by a fun play style and an intriguing story line are exactly what make a game worth playing. I will warn, however, that I absolutely had to turn the music volume down. The music combined with the white screen changes from level to level were unbearable, causing me to get a massive headache each time I played until I finally turned the music volume all the way down and adjusted my brightness. I recommend this game for anyone that likes short puzzle games, as well as for anyone looking to just take a look at something fun and a little different. There are so many puzzle games on the market these days that are just puzzles with no interesting characters and no real story line, making Thomas was Alone a refreshing change of pace.