Fantastic Beasts and Where to Find Them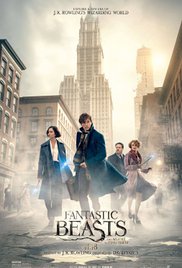 Release Date: November 18, 2016
Cast: Eddie Redmayne, Katherine Waterston, Colin Farrell, Alison Sudol, Dan Fogler
Director: David Yates (II)
Studio: Warner Bros. Pictures

Review Spoilers:
Mild
IMDB | Wikipedia | RT
Harry Potter is back! Well, kind of. Fantastic Beasts and Where to Find Them is set in the same world as Potter, but in 1920's New York. Here, we find our quirky hero immigrating from England with a suitcase full of magical beasts, determined to release one of those beasts back to its Arizona habitat.
Well, at least that was the plan before the case of beasts escaped and started to wreck (adorable) havoc on the city. Cue supporting castmates Sudol and Fogler, along with leading lady Katherine Waterston to help him round them up. What follows is a feel-good adventure coupled with magnetic secondary characters and some rather bland leads.
Katherine Waterston's character didn't have a lot of good material to work with, so she came off as half go-getter and half sopping-wet-tissue. Redmayne didn't have a ton of depth other than his 'outsider, kinda geeky' animal-lover vibe. Alison Sudol's character, however, is a delightfully airy telepath who makes the film along with the audience-surrogate/adorably funny non-magical pastry chef played by Dan Fogler. Colin Farrell's character is dark and swoon-worthy all at the same time (as the best villains are!).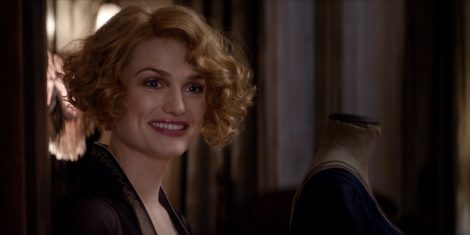 The supporting characters, setting, and mythology were all fantastic. The only problem was that the movie was really two different plots smashed into one. Now, it wasn't as bad as Spiderman 3 with its villains, but it did have two significant tonal differences.
The first movie, the movie that I thought I was going to be watching from all of the previews, is a fun, adventurous romp through the magical world of 1920's New York. You've got your fast-paced chase to catch some escaped CGI creatures, your cuddly 'awww' moments, and your 'beasts really aren't that beastly' moral of the story. Along the way, you get secondary romantic plots and all the trappings of a solid feel-good film.
Now, the second plot is where things get weird. It's Harry Potter meets Orphan. The movie suddenly turns into a horror film, complete with child abuse, starving orphans, and literal witch-hunts. The rest of the movie alternates between the wild-romp-in-the-city plot back to this evil-children-destroying-the-world plot and it's extremely strange.
The strange part is that the two stories never felt like they were smashed together in a way that didn't make sense for the plot. My only issue here is that I was expecting one movie, one tone, and got something completely different. The narrative was compelling if not a little long, but the first story left me completely satisfied, whereas the second felt unnecessary, and unnecessarily dark. Also, they cast Johnny Depp to play a major role in the ongoing series, a choice which I'm pretty conflicted about given his recent domestic abuse allegations.
Final Thoughts: I was impressed with this movie, but I didn't come in with any expectations. The supporting cast was fantastic, but the mismatched adventure and horror tones slightly dulled the magic of the story.