Bait: Off-Color Stories
for You to Color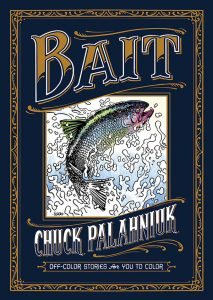 Author: Chuck Palahniuk
Artists: Lee Bermejo, Kirbi Fagan, Duncan Fegredo, Tony Puryear, Alise Gluskova, Marc Scheff, Steve Morris, Joelle Jones, David Mack
Release Date: October 25, 2016
Publisher: Dark Horse Comics
Genre(s): Coloring Book, Satire
Rating: ★★★★★
Amazon | Goodreads | Dark Horse
Only Chuck Palahniuk could take the adult coloring book craze and turn it into Bait: Off-Color Stories for You to Color, a hardcover coloring book and collection of short stories meant to endure far longer than the traditional relaxing hobby books.
Let me repeat that: Bait is a hardcover coloring book and has all the heft and durability that goes along with it. While previous coloring books have dabbled in an overarching story to pull the imagery together, Palahniuk wrote eight short stories illustrated by eight different artists to make Bait a solid investment in both time and money. Clocking in at 152 pages in total, there are many that don't have any illustrations at all adorning their pages – which sounds weird, but absolutely works because of the stories themselves propelling readers through the book.
Be honest, when was the last time you finished a coloring book front to back? Bait is the kind of multipurpose relaxation tool that allows you to open to any story and begin a journey or open any page and start coloring. And while there is no story I'd put on par with the infamous Guts in this book, each one is just enough Palahniuk to make readers squirm, this time with the imagery to match.
At first glance, it may not feel like there is much to actually color, but Bait has all sorts of small accents just waiting for activity. Opening the front cover showcases a hint of things to come, with relatively tame imagery of animals, glasses, tools, and more. It's a cleverly repeating pattern that adult coloring books are known for, allowing for readers to fill each picture uniformly or to mix it up at their discretion. The first page of the book has the title situated in a blank frame, another opportunity to fill in however one would like.
From there, if it isn't a full-page or half-page illustration, it's a subtle hint of artwork that allows for personalization and connection to the text. The table of contents showcases small panels of the stories to come and the initial to begin each story is tailor-made for the story it starts (study them closely, one is definitely layered over a field of dildos and that story is a doozy).
The full-page and half-page spreads sprinkled throughout each story are all gorgeous in their renderings. I don't think Palahniuk made any missteps in artists for this coloring book, with every image offering varying intricacies and options for coloring. Every image is crafted in dark, heavy lines and the paper itself is thick and sturdy – when going through it, I often thought I'd grabbed more than one page at a time given how thick it is.
Palahniuk himself chimes in during his introductory note to recommend things to take into consideration when beginning to color Bait, including a possible waterproof barrier to keep ink from bleeding and to use "watercolors or other paints at your own peril" should those be your tools of choice. Personally, I would love to see a Wreck This Journal approach to Bait, which I think would easily hold up under the abuse.
Chuck Palahniuk has changed the game for adult coloring books with Bait: Off Color Stories for You to Color. This is not a book you will color in once and soon forget about, Bait is full of stories to revisit and blank spaces to fill in on many repeated flip-throughs.