So far so good, you have covered your bases. The big gifts you've purchased will look beautiful under the tree after they have been neatly wrapped and tied with a bow. But oh no! You forgot – there are stockings to fill. Those silly socks hanging from the mantel are just as important as what is under the tree, and if they are not filled to the brim with all sorts of holiday goodies then there is going to be hell to pay for the holidays.
Never fear, though, because we here at Nerdophiles have got your back. You can, of course, check out our cosmetics gift guide as well as our enamel pin gift guide, because either of them would provide great stocking stuffer ideas for the nerd in your life. However, if neither of those things quite fit your vision for a plump stocking, then maybe something out from our list below will fill the need and make this holiday season the best one yet.
Titans
Our friends over at Titan Books have a merchandise wing that takes your favorite shows and movies and turns them into wonderful swag like t-shirts and toys.
In this case, their "Titans" series of vinyl figurines make the perfect last minute stocking stuffer. Not only are all the popular shows and movies covered, like Doctor Who, Ghostbusters, and even video games like Dragon Age, but they come in an easy-to-wrap tiny box perfect for dropping into a stocking. Buy a whole set, or a single one, because you cannot go wrong either way.
Pocket Pop! Keychains
Pocket Pops! made it onto our gift guide last year, and remain a wonderful gift for all those figurine collectors in your life. However, this year we are recommending the Pocket Pop! Keychains, because we like to keep it practical, and no one can ever have enough keychains.
As our fearless leader Sam can attest to, Funko Pop! toys are absolutely addicting, and the keychains fuel every collector's fire as they get a chance to flaunt their collection in a publicly acceptable way. Whoever you gift one of these awesome keychains to will be the coolest person on the block, no doubt about it.
Hallmark Keepsake Ornaments
Following along with our collectible theme, Hallmark comes out every year with a new series of Keepsake Ornaments that cover a lot of pop culture ground.
With ornaments modeled after movie characters, like from Finding Dory, BB-8 from Star Wars, or comic book legends like Wonder Woman, one would be hard pressed not to find a little something for everyone within their yearly collection.
Our personal favorite this year? Captain Kirk getting assaulted, because nothing says "Happy Holidays!" like nearly dying. You can browse all available ornaments here, or if you like people and want to fight the crowds you can check out your local Hallmark retailer.
Tea Infusers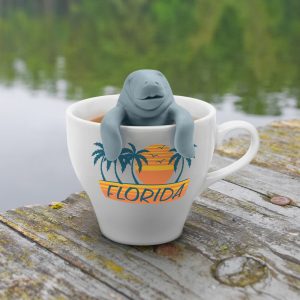 Long gone are the days where your tea infuser looked like a medieval tool used to pluck out someone's eye. No one has to settle for a boring old metal tea infuser shaped like a ball, either.
Instead, you can get the tea enthusiast in your life a clever, pun-filled tea infuser like the "Manatea" or even "Mr. Tea". They are bound to be an instant hit, and whoever receives one will think you're clever and cute on top of it all. It is a win/win, and you can check out an amazing selection of tea infusers at Fred and Friends. They even have some great infuser/mug combinations to sweeten the deal.
Scarves
Winter is coming and you don't want your loved ones left out in the cold. A scarf is a great accessory for even the tamest of nerds who wants to show off without bringing in too much attention.
Whether you're giftee is a fan of math (why?), biology, or any particular fandom, there is bound to be a scarf to match their interest. Think Geek has an impressive selection, and what they lack you should be able to find without issue on sites like Etsy.
Wherever you go, rest assured in the knowledge that your friend's neck will be warm, and temporarily safe from vampires. But really, if your recipient likes math enough to wear it on a scarf… you might want to reconsider the company you keep.
(I'm kidding! Kind of! Math is hard.)
Gift Cards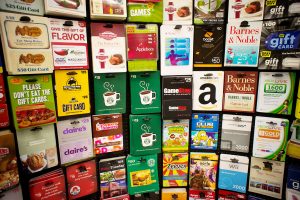 Of course, as we say every year, when all else fails? Grab a gift card. If you are not sure what your loved one really wants and do not want to take the chance of having to produce a receipt in order for your giftee to return whatever you bought them, the safest way to go is to let them decide.
Whether you grab them an iTunes gift card, one from Etsy, or somewhere else, the options are truly endless. Any store you can think of probably has a gift card option, and the ultimate "get out of gift jail free" card is a trusty Amazon gift card because everyone can find something on Amazon.
If you feel a gift card lacks a personal touch, then consider making a handmade card to go with it, write a poem, or wrap it in a bow. Whatever you do, I imagine whoever receives it will be grateful when they find it in their wallet months down the line and realize you have given them a delayed "treat yo' self" moment.
NOW IS YOUR TIME TO SHARE! DO YOU HAVE ANY GENIUS STOCKING STUFFER IDEAS? FEEL FREE TO LEAVE THEM IN THE COMMENTS!