Finding Dory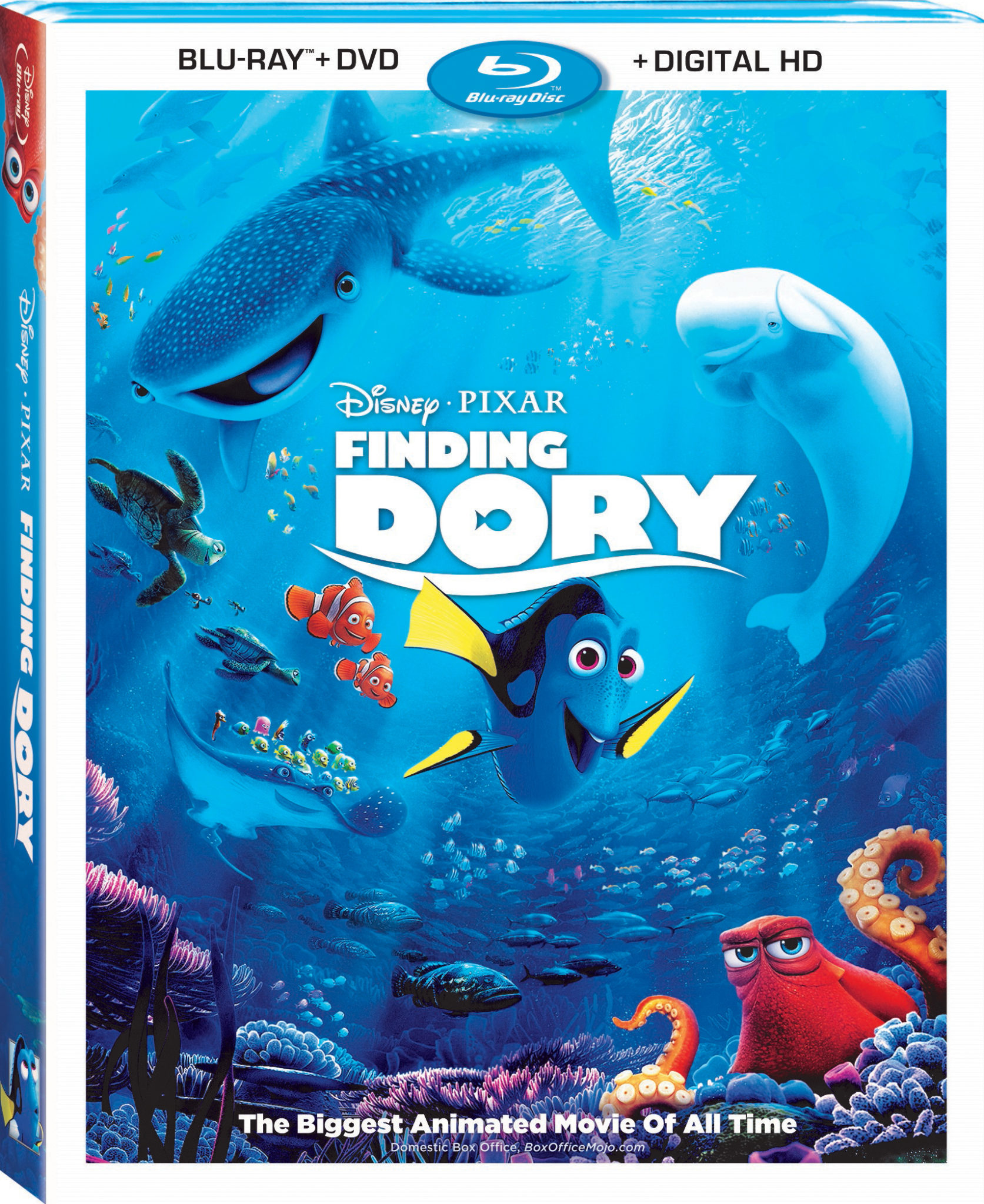 Release Date: November 15, 2016
Cast: Ellen DeGeneres, Albert Brooks, Ed O'Neill, Hayden Rolence, Kaitlin Olson, Ty Burrell
Director: Andrew Stanton
Studio: Walt Disney Pictures and Pixar Animation Studios
Extra Feature Rating: ★★★★☆
Rating: ★★★★★
Format: Blu-Ray Combo Pack
Review Spoilers: Mild
Amazon | IMDB | Wikipedia | RT
Thirteen years after Pixar's beloved animated film, Finding Nemo, was released we finally have the chance to dive into a new adventure in the deep blue sea. Everyone's favorite fish with short-term memory loss, Dory (played by Ellen DeGeneres), takes the center stage this time around for a sequel that explores the origins of the quirky sidekick.
The film takes place about a year after Finding Nemo and sees Dory suddenly overwhelmed with memories she had previously forgotten. The memories lead her to believe she knows how to find the family she had long since lost and forgotten.What follows is a touching adventure as Dory enlists Marlin and Nemo's help in tracking down her family. With the help of some new friends – and a couple old ones she may or may not have forgotten about – she takes off for the "Jewel of Morro Bay" in California.
While the bulk of Finding Nemo takes place in the ocean, most of Finding Dory instead takes place in the 'Marine Life Institute' which is a rehabilitative center and aquarium based on the real life Monterey Bay Aquarium. Dory finds herself navigating the human world with the help of a surly octopus (well, septopus since he lost a leg somewhere down the line).
The change in setting really helps set the film apart from the previous Finding Nemo film because while Nemo may have spent some time in a dentist's fish tank, Dory -as well as Marlin and Nemo – are literally fish out of water. They find themselves in all kinds of crazy situations and have to find creative ways to get from place to place as fish.
I loved the new setting and I loved how realistic it all felt. The film doesn't just take place in the exhibits but also behind the scenes. You get to see the veterinary section of the aquarium and the catwalks above the exhibits and all the spaces in between. The setting also opened up a lot of opportunity for new characters. Besides Hank we get to meet Destiny, a whale shark, who used to be friends with Dory when she was little. We also get to met Bailey, a beluga whale with echolocation performance issues, whose character plays off of Destiny's perfectly.
We also get to meet Dory's parents and really this is probably the best part of the whole movie. We knew so little about Dory in Finding Nemo and Finding Dory lets us learn a lot more about her while at the same time she's learning about herself. Don't think that Dory starts regaining her memories. It's really kind of heartbreaking at times seeing what she's going through and learning what she's learning as the story moves along. Like all good Pixar movies, there are definitely a handful of moments that are likely going to reduce you to tears.
Admittedly, I don't think I like Finding Dory as much as I liked Finding Nemo. I'll always have a soft spot in my heart for that movie (even if I hate dead fish and absolutely cringe every time I see Nemo pretend to go 'belly up'). But that doesn't mean that Finding Dory isn't a really great family film. It's a worthy successor to Finding Nemo and while some sequels never really need to be made this is certainly not one of them. Pixar may have taken thirteen years to make it but in the end they made sure to make this film right.
Finding Dory is the Disney film to put under your Christmas tree this year – and with Pete's Dragon and The BFG coming out in a couple of weeks that's high praise!
Special Features
As far as special features go, I was really pleased with what the Finding Dory blu-ray had to offer. Not only are there bonus features on the primary disc but there is a complete, second blu-ray disc full of extras! There are some really great behind-the-scenes featurettes available and for the most part every single one is worth watching. I've watched a couple of them multiple times and I haven't regretted it at all.
So, let's break this down by disc.
On the primary disc, the most important special feature isn't one of the various featurettes. Like all great Pixar films, Finding Dory comes complete with a heart-warming Pixar short and in this case it's Piper.
Piper is a short film running about four minutes long. It's about a baby sandpiper learning the skills she'll need to survive on her own. This includes searching through the sand with each passing wave for little bitty clams to eat. After a bad experience getting caught unprepared by a wave, she refuses to return to the water. But after a little bit of observation and ingenuity she learns a valuable lesson and starts to really enjoy herself. It's adorable but I probably don't need to say this because it's Pixar and all of their shorts are amazing. If you only watch one of the bonus features on this blu-ray release then obviously it needs to be Piper.
That said, I really enjoyed a lot of the other special features.
My favorite one is probably What Were We Talking About? It's a short featurette dedicated solely to how the filmmakers worked around Dory's particular eccentricities to take her from simply being Marlin's goofy sidekick in Finding Nemo and make her into the hero of her own story. I loved how much thought they put into it and how they changed things overtime when they realized certain things wouldn't work.
And really enjoy the conversation they have about how hard it was to make people care about a main character who can't even remember the point of her own adventure. I think they did an amazing job of making it all work and I like seeing how much they thought things through as they were making the movie.
I also really liked The Octopus That Nearly Broke Pixar. Hank is probably my favorite character in the movie. He's cranky and gruff but at the same time he has a lot of heart and you can tell he really comes to care for Dory in the end. This featurette talks about how he was developed and how integral he is to the storytelling. After all, Dory had to get around the Marine Life Institute somehow and Hank was a perfect way for her to do that.
Except then Pixar had to animate him and as it turns out that wasn't exactly easy. There's a part where they say he had probably about 4,000 animation controls which is a lot for just one character. But this is the studio that ended up finding a way to animate Sully's fur in Monster's Inc. They can do anything when they put their mind to it!
Animation & Acting and Deep in the Kelp are both worthwhile featurettes that give you some insight into how the film was made. The first one focuses on the actual process of recording the dialogue and what goes into that. Then it shifts over to talking a bit about the animation that comes after.
Deep in the Kelp on the other hand talks about the dedicated research the filmmakers and animators did to make sure they could truly bring Dory's story and world to life. It talks about their trips to the Monterey Bay Aquarium and it's just really cool to see how excited they get about everything. They paid so much attention to the little details – even just the pipes and buckets and tubing. And you can see that all in the final film.
Creature Features is kind of cute – the actors tell you a few facts about the various species their characters are based on. Albert Brooks really wants a Finding Nemo sequel where Marlin turns into a female as clownfish are want to do. Marine Life Interviews is a kind of boring series of mock interviews where some the characters in the film talk about their relationship to Dory. I wasn't that impressed with it but kids will probably enjoy it.
Really, the only special feature I wouldn't bother watching is Casual Carpool. The director and a handful of the actors all pile into a car for a few lame gags and at the end even Andrew Stanton says it's never going to happen again. There's also a featured commentary included if you're interested in listening.
And all of that is just on the main blu-ray disc! The special features on the second disc are split into four sections: Behind the Scenes, Living Aquariums, Deleted Scenes, and Trailers.
The Behind the Scenes featurettes are pretty varied. Skating and Sketching With Jason Deamer has a Pixar artist basically walk you through how he designs and draws various characters in the film. It's a neat, short one-on-one featurette that's kinda fun to watch.
Dory's Theme goes behind the music of Finding Dory. The folks behind the score talk about how they developed Dory's particular theme. They also talk about how the theme is utilized throughout the film. They point out a lot that you might otherwise not have noticed.
Rough Day on the Reef is a hilarious series of computer glitches from various points in the film. There's randomly a whole shot full of living socks and scenes where Destiny is nothing but a disembodied pair of eyes and a tongue. It's a really short featurette but it's pretty funning.
Then there is also Fish Schticks which is a series of random animations featuring the different characters of Finding Dory. I'm not sure if it's a bunch of test animation or what but it's entertaining enough to watch once.
Finding Nemo As Told By Emoji is also included in the bonus features. Though you'll have to head over to YouTube to find Finding Dory As Told by Emoji!
The Trailers section is pretty self explanatory. It includes four trailers – three of which are international trailers you may not have seen before. I love when Disney does this. I really enjoy trailers for some reason and there's just something cool about seeing how a movie is marketed to different audiences.
The Living Aquariums section is pretty no-frills. The titular 'Living Aquariums' are actually two to three hour loops of animation. One features the same sea grass scene you'll see in the background of the main menus, one is a loop of the stingrays migrating, another is a loop of fish in the Living Ocean exhibit from the film, and the last one is clocks in at just around an hour and features a whole lot of kelp.
I didn't watch these all in their entirety and it's not possible to fast forward through them so if anything cool happens… I don't know. The last one with all the kelp might end with you reaching the surface because you appear to slowly be moving up the lines of kelp but I honestly have no idea what happens.
The Deleted Scenes section is where it really gets interesting. There are seven deleted scenes with a pretty great introduction by Andrew Stanton. As much as I love deleted scenes he does a great job of explaining why someone in his position doesn't necessarily like watching them. There are a lot of great moments created by a lot of great people that ultimately have to get cut – and I can see how that would be hard! But it's still cool for me to see these deleted scenes.
Each deleted scene gets it's own introduction. Andrew Stanton points out what didn't work about each one and what things managed to get reused in the final film. One of the scenes that ended up getting cut was actually used in the very first trailer which premiered on Ellen. As you watch, you'll see a lot of familiar things used in a lot of different ways. It's pretty cool to watch – and if you watch all the deleted scenes and introductions you're looking at about an hour's worth of additional content!
The Finding Dory blu-ray combo pack goes all out on special features which is really, really awesome. Not enough movies do that. Considering how much people loved Finding Nemo and how long we've waited for a sequel it's not a surprise that they decided to go all out. But it's still a really pleasant surprise to see just how much of an effort they made with these special features. This is one of the best assortments of special features I've seen this year.
Final Thoughts
I'll admit, I was a little skeptical about Finding Dory at first. I have such fond memories of Finding Nemo that I wondered whether or not we really needed a sequel thirteen years later. I didn't see the film in theaters but everyone I know who did had nothing but good things to say about the movie and I remained hopefully optimistic. I've been really pleasantly surprised at how well Finding Dory turned out. It's so much more than just some random sequel.
Finding Dory takes what made Finding Nemo such a great film and expands on up it all. It also gives Dory a real time to shine. I didn't know how badly I wanted to know more about Dory and her past until Pixar came forward to tell me. Finding Dory is a fun, emotional journey that you really shouldn't miss.
This is a must-watch movie for Disney fans of all ages. Pick it up now – or at the very least make sure it ends up under the tree this holiday season!

A REVIEW COPY OF FINDING DORY ON BLU-RAY COMBO PACK WAS PROVIDED BY DISNEY AND FINGERPAINT MARKETING IN EXCHANGE FOR A FAIR AND HONEST REVIEW. NERDOPHILES WAS IN NO WAY COMPENSATED FOR THIS REVIEW. OUR OPINIONS ARE OURS AND OURS ALONE.