Blood & Gourd Issue #2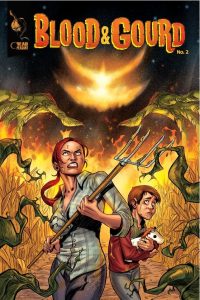 Authors: Jenz Lund, D.H. Shultis
Artist: Juan Antonio Ramirez
Release Date: August 4th, 2016
Publisher: Dead Peasant, LLC
Source: Dead Peasant, LLC
Genre(s): Horror
Spoilers: Mild

Facebook | Online Store
Blood & Gourd issue #2 will definitely make you think twice about carving up a pumpkin this fall, as it picks up where issue #1 left us, with pumpkin pandemonium at the Henderson Farm! Before we met up with our heroes, readers got a peek into the dense mythology that led to the terrible events at the farm that fateful fall day. It all began with a starving farmer, who begged for anyone or anything to save his family. Unfortunately he got his wish, and a madman by the name of Alabaster brokered the deal of a lifetime, kicking off the present-day events at the farm.
Present day, everyone panics as animated pumpkins lay waste to everything around them. It is in this mass panic that the writers explore the two reactions to chaos: fight or flight, and play it out in the following pages as everyone scrambles to save themselves. Some met a quick fate at the vines of the pumpkins, others sealed their own as they charged headlong into danger in an attempt to escape it! Kitty and her crew, however, demonstrated the resilience of man and rose above their circumstances to band together to help each other make it to the farmhouse and, hopefully, to safety.
Issue #2 definitely lived up to the hype and gave audiences the next chapter in a truly horrific story that managed to make the terror palatable. The creators wasted no space, as the issue became a nonstop thrill ride to the conclusion that will no doubt leave readers wanting more. Each panel played a purpose and no stone was left unturned, complimented by the fantastic art style of Juan Antonio Ramirez whose epic illustrations brought the writing into a bold existence which held true to the style of the first issue.
Blood & Gourd is everything I have ever loved about indie comics and the creative team has carved out a place for themselves which is set apart from the majority of mainstream comics today. The ability to explore the human condition in full color, while also giving the reader a hilariously ridiculous scenario of a favorite holiday symbol coming back to get its revenge goes to demonstrate the freedom indie creators have to go beyond the status quo and try something new. It is a one of a kind comic series, and I cannot recommend picking up a copy of Blood & Gourd issue #2 enough.
If you want to meet the creators and get your hands on your very own second issue, you can meet the crew at Northwest Comic Fest in Salem, Oregon on August 13th + 14th.