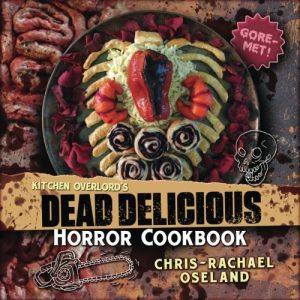 Author: Chris-Rachael Oseland
Release Date: October 22, 2016
Publisher: CreateSpace Independent Publishing Platform
Source: Author
Genre(s): Cookbook
Rating: ★★★★☆
Amazon
By now, we all should know my deep love of all things spooky. The best time of year is the entire month of October, because of Halloween. Typically this time of year you'll find me in the kitchen whipping up skull cakes, chocolate frogs and rats, deviled eyes, and various other spooky things. So I was very excited to read and review this cookbook, which is unique in its gory presentation by making 90% of the recipes vegetarian!
To start it off, if you're not a fan of eating food that looks like bloody body parts, this is not a cookbook for you. There's the disclaimer for you, but if you love gore and blood, and eating, continue! Oseland makes gross and gourmet look easy!
The book is broken up into two parts – Torsos and Body Parts. The torsos are more complicated as far as execution and set up, but are crowd pleasers when done and generally serve as full meals. The body parts are more of your finger foods, easier to grab and snack on while showing off your costume.
The first recipe in the Torso section isn't necessarily one recipe, but a few made up together to make one stomach-churning picture for the main dish. Oseland's writing will have even the most novice of cooks laughing and confident about their cooking (thank you for not pretending I'm going to do a perfectly finely diced job on my herbs, I'm just gonna chop at them a few times and call it a day) and each recipe even denotes special dietary restrictions including gluten free, vegan, vegetarian, or paleo options.
Not only do you get easily digestible (get it?) recipes, but there are often instructions for how to further utilize ingredients, like using leftover lamb bones for lamb broth, and alternate instructions for presentation, like a ribcage bread bowl to pull apart instead of a lay-flat presentation.
The recipe titles are not for the faint of heart either, 'Pus Oozing Goat Cheese Stuffed Roasted Bell Pepper Hearts' may be delicious, but don't be surprised if your diners get a little nauseous at the thought (runner-up: Orzo Pasta Maggots). My one complaint about the Torso section of the book is mild, given I adore the presentation of each dish, but sometimes I had a difficult time discerning which element was which, given there is one picture for three or four recipes that follow it.
There is no designated page to announce you've hit the Body Parts finger foods section of the cookbook, but this is where the pictures become one-for-one with the recipes. Some, like the Withered Zombie Eyes or the Bleeding Ear Plums, have a small batch size, so make sure that you're mindful of how many times you need to double or triple the recipe to feed the hungry hordes.
My favorite recipe to make was the Red Velvet Cinnamon Roll Guts. Not only was it super simple to put together, but it was deliciously gross to present. Lucky for you, Kitchen Overlord has graciously shared this recipe on their website, so you can try it too! This will be one of the recipes that I will continue to make because they are so good. I can't emphasize how delicious these were.
If you're looking for a way to spice up your party, or just make watching The Walking Dead more fun, this is the book you need to get. With the amount of suggested variations and the long list of sauces at the end of the cookbook, there are countless recipes to play with and you may never eat the same organ twice! Order your book, fire up the oven, and get ready to eat your guts out.