Dark Energy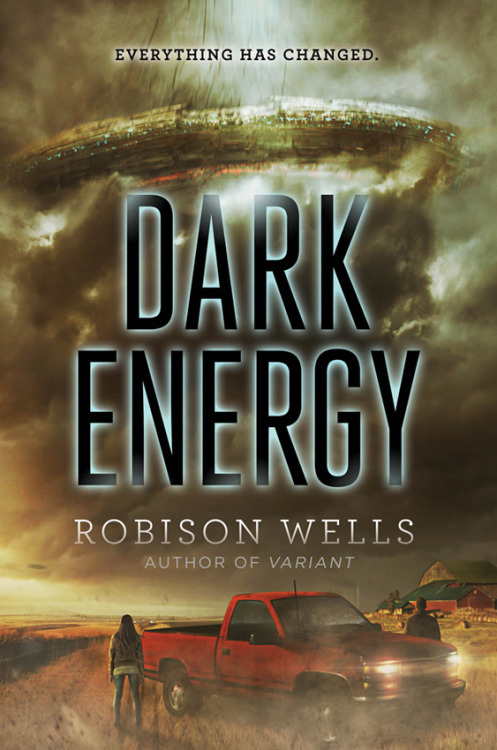 Author: Robison Wells
Release Date: March 29, 2016
Publisher: HarperTeen
Formats: Hardcover, eBook
Genre(s): Young Adult, Science Fiction
Goodreads | Amazon | Barnes & Noble | iBooks
Aliens are pretty awesome. They open up an incredible opportunity for storytelling and in the hands of someone like Robison Wells you've got to imagine you're in for something good.
And Dark Energy sounds like a really great read.
Seriously, check out this synopsis.
We are not alone. They are here. And there's no going back. Perfect for fans of The Fifth Wave and the I Am Number Four series, Dark Energy is a thrilling stand-alone science fiction adventure from Robison Wells, critically acclaimed author of Variant and Blackout.
Five days ago, a massive UFO crashed in the Midwest. Since then, nothing—or no one—has come out.
If it were up to Alice, she'd be watching the fallout on the news. But her dad is director of special projects at NASA, so she's been forced to enroll in a boarding school not far from the crash site. Alice is right in the middle of the action, but even she isn't sure what to expect when the aliens finally emerge. Only one thing is clear: everything has changed. 
Giveaway
If you're interested in reading Dark Energy for yourself you're in luck! Rockstar Tours has a giveaway going as part of the book tour. One lucky winner will get a copy of Dark Energy of their very own! (Sadly, the giveaway is open to US entrants only.)
Guest Post
With such an awesome concept at hand, we were interested in where Robison Wells got his ideas. So we asked him! We wanted the inside story on all the influences that went into creating Dark Energy.
Lucky for us, he obliged! Robison broke down certain aspects of the story and the influences he drew from to incorporating them into the story.


The Crash
I'm pretty sure this is where I started (I've been working on this book on and off since 2008—before Variant). The idea of crashing an enormous spaceship—which skids miles and miles before stopping—comes from "Star Trek Generations", where the Enterprise does the same thing. In my book, the ship was going REALLY fast, so it lands in Iowa and skids all the way to Minnesota, carving a big ditch behind it and killing thousands. It also hearkens back to Roswell, NM, where, supposedly, a small flying saucer crashed, and it's all shrouded in mystery. I wanted to do the opposite of Roswell: I wanted an alien encounter that was so big that there could be no mystery or conspiracies. I wanted it on every news channel, nothing hidden.
The News
The news was inspired by my personal reactions to the 9/11 attacks. At the time I was in college, and all classes were cancelled for the week, so I sat on my couch and watched the news for twelve hours a day. There was something about my personal grieving process that forced me to stare at the TV, listening to every false threat and every commentator's speculation. Having all the teens glued to the cafeteria couches, watching, absently guessing about what was going on, feeling numb and helpless. All of that was me on 9/11, and I can only assume that would be the reaction (of many) to such a life-changing event.
The School
The description of the school is based on a real private school in Minneapolis that I used to drive past on my way to work. As for being a school for the gifted and talented, I went to a school that was for the gifted and talented, and I have strong feelings about schools like that (I think they're. . .problematic.) But, I knew super-smart people like Rachel and Brynne. And super-smart jerks like William.
The Navajo
Alice, the main character, is half Navajo, and we see a few glimpses of that culture and people. I actually used to live on the Navajo Nation, down in New Mexico. I loved my time there on the high desert. Many people were living in almost third-world conditions (no electricity, running water, or even floors). The book references a couple Navajo ceremonies, but, after talking with a lot of Navajo friends and contacts, I decided to cut back on some of the more sacred aspects.


Of course, there were somethings he couldn't tell us. He couldn't talk too much about the aliens without giving away spoilers. And, of course, we wouldn't want him to reveal any secrets!
We also super appreciate his taking the time to sit down with us. He's a super busy guy so we're glad he was able to share this with us – and with you guys!
About the Author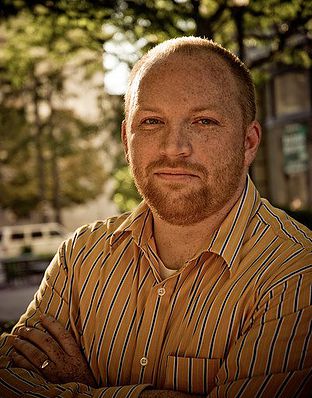 Robison Wells is the author of Blackout, Deadzone, Variant, Feedback, Dark Energy, and Airships of Camelot. Variant was a Publishers Weekly Best Book, a YALSA Quick Pick for Reluctant Readers and a Bestseller. Robison lives in the Rocky Mountains in a house not too far from elk pastures. His wife, Erin, is a better person than he will ever be, and their three kids cause mischief and/or joy.
Robison has an MBA in Marketing, and a BS in Political Science, with an emphasis in International Relations of the Middle East.
Robison suffers from five mental illnesses (panic disorder, OCD, agoraphobia, depression and dermatillomania) and is an outspoken advocate for those with mental illnesses.
His books have been published in nine different languages, and he is the winner of many awards both in and out of the United States.