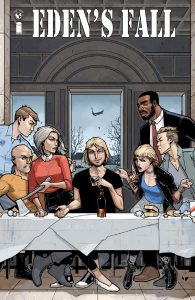 Authors: Matt Hawkins, Bryan Hill
Artist: Atilio Rojo
Release Date: August 31, 2016
Publisher: Top Cow
Genre(s): Action, Thriller, Drama
Rating: ★★★☆☆
Review Spoilers:  Heavy
I have a confession to make. I picked up Eden's Fall without realizing it was a melding of three other Top Cow titles (Think Tank, The Tithe, and Postal), so it would seem that I've inadvertently spoiled myself for at least some of these other series. The good news is that newcomers can pick up Eden's Fall and dive right into this series without any prior knowledge!
The first issue is broken up largely into two parts. The first bit, where readers are introduced to the characters and given just enough to pick up on their backgrounds and relationships to one another, is successful even with three other titles to piggyback off of. Things could have gotten bogged down with too much explanation, but Matt Hawkins and Bryan Hill balance giving away just enough information to new readers to welcome them into the series.
Former FBI agents, Dwayne Campbell and James Miller plan to infiltrate an off-the-grid town, known as Eden. The small town, where criminals can shed their pasts and find a second chance at life, is housing one of their previous targets – a man name Thornton, who blew up churches and tried to blame others in his previous life before Eden.
With the help of Samantha Copeland, a hacker, and David Loren, a scientist, James is going into town to take him down. Why they're former FBI agents and how they found both Samantha and David are stories for the other series, but the group dynamics are laid out well in the writing. Both Campbell and Samantha are worried about James' reckless plan, but ultimately all of them come to agreement on it.
The second half of the issue is where the action really begins. After having made up an extensive cover story, James is black bagged and brought into town. However, it's only a matter of time before the highly militarized, off-the-grid sanctuary for all types of unsavories uncovers the liar in their midst. Ending on a telescoped cliffhanger, I'm still very much interested in where this series is going.
It's a fairly standard formula for first issues and a fairly straight-forward story to being with, but intriguing enough to make me want to know what happens next. There is plenty of room for gray areas and twists regarding just who might be the "bad guy" here.
Atilio Rojo does a fantastic job of illustrating the emotions of the characters. With such high stakes and personal connections already in place, the characters feel strongly and that shows in the artwork across panels. A few perilous dynamic scenes were also done well, giving readers a feel for how quickly the tide can turn. K. Michael Russell helps the noir feel of the series with dark coloring that transforms into almost sinister small-town cheer once James enters Eden. The outside world is showcased with a touch of grime that seeps into Eden as James is discovered and sets the tone of the series.
Fans of Think Tank, The Tithe, and Postal will enjoy seeing their favorite characters in a new environment, but Eden's Fall #1 also takes great care in welcoming new fans with an accessible first issue. Pick this series up at your local comics shop today to experience the thrilling new series.

A REVIEW COPY OF EDEN'S FALL WAS PROVIDED BY THE PUBLISHER IN EXCHANGE FOR A FAIR AND HONEST REVIEW. NERDOPHILES WAS IN NO WAY COMPENSATED FOR THIS REVIEW. OUR OPINIONS ARE OURS AND OURS ALONE.