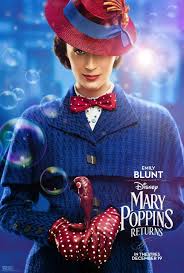 Release Date: December 19, 2018
Cast:  Emily Blunt, Lin-Manuel Miranda, Ben Whishaw, Emily Mortimer, Julie Walters, Dick Van Dyke, Angela Lansbury, Colin Firth, Meryl Streep
Director: Rob Marshall
Studio: Walt Disney Pictures; Lucamar Productions; Marc Platt Productions
Distributor:  Walt Disney Studios Motion Pictures
Spoilers: N/A
IMDB | Rotten Tomatoes | Wikipedia



Rating:



I'm a big fan of the classic Julie Andrews Mary Poppins – so I don't mean it lightly when I say that this remake is nearly as good as the original.
Whoops. Disney isn't branding this as a remake and they're right. This is not a straight remake of the original, it's a re-imagined sequel. We still follow the Banks children, Jane and Michael, but this time they're all grown up and have children of their own. When Michael falls on hard times after the loss of his wife, Mary Poppins soars in to save the day.
It's a great reimagining of the original story. It's the same, ageless Mary Poppins. Still perfectly poised, slyly magical, with a vain streak as thick as the famous London fog. Poppins is the queen of gaslighting, and damn if she isn't back at it again.
As per her usual MO, Poppins spirits the children away on a series of outlandish, magical adventures. After each one concludes, she makes the children second guess their perceptions of reality. Of course something so ridiculous couldn't possibly be true. If it isn't logical, it didn't happen. **Classic gaslighting. **
I really enjoyed the choice to flip the script on the classic adventures. The original Poppins was focused on transforming family dynamics, and helping children grow up. This time around, the children already act like adults, so Poppins' job is to remind them how to be kids.
The combination of cartoon animations and live action sequences was exceptionally well done. The costume designs in particular were fabulous: they combined 2D elements within 3D scenes and looked like they stepped directly out of a cartoon fairytale.
Emily Blunt was flawless, even if I prefer Andrews' interpretation of the character. I felt that Blunt had all of the mischievous and magical elements of the character but lacked the overwhelming sense of goodness that Andrews embodied so well.
The rest of the cast carried the movie nicely, but no one had stand out performances, and the songs were rather forgettable. One song in particular that was done cabaret style seemed a little raunchy for a Disney audience, but the rest fit in with the vibe of the previous film.
Overall, this is a great interpretation of a classic. I think younger children will enjoy this movie very much, and it has a few nods to the original that adults will appreciate, too. I don't quite believe that it will hold up as well as the original in terms of re-watchability, but it definitely hit the nostalgia spot.