It's a quieter week for the Nerdophiles pull list. Kylee read Cryptocracy #2 from Dark Horse Comics and Jackson checked out Archie #10 from Archie Comics Publications.
Check out the full reviews below and tell us what you're reading in the comments!


Kylee's Reads
Cryptocracy #2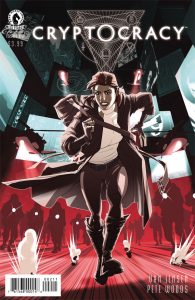 Author: Van Jensen
Artist: Pete Woods
Publisher: Dark Horse
Source: Dark Horse DRC
★★★☆☆
The second issue of Cryptocracy strips the series of much of what I enjoyed from the first issue – gone are the pop culture references, the Men In Black vibe, and much of the snappy dialogue that made the characters somewhat self-aware.
Instead, we get another information dumping chart to start the issue and a bunch of cliches that are brought to the forefront by bickering amongst factions. There's also an uncomfortable sequence that showcases Mars' power through a real-world tragedy and where Roswell was novel and kitschy, using Pearl Harbor for storytelling purposes is a bit more uncouth. And exactly what you would expect to happen happens when the world's shadowy leaders group together after an attack on one of their own.
Pete Woods' artwork did manage to stay dynamic and keep pace with the action of this issue. The villain, The Harbinger, or Hum, or whatever you might want to call him, and his cryptid moth men lent themselves better to the strange angles sometimes created in the first issue. The coloring and lettering aren't anything to write home about, but they serve their purpose and without Gary the alien in this issue, there are no weird fonts do decipher.
All in all, it's a relatively ho-hum issue for me – one that delves too far into the cliche without actually being fun.


Kylee Sills is an associate editor at Nerdophiles. Using real life tragedies for plot fodder usually breaks her out of story fairly quickly. Follow her on Twitter @kyleewho. 


Jackson's Reads
Archie #10

Author: Mark Waid
Artist: Veronica Fish
Publisher: Archie Comics Publications
★★★★☆
One of the reasons Archie has endured both as a character and as a concept is because it's been working off of an irresistibly simple, endlessly mutable framework for decades. Nearly every 6-page story in the core character's history starts with Archie foolishly pursuing a goal, repeatedly being rebuffed by his enemies, nature, or a comedic obstacle, and receiving a quick karmic reprisal in a joke from one of his friends by issue's end. It's painless, light entertainment and it's a framework that can be used to tell stories about haughty, put-upon witches, fame-seeking musicians, burger fanatics, and girlfriends alike.
The recent relaunch of Archie has rarely had the time to tell these kinds of stories because it's by nature had to spend an enormous amount of time introducing the core cast and characterizing them beyond the paper-thin descriptions they had in the classic series.
Archie #10 by Mark Waid and Veronica Fish uses the classic story framework to establish a story about the consequences of Archie's meddling and the way it impacts the rest of the town. When a video of a teacher berating Archie goes semi-viral, Archie quickly goes into damage control, trying to salvage the teacher's reputation without jeopardizing Mr. Lodge's mayoral bid. Of course, things don't go as well as expected and by the end, Archie's further alienated Betty and is losing the faith of the people of Riverdale.
There's a world where the issue's relentless focus on giving Archie's actions real world consequences would play as wrongheaded as stories such as Batman trying to save children in Southeast Asia from land mines or Spider-Man battling marijuana, but it mostly works. Archie has had some problems balancing the goofy humor longtime fans want with more realistic, grounded emotions and worldbuilding. Archie #10 mostly falls on the right side of the divide here, with smart character choices and interesting, complex emotions.



Jackson Adams is a staff writer at Nerdophiles. He thinks about the Josie and the Pussycats movie a lot. Follow him on Twitter @JacksonInACup.