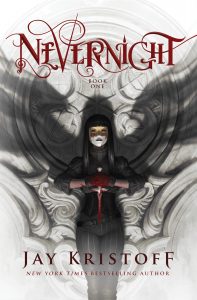 Author: Jay Kristoff
Release Date: August 9, 2016
Publisher: Thomas Dunne Books
Source: Rockstar Book Tours
Genre(s): Adventure, Fantasy
Pages: 448
Formats: Hardcover, eBook
Review Spoilers: low
Find it: Amazon, Barnes & Noble, iBooks, Goodreads
Rating:
Synopsis
The first in a new fantasy series from the New York Times bestselling author.
In a land where three suns almost never set, a fledgling killer joins a school of assassins, seeking vengeance against the powers who destroyed her family.
Daughter of an executed traitor, Mia Corvere is barely able to escape her father's failed rebellion with her life. Alone and friendless, she hides in a city built from the bones of a dead god, hunted by the Senate and her father's former comrades. But her gift for speaking with the shadows leads her to the door of a retired killer, and a future she never imagined.
Now, Mia is apprenticed to the deadliest flock of assassins in the entire Republic—the Red Church. If she bests her fellow students in contests of steel, poison and the subtle arts, she'll be inducted among the Blades of the Lady of Blessed Murder, and one step closer to the vengeance she desires. But a killer is loose within the Church's halls, the bloody secrets of Mia's past return to haunt her, and a plot to bring down the entire congregation is unfolding in the shadows she so loves.
Will she even survive to initiation, let alone have her revenge?

Review
The plot of Nevernight feels like so many other fantasy-dystopian YA books from the past few years. The difference? Nevernight is way grittier. We're talking shaky-camera, blood spattered, feel-the-dirt-taste-the-sweat action. Kristoff doesn't play that Veronica Roth game, either. We're already assured that the story doesn't end well for the protagonist.
Overall, the pacing of the story was perfect – I'm used to reading shorter YA novels, so I was a bit daunted by the 400+ pages, but the story never fell into the trap of becoming too detailed and dull. The plot was compelling, the universe was mysterious, and the characters felt well-developed and realistic.
The only drawback to this novel is that it is chock full of world-building. One of the reasons I don't read a lot of epic fantasy is because I don't enjoy world-building. In this case, excessive use of in-world dialogue, jargon, and mythology (and copious soliloquies in the footnotes) felt self-conscious and self-indulgent. It was death by a thousand circumlocutions. I'm looking at you, 'mornmeal' instead of 'breakfast.'
Even with this detractor, Nevernight left me excited to read what happens next to Mia, her shadow-cat Mister Kindly, and her friends. With the survival aspect of Hunger Games combined with the best bending parts of Avatar (and a little bit of Harry Potter, too!), this book was a highly enjoyable, compelling thriller of a read that promises to envelop the reader in a magical, dangerous world.
(With its graphic descriptions and sexual elements, it probably isn't appropriate for younger children, though.)
About Jay Kristoff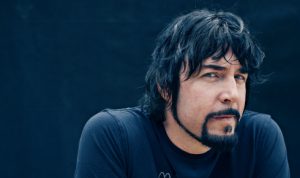 Jay Kristoff is a New York Times and international bestselling author of science fiction and fantasy. He grew up in the second most isolated capital city on earth and fled at his earliest convenience, although he's been known to trek back for weddings of the particularly nice and funerals of the particularly wealthy. He spent most of his formative years locked in his bedroom with piles of books, or gathered around dimly-lit tables rolling polyhedral dice. Being the holder of an Arts degree, he has no education to speak of.
His LOTUS WAR trilogy was critically acclaimed in Kirkus and Publishers Weekly, nominated for the David Gemmell Morningstar and Legend awards and won the 2014 Aurealis Award. Jay's new series, the SciFi thriller THE ILLUMINAE FILES, was co-authored with Amie Kaufman. Book 1, ILLUMINAE, became a New York Times and international bestseller, was named among the Kirkus, Amazon and YALSA Best Books of 2015 and won the 2016 Aurealis Award and an ABIA Book of the Year award. ILLUMINAE is currently slated to be published in twenty five countries, and film rights have been acquired by Brad Pitt and Plan B Entertainment.
Jay's new fantasy series, THE NEVERNIGHT CHRONICLE, commences with book 1, NEVERNIGHT, from St Martins Press/Thomas Dunne Books and Harper Voyager in 2016. A new YA series, LIFEL1K3 has also been acquired by Knopf/Random House Kids, and commences publication in 2018. Jay is as surprised about all this as you are. He is represented by Josh Adams at Adams Literary.
Jay is 6'7 and has approximately 13,030 days to live. He abides in Melbourne with his secret agent kung-fu assassin wife, and the world's laziest Jack Russell.
He does not believe in happy endings.
Website | Twitter | Facebook |Instagram | Goodreads
Giveaway Details:
5 winners will receive a finished copy of NEVERNIGHT, US Only