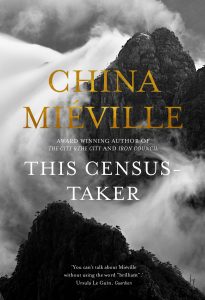 Author: China Miéville
Release Date: January 3, 2017
Publisher: Del Rey Books
Genre(s): New Weird, Fantasy, Sci-Fi
Review Spoilers: Moderate
GoodReads | Amazon

"A boy ran down a hill path screaming. The boy was I."
Thus begins China Miéville's latest novella in his self-described 'new weird' genre, This Census-Taker, which is available in paperback today.
The story is simple and almost fairy tale in quality. There is a boy who lives on the outside of town, up on a hill separated from others by a bridge, with his mother and his father. She is quiet and distant, sparsely giving details of her life or the order to her gardening and bargaining for supplies in order to take care of the family. He is a key-maker, pandering to the breathless demands of strangers under the shroud of secrecy and committing quiet violence on the hillside when he expects he's alone. Neither pay the boy much mind.
Where the story really begins, the boy has seen his mother kill his father. Wait, his father kill his mother. His father kill someone, but perhaps not his mother. Miéville spectacularly captures the simple, restrained thought process of a young child – though how young is just one of the mysteries left unanswered.
When his mother begins to talk about her past, the boy zones out in favor of other thoughts, or when the father could use some proper investigating, it's just out of the boy's repertoire. There are threads and hints of a larger world sniffed out, shared, and abandoned. This is not the story for people who want answers, as there are very few to be found, and even those are inferred by reader and narrator alike.
Miéville contributes to that malaise felt by all through his succinct language, equal parts densely packed with clues that lead nowhere and details that neither confirm nor deny the murder mystery supposedly at the core of this story. Impression and imperfection thread through past and present, even as the rogue census taker explains his job and how he might like to take on the boy as an apprentice.
It is the most concrete a purpose as anyone might have in this world, a solid order to scour the lands and count out the mysterious people who ventured from there, but how to go about it gets as lost in translation as the setting.
Throughout this story, there is an itch to go deeper, to scratch under the surface and find what might be causing the discomfort, though there is no salve. Miéville spectacularly draws readers into this world with aplomb, dropping them into a snapshot of the larger atmosphere. Long before the boy, things have been happening, and long after, they will continue with or without an observer.
At worst, This Census-Taker is disorienting and intangible. At best, it lingers in the mind like stories gone soft around the edges, memories dulled to only the most vibrant of plot points. In trying to keep the recollection truthful, there are stumbles and stops, emphasis on things only relevant in a larger context of the times, jarring shifts in focus, and yet, all of that makes for a quick, compelling read of something that asks much of its audience.

A REVIEW COPY OF THIS CENSUS-TAKER WAS PROVIDED BY THE PUBLISHER IN EXCHANGE FOR A FAIR AND HONEST REVIEW. NERDOPHILES WAS IN NO WAY COMPENSATED FOR THIS REVIEW. OUR OPINIONS ARE OURS AND OURS ALONE.