God Bless America:
A Patriotic Coloring Book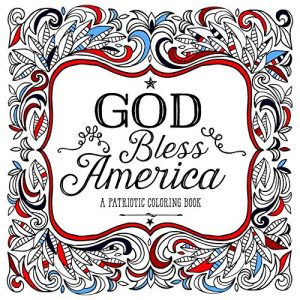 Author: Multnomah
Artist: Holly Camp, Christina J. Culver, Deborah Gregg, Katherine Howe, Bridget Hurley, Joseph Marsh, Jennifer Tucker, Melinda B. Shiflet, and Lisa Shirk
Release Date: June 14, 2016
Publisher: Multnomah
Genre(s): Coloring Book
Rating: ★★★★☆
Amazon
Just in time for July 4th, God Bless America: A Patriotic Coloring Book has hit shelves. This latest coloring book offering is brought to life by Multnomah, which is actually a collection of nine artists and illustrators, Holly Camp, Christina J. Culver, Deborah Gregg, Katherine Howe, Bridget Hurley, Joseph Marsh, Jennifer Tucker, Melinda B. Shiflet, and Lisa Shirk.
As a fan of adult coloring books, I will say I wasn't disappointed with this one, but I can see where it would more easily translate to younger children because of how the images are drawn and the educational facts incorporated.
And don't overlook God Bless America in the title, the book does have a focus towards God and religion, urging audiences to spend their time reflecting not only on America, but its sovereignty with God – so if that's not your thing, you may want to skip it. In my opinion, it is mostly low-profile, but there are a few illustrations that directly reference God.
And unlike some of my past coloring books, this one features fewer intricate designs that require a precise hand and tailors more towards larger one-page spreads that don't connect through the rest of the pages. But that's just the nature of this book and it works!
My favorite page showcases an abstract deer, circled by mountains and trees, with a Martin Luther King, Jr. quote from his commencement speech address to Oberlin College in June 1965: "We must all learn to live together as brothers – or we will all perish together as fools."
Each page of the book features an inspirational quote from one of the Founding Fathers, an historic document, a patriotic hymn, or another of America's heroes alongside an original illustration that goes along with the quote. The back of each image gives information to put the quote into the context of American history, as well as identifying which artist created that page.
The accompanying information on the back of each page is unobtrusive, in a light gray text and varies between expanding upon the quote by posting more of it, talking about the person who said it, or explaining the event surround the quote. This is one of the main reasons I can see it working for a younger audience curious about American history.
With nine different artists, this coloring book has a wide range of styles in which you can practice different coloring techniques. Unlike other books, which usually have one artist and one style throughout the entire book, this patriotic coloring book has such a variation that it's hard to get bored. If you don't like the scratchy small lines of one page, flip to one of the quotes in a frame or one with more white space to do as you wish.
As a bonus to go along with this book, there are activities at the end to help create a 'multi-sensory' experience – including a Spotify playlist to listen to while coloring and a history quiz to test your knowledge after reading through the coloring book.
For the zealous patriot in your life or the history-loving student, God Bless America: A Patriotic Coloring Book is a relaxing treat to help them find their zen and learn a little bit while coloring and reflecting on what makes America such an amazing country.


A REVIEW COPY OF THIS BOOK WAS PROVIDED BY CROWN PUBLISHING VIA BLOGGING FOR BOOKS. NERDOPHILES WAS NOT COMPENSATED IN ANY WAY FOR THE REVIEW AND THE OPINIONS HERE ARE OURS AND OURS ALONE.