Buddymoon (2016)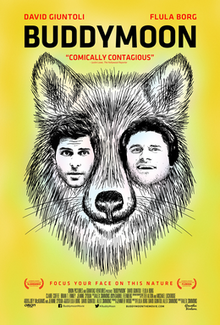 Release Date: January 23rd, 2016
Cast: Flula Borg, David Giuntoli, Claire Coffee
Director: Alex Simmons
Studio: Roundthecornerfudge, LLC
Distributor: Orion Pictures/Gravitas Ventures
Genre(s): Comedy

Review Spoilers:
 Low
When life does not quite go your way, sometimes you need a little help from friends. That's precisely what Flula (Flula Borg) does for his friend David (David Giuntoli) when David's fiance leaves him mere days before they were set to get married. Instead of allowing David to wallow in his misery, Flula insisted that they head off together on the honeymoon David had planned for his bride-to-be and enjoy the Pacific Northwest even in the wake of despair. David reluctantly agrees, and the two journey into the wilderness with the words of Meriwether Lewis in their hearts.
Buddymoon was a phenomenally funny movie. A friend and I saw it up in Portland, Oregon's Living Room Theater and we enjoyed the film from the first minute. Though it is intensely quirky and at times a bit awkward, anyone who knows Flula Borg's background, and knows of his very best friend David, would not be surprised by the tone of the movie. Plus, I would have been disappointed if a "Buddymoon" trip were anything but awkward, given the circumstances.
Though primarily meant to be a comedy, Buddymoon worked hard to take time to explore the nuances of friendships, especially as one friend tries to help another through a hard and trying time. It definitely beckons to Thoreau, who shed what he knew of civilization and took to the woods to discover himself and better understand nature. Except Buddymoon is what Thoreau's Walden could have been, if Thoreau had taken to the woods with his DJing German friend looking for mad beats for his new song.
Their exploration was loosely correlated to Lewis and Clark's exploration of the Pacific Northwest as they sought out the Pacific Ocean. As a native Oregonian, that alone was delightful to see on the big screen as familiar images danced behind the actors. From Silver Creek Falls to Mt. Hood, the movie makers did not waste their time in the Oregon wilderness and blended it all together to create a fantastical backdrop which added to the beauty and absurdity of David and Flula's journey through the woods.
Buddymoon definitely earned my recommendation as necessary viewing, especially over a few craft brews from the Pacific Northwest, in the company of good friends. Having been a long time fan of Flula Borg, it was a wonderful experience seeing him on the big screen in a movie that was not only beautiful to look at, but went far in exploring the facets of friendship that left us with a warm, fuzzy feeling at the end.
Interested in checking it out? You can buy it on iTunes, Amazon Video, Google Play, and check to see where else it is playing both digitally and live on the Buddymoon Website.