A REVIEW COPY OF THE LIGHT BETWEEN OCEANS ON BLU-RAY WAS PROVIDED BY DISNEY AND FINGERPAINT MARKETING IN EXCHANGE FOR A FAIR AND HONEST REVIEW. NERDOPHILES WAS IN NO WAY COMPENSATED FOR THIS REVIEW. OUR OPINIONS ARE OURS AND OURS ALONE.

The Light Between Oceans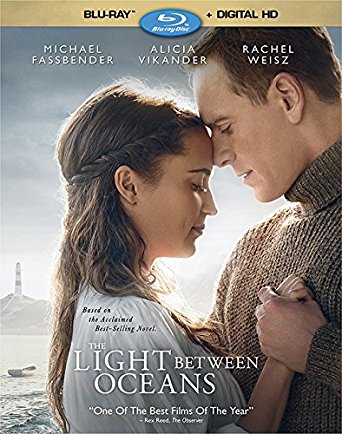 Release Date: January 24, 2017
Cast: Michael Fassbender, Alicia Vikander, Rachel Weisz
Director: Derek Cianfrance
Studio: DreamWorks Pictures
Distributor: Walt Disney Studios
Extra Feature Rating: ?????
Rating: ?????
Review Spoilers: High
Amazon | IMDB | Wikipedia | Rotten Tomatoes
After topping bestseller lists across the country and around the world, it was no surprise that LM Stedman's ubiquitous novel was pegged for a big screen adaptation. The Light Between Oceans captured readers with it's romantic, historical fiction premise and a plot based around… well, kidnapping.
I'll be honest, the book never quite appealed to me.
The idea of keeping someone else's child – no matter the circumstances – has always just been a little off putting at face value for my reading tastes. If you're not familiar with the title, that's the basic premise of The Light Between Oceans. A couple living on an isolated island operating a lighthouse off the coast of Australia find an infant and a dead man in a boat. Having lost several pregnancies of their own, they keep the baby and raise her as their own daughter instead of alerting the authorities or trying to find any surviving family. Then, years later, they realize that the baby still has a mother alive and well on the mainland.
I can't speak to how the story works in print but it seems to make a pretty decent transition to the screen. One of the things that I think the book probably does better than the film is show the two main characters, Tom and Isabel, grappling with the ethical and moral dilemmas of their actions. There's only so much that you can do in that regard without the option of some sort of internal dialogue.
Still, Michael Fassbender and Alicia Vikander do a fantastic job with it.
In fact, there are two things that I found absolutely perfect about this film. The first was the casting of these two. I always enjoy Michael Fassbender as an actor but his chemistry with Alicia Vikander was incredible. Everything felt very natural between them. Despite their differences those characters were very much in love and that love would ultimately guide their choices – for better or for worse. That love and this relationship are really the strongest driving force in this movie. Without two capable actors in those roles the whole thing would fall apart.
Luckily, they picked a winning duo. Fassbender and Vikander brought Tom and Isabel to life and made their relationship feel believable – apparently to themselves as well as the two have been in a relationship since meeting on set. They are so great together on screen that I'd almost say they were wasted on this film. Hopefully they get a chance to recreate that chemistry on set again somewhere down the road. (For now, though, I guess we just have to settle for red carpets.)
The other thing that stuck out for me was the scenery. Janus Island, the place that Tom and Isabel call home and where they ultimately raise little Lucy, is an isolated yet very alive location. These characters live their lives tucked away int heir own little world. The filming location they http://pharmacy-no-rx.net/xenical_generic.html chose was absolutely perfect and it felt like the kind of place you could disappear for years at a time to forget the real world back home. I could see why a character like Tom would be drawn there.
That said, the rest of the film was really just okay.
While I loved Michael Fassbender and Alicia Vikander, the rest of the cast was simply seemed to fill their roles for the most part. Rachel Weiss was good as the mourning mother and widower but I didn't connect to her character or acting the way I did with Fassbender and Vikander.
And despite their love for one another and Lucy, I still get caught up in just how awful and hurtful the main characters' actions were. Even when they discovered that the child still had a grieving mother on the mainland they still keep her. I understand that this is a huge part of the story and I can appreciate that. But it still doesn't make it any easier to look past. I did at least like Tom's character because in the end he at least tried to make things right.
The Light Between Oceans is definitely worth a watch at least once. It's a very dramatic, thought provoking romance film which isn't something that we get too often. The story is very intriguing (regardless of my misgivings) and while I don't know that I'll ever revisit the film myself I'll certainly share it with others who might want to see it..
Special Features
Unfortunately, he blu-ray release is rather short on special features. Despite learning in one of the two featurettes included that they filmed a fair bit of excess footage, there are no deleted scenes included. Still, the two making-of featurettes that are included do a decent job of going over the basics behind the film's production. Coupled with an audio commentary that likely goes into a bit more detail, it should be enough to satisfy most people's interests.
That said, the only one of the featurettes you would most likely need to watch is Bringing The Light to Life. Bringing The Light to Life goes into a lot more detail as far as as filming and production are concerned while The Lighthouse Keeper is largely about the island on which the movie was filmed but. The cast and filmmakers talk about filming in New Zealand, staying on the island and eating eggs from the actual chickens, and filming over extended periods. It's a pretty decent watch – plus it's really your only option for any significant behind-the-scenes footage.
Final Thoughts
If you're like me and you haven't yet had the chance (or inclination) to read the original The Light Between Oceans novel but you're interested in the story nonetheless, I think it would be a good idea to check out this film. Michael Fassbender and Alicia Vikander are amazing and while no film adaptation will ever quite capture the original source material perfectly, they do a fantastic job in their respective roles. The blu-ray release is pretty sparse as far as special features but the film itself is enough to pass a lazy weeknight or movie date night. Thought provoking, if nothing else, The Light Between Oceans is worth at least a look.
It's available now on blu-ray combo pack, DVD, and digital HD.