Synopsis of 1×3: Jesse tests the limits of Genesis with Cassidy. Tulip locates an enemy from her and Jesse's criminal past and tries to drive him back into a life of crime. Two angels hunt Jesse and make a potential ally in Cassidy.
Rating: ★★★★☆
More than anything else, Preacher, the show and comic, share a desire to leave the interpretation of character in the hands of an audience. This is something that's going to come up a lot as this show goes, particularly as the show develops Cassidy but we get a first taste of it in two places here.
First, there's Jesse's encounter with Donny in a gas station bathroom when he considers using Genesis to kill the abuser before backing off with a foreboding "I get it." It's a scene that, through no fault of its own, recalls a much better, much more iconic TV scene, but it asks viewers to question what exactly Jesse has realized.
Has he located his moral breaking point in relation to his powers, as Cassidy questioned earlier? Has he decided the real test is converting Donny? Is he questioning the nature of free will and his ability to break it? Later, we see Cassidy promise a pair of Genesis-seeking angels that he'll help them extract God's missing agent/weapon from Jesse and we're left to question where his loyalties lie? It's been established that he's a mercenary guy but how far is he willing to take it? How much does his relationship with Jesse really matter to him?
When Preacher is asking these big questions with its main cast, it mostly works. It enforces the idea that these are all characters torn by impulses and beliefs, people who often struggle with right and wrong. It's not that this is ever going to be a show that's as interested in the conflict between desire and dreams as something like The Sopranos, Mad Men or Breaking Bad but it's at least attempting to establish that these characters are complex, layered individuals, often with clashing motives and goals.
The problem really comes when those same traits are applied to the rest of the cast. Danny suffers from it through most of the episode, from a scene when he tries to explain the line between BDSM and domestic abuse to his son to when he questions his role with Quinncanon to what finally drives him to torture Jesse at the climax.
Additionally, the scenes with Sheriff Root try to establish him as a divided character without really saying who he is at all. He's concerned about Arseface, I guess, but also fine with angels threatening to do anything in Annville to accomplish their goal? His portrayal in the comic, an abusive alcoholic who's shocked and ashamed by how his actions lead his son to attempt suicide, is a cliche that ultimately turns into little more than a protracted anal sex joke, but it's at least characterization. Here, he doesn't even have that. He's a complicated guy but the show doesn't even really establish how or why.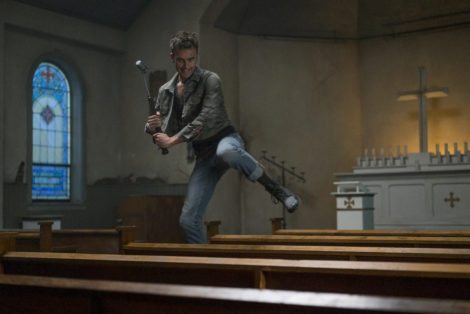 It's a problem the show's increasingly going to have to tangle with it as it assuredly builds but for now, Preacher suffers in every scene that the main cast isn't in. Dominic Cooper, Ruth Negga, and Joseph Gilgun are electric performers, able to establish a sense of conflict and pathos into characters that haven't had a lot of time to really develop.
Their performances are driving things forward when the script isn't but the same can't really be said for the rest of the characters and cast. Of the minor cast, only Donny's really doing much and he's just not that compelling of a character to spend time with and by failing to really nail down anyone else's motivations or personality, Preacher is leaving the margins of its story filled with bizarre one-note villains and hangers-on.
It's a problem that will likely sort itself out in time and one that arguably could benefit a property that treated many characters, Root, Quinncannon, and the Saint of Killers among them, as single-minded forces rather than fully rounded people, but for now, Preacher desperately needs to find a way to give them even a little bit of screen time and character work so viewers don't spend every scene just waiting for Jesse, Tulip, and Cassidy to show up.