Synopsis of 4×22: Oliver and Diggle race to Darhk's hidden city to rescue a brainwashed Thea. Anarky makes a play in the bottle city. Felicity leads a counterattack to stop HIVE from reactivating Genesis.
Rating: ★★☆☆☆
Pacing has been the biggest issue facing Season 4 of Arrow. The show's either been moving in a rush, adding subplot after subplot like Oliver's sons, Felicity's complicated feelings and HIVE's internal struggles for leadership have never felt as central to the plot as they do secondary and it's been compounded by the many other ways the plot has been splintered, with Malcom's removal from the League of Assassins, Thea's blood lust and so many other small stories. As such, the main arc, Darhk's attack on Starling City and the world, has always gotten short shrift and it feels as if the writers didn't realize this until two late.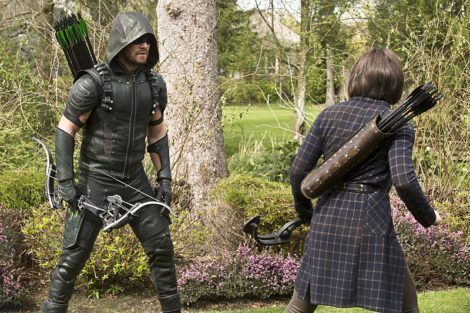 If last week's episode felt like it was racing through subplots, "Lost in the Flood" feels like it's stumbling across the finish line. At least it's more clearly divided. On the surface, Felicity and her father, with help from Michael, try to stop Darhk and her ex-boyfriend from reactivating Genesis. It's the typical hacking-based Felicity subplot the show has done so many times before. There's some perfunctory drama about Felicity's parents but it doesn't feel terribly important. In the other plot, Diggle and Oliver rush through the Bottle City of Suburbia to try to locate Thea as Anarky, Malcom and Ruvé all try to survive and find their footing as Darhk sets up his endgame.
When Oliver's plot is focused on the action, it vastly succeeds. A fight across the streets with the Ghosts is electric and exciting, even if it's not particularly well shot and there's a handful of solid battles with Thea and HIVE's soldiers. Less satisfactory is the Anarky plot. I've never been a fan of Anarky, who's at best a relic of the '90s era of Batman's more-is-more villain philosophy, where he's a serial killer by way of Bart Simpson and System of a Down. The interpretation of the character Arrow has made Anarky fit the show's more grounded aesthetic but didn't make him any more realistic. Instead, he's a network TV take on Heath Ledger's Joker but also, inexplicably, a kung-fu expert. It's silly and it feels like it's just there to have a big dumb fight while he kills Ruvé.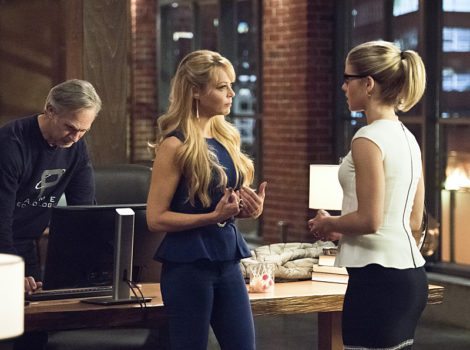 The biggest development here is the death of Ruvé, which pushes Damien to unleash nuclear apocalypse. It's the only real development here and it ultimately only emphasizes what the episode isn't showing. There's no followup her from Felicity being complicit in the death of tens of thousands of innocent people and no real follow through with her relationship with Calculator after he takes a bullet for her in "Monument Point." There's also a passing mention of how the people in the arc view Damien. One family Oliver and Diggle encounter view Damien as a savior instead of a destroyer, protecting them from the chaos of the city at the expense of millions who will die. It's a plot point that feels like a stab at political and social relevancy, with citizens emphasizing their own security at the expense of the safety and agency of others. Still, it's not followed up much. It'd be interesting to see if the season finale has Oliver question whether he's been successful in protecting his city but I'm really not expecting much.
Season 4 has been so haphazardly plotted, both extremely convoluted and incredibly simplistic and the last two issues show this problem in spades. It feels like the show is either rushing through subplots or slowing down and tripping over them, advancing stories and characters in inches. Next week's finale promises riots and battles in the street as the bombs prepare to fall which barely feels connected to anything else in this season. Maybe time will help this season feel more coherent and interconnected but after "Lost in the Flood," my expectations are perilously low.