I should have the word "Anglophile" tattooed to my forehead. I've studied abroad in England. I have an Elizabeth 1 tattoo (it's a Tudor rose). I have a Doctor Who tattoo (it's two hearts). Did Our Lady Boudicca look at my Holiday Wish and say "thou shalt have easily accessible costume dramas"? Because this is my dream. Here is why you should be watching Netflix's The Crown.
The premise of the show is to follow the life of Queen Elizabeth 2nd. Why is she important? Not only is she the longest reigning British monarch, as well as the current Queen. She's also the first "contemporary" queen, the first to have her coronation televised. The first change of power since WW2. And if you know anything about WW2 and England, you know that WW2 is pretty much the Divining Rod for all things British. This is the time period that the first two season of The Crown will cover.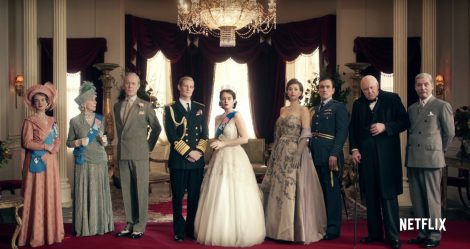 Our story begins right after WW2, around 1947. King Edward is still alive, and most of the first episode is largely from his point of view. You might remember this king from the Oscar-winning film, The King's Speech. This is the same Edward, just older. He still stutters, but he manages. More importantly, he's giving new titles to Phillip Mountbatten, soon-to-be husband to his daughter Elizabeth.
The first episode seems to fly by. Several years pass between Elizabeth's wedding to Phillip and her first tour of the Commonwealth in 1952. This episode does what a first episode is supposed to do: establishes the characters (for the most part), and set up the narrative. The only goal it doesn't achieve is to set up the pacing of the show. More on that later.
The characters are literally pulled from the history books. There's the King, played as compassionate and as cantankerous as one may expect. Jared Harris's performance was so captivating, I want a spin-off of just him during George's reign. The King's wife, played by Eileen Atkins, is British as a monarch should be. And Vanessa Kirby is smoldering as Princess Margaret. She almost seems like Marilyn Monroe: beautiful, tragic, the type of sexy-sad Rachel Bloom sings about in Crazy Ex-Girlfriend.
This show makes it easy on those who were fans of Downton Abbey. The Queen Mother may as well have been Dowager Violet. And Pete Townsend, as played by Ben Miles, slips in as he needs to, until it's time for his story to begin.
But who are we really here to see? Elizabeth and Phillip! Claire Foy is perfect, truly perfect. It's like she was taken straight out of Call the Midwife and placed in Buckingham Palace. She turns on Elizabeth's timidness for episode one, but strengthens as Elizabeth comes to power. She brings a humanity to a character that could have easily been a stereotype of royalty.
Matt Smith also begins to come out of his Doctor Who shell for this one. His Phillip is a little more crass, more rough around the edges than the Doctor. It's hard to disassociate Matt from this number-one claim to fame. But he hasn't quite had his time to shine. Everything going on with Phillip in the first few episodes starts to bubble under the surface. Matt let's out just enough to entice the audience to wait for more.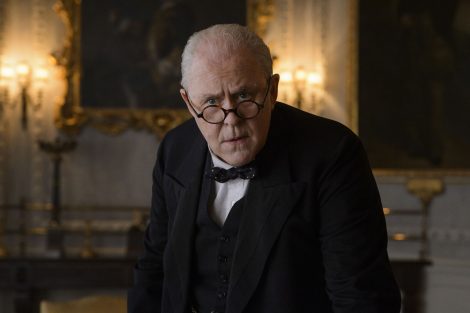 And finally, the only key member of this story that is not within the Royal Family, is John Lithgow starring as Winston Churchill. "But he's American," you might say. Well, Brits have been playing prominent American for years now. And John Lithgow was trained at LAMBA in the U.K., so sit down and take notes.
Lithgow's Churchill is one for the books. He captures the bombastic, powerful leader and still gives him room for worry and fatigue. This is Post-War Churchill, an older Churchill, and some might say, a Churchill that's past his prime. He represents Merry Old England while Elizabeth represents the move into the modern era. Churchill fears there might not be room for him in this new England and Lithgow's performance encapsulates that.
The first two episodes move quickly. Like Season 2 of Downton Abbey quickly. Which makes episode 3 a tough sell. Episode 3 has the pacing of Wallander. It's not bad, but after the emotional roller coaster of episodes 1 and 2, it's a tough transition. My suggestion: power through. This is still British History, after all.
History also dictates that the former King Edward enter upon his brother's death. Bone up on some history here, because this show doesn't do a great job of relaying how devastating his abdication was.
The episodes following are more, well, episodic, covering specific events in history in each episode. The main thread is Elizabeth's relationship with Phillip and how her role as Queen affects their marriage.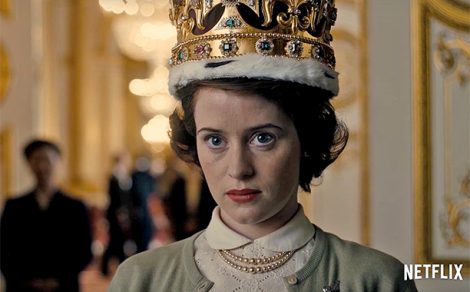 If anyone is worried about the show "getting it right," just know that this show is based off a play by Peter Morgan called The Audience. Not only is Morgan the lead writer on this show, he's also an executive producer. The person sharing that role with him is the play's director, Stephen Daldry. Daldry is most well-known for films like Billy Elliot, The Hours, and The Reader. Daldry directs the first two episodes of The Crown.
If you like England, history, Downton Abby, or any costume drama, then you should be watching The Crown. If you like quality TV with superb writing and direction, you should be watching The Crown. If you like Matt Smith or John Lithgow, you should be watching The Crown. Seriously, need I say anymore? Get some crumpets and tea and watch it!