Poe Dameron #1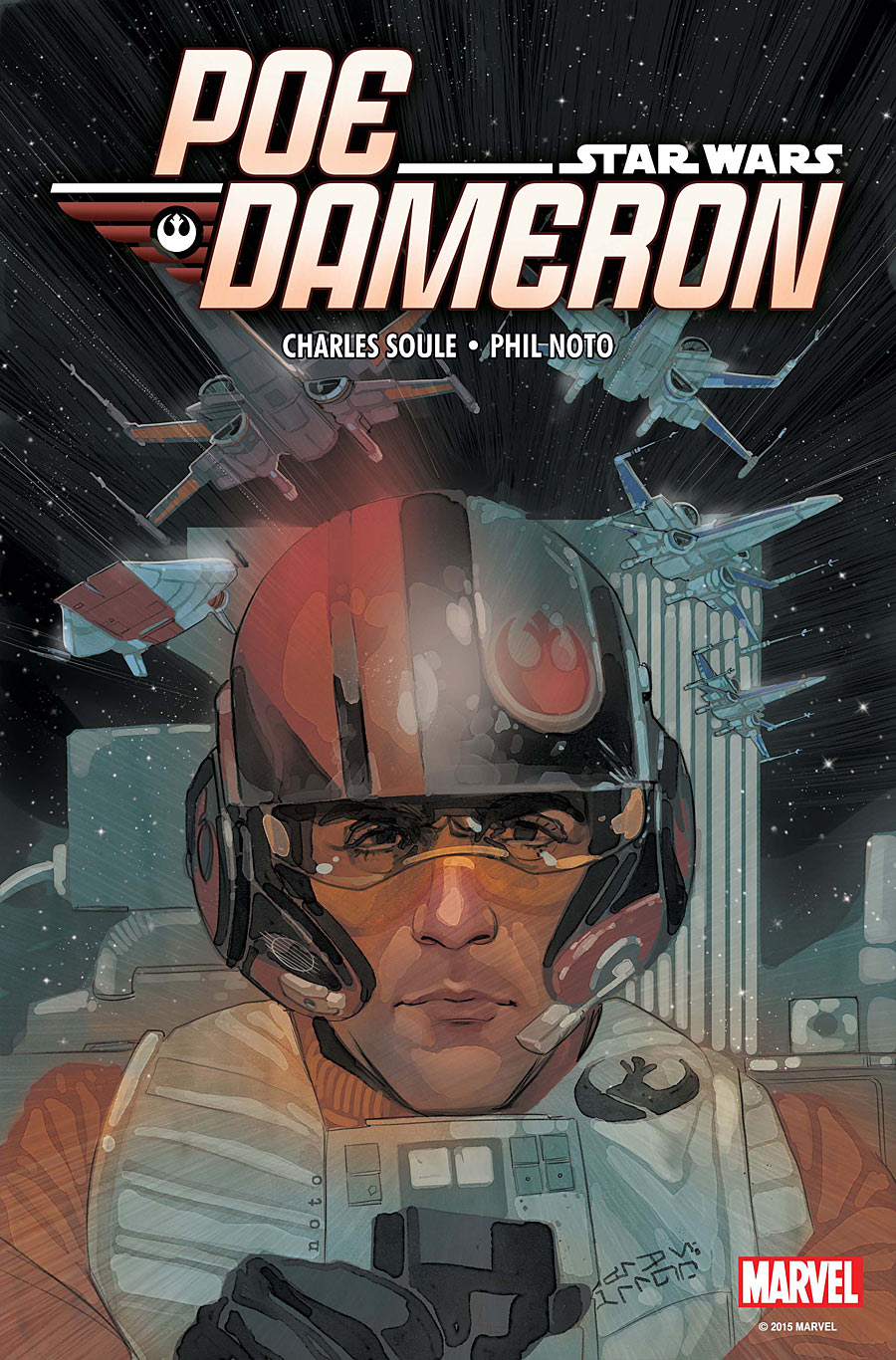 Author: Charles Soule
Artist: Phil Noto
Release Date: April 6, 2016
Publisher: Marvel
Genre(s): Science Fiction
Rating: ★★★★★
Review Spoilers:  Low
Poe Dameron is amazing. I'm not talking about the character – though he's great, too, obviously – but the new on-going Star Wars series from Marvel comics. Star Wars went all out when it came to the promotions for this series and they even declared April 6th to be 'Poe Dameron Day.' It was well deserved fanfare. Though there may be three other on-going series and a myriad of miniseries, after just one issue I can confidently say that Poe Dameron is my favorite.
One of the reasons I love Poe Dameron so much is that the series reminds me so much of what I loved about Star Wars when I was younger. I grew up on the old extended universe and the Dark Horse comics and Wedge Antilles was always my favorite character. The X-Wing books were some of my favorites and the X-Wing comics were actually the first comics I ever bought.
In a lot of ways this series could be a spiritual successor to the old X-Wing comics.
Out of all the on-going series Marvel is currently releasing it's the only one focusing primarily on a non-Force user. It's also the only one focusing on an ensemble band of fighters. Sure, Poe Dameron is the clear main character. (The book is named for him after all.) But the cast of characters so far has been rounded out by some familiar names and faces from the very brief dogfight scenes in The Force Awakens. Snap Wexley and Jess Pava return along with some new faces to run missions for the Resistance.
There's a clear promise of action, adventure, and camaraderie – and the potential to get to know all of these characters much better. That is, perhaps, why we don't see Ello Asty being called on to join Black Squadron. It'd be hard to get to know someone who we already know dies. That said, having Snap around is exciting. We get a bit of a hint on what's coming next for him and the rest of the characters in Chuck Wendig's Aftermath trilogy when he mentions being at the Battle of Jakku as a teenager. Spoilers for Aftermath: Empire's End, anyone?
The first arc focuses on the start of Poe's mission to track down Lor San Tekka. At the request of General Organa he forms Black Squadron to support him and heads off to one of the adventurers last known sightings. Poe and the others find themselves journeying to a seemingly abandoned location. But Poe – and BB-8 – learn the hard way that there are still people there and they aren't exactly that welcoming. They are a spiritual society dedicated to the preservation of 'the egg' and they aren't about to let anyone get in their way. Unfortunately, the First Order tracked Poe there and that can't end good.
Poe Dameron is an exciting book because it's the only on-going series that's filling in any of the timeline between Return of the Jedi and The Force Awakens. The miniseries Shattered Empire – which featured Poe's parents – was the first comic to do so and it seems fitting that a book focusing on their son should continue with that. How much it will fill in remains to be seen but either way it'll be good to see more of Poe Dameron considering how little of The Force Awakens he actually appeared in. Charles Soule perfectly captures his humor and his relationship with BB-8 and promises to tell us the kind of stories that will have us reliving the magic of Star Wars.
Something else that's really great about Poe Dameron is that we've got another on-going series that Phil Noto is working on. I love this guy's work. His latest run on Black Widow was stunning. I'm a Marvel Unlimited subscriber and I still bought that series as it was coming out because it was just so gorgeous. Noto also worked on the Chewbacca miniseries that released last year. The guy is really doing some great things for Star Wars. (Seriously, check out this Rogue One art he did. Amazing.)
Charles Soule and Phil Noto are basically anyone's dream team. The two of them together are going to make this an amazing series.
There's one last thing that's worth mentioning about Poe Dameron. The first issue may end with the threat of the First Order descending on our heroes but Marvel gave us a bit of a lighter end to the book as a whole. Chris Eliopoulos leant his amazing artistic talent to a back up comic featuring BB-8 on his own little adventure.
The adorable little droid plays Cupid for a lovestricken X-Wing pilot and a technician who are both too shy to strike up a conversation. It's basically the cutest thing ever. Chris Eliopoulos is an amazing artist who previously worked on Marvel's Franklin Richards: Son of a Genius series and who is also working on his own children's book biographical series Ordinary People Change the World. Which is also adorable.
I'm telling you, the fact that I get Charles Soule, Phil Noto, and Chris Eliopoulos in one issue working on a Star Wars book is basically like a fangirl's dream come true. I'm really not kidding when I say Poe Dameron #1 was literally everything I could have ever wanted in a Star Wars comic. It's amazing and I can't wait to see where the series goes from here!