Synopsis for 1×01: Audiences are introduced to both Regan and Flynn, as well as a world in which we are not alone… nor are we safe…
Rating: ★★★★☆
The pilot episode of Syfy's newest show Hunters hits fast and furious with the info-dump while establishing a high-stakes cat-and-mouse game between humanity and other worldly beings that aren't here to forge a great utopia. We had the chance to speak with the cast and crew at New York Comic Con this year and we were excited to see the premiere episode!
Opening on a chilling scene with McCarthy (Julian McMahon) blasting music to a cage full of rabbits and a naked woman in a cage whose ears have started to bleed, it's almost as disorienting to audiences. Before anything can be explained, Hunters jumps back in time to 72 hours before the current situation.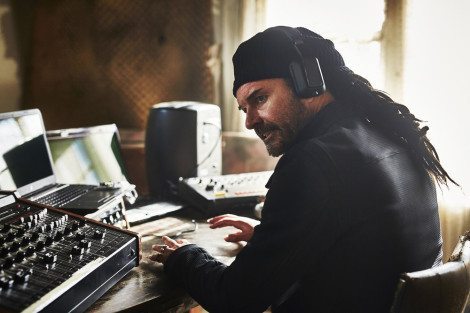 In an abandoned Coahuila Industries Mineral Processing Plant in Blue Springs, Kentucky, a well-trained team of agents is preparing to capture the threat they've identified inside. Regan (Britne Oldford), Briggs (Mark Coles Smith), and Page (Stephen Anderton) enter and quickly split up. Regan quickly comes upon similar rabbit cages to those seen in the opener, as well as a gory looking cocoon of sorts.
It's not long before they're attacked by fast-moving, clicking people that look just like anyone else on the outside. When Page manages to kill one, covering himself in silver-y looking blood it's obvious that they're not human. It's made even more obvious when Regan shoots one point blank in the head and that doesn't stop it. Her partner, Briggs, finally fells it with a sonic blast from a gun unlike anything humans wield on a normal day. Unfortunately, he doesn't get there to save the day before Page is killed.
At the same time, audiences are introduced to Flynn Carol (Nathan Phillips) and his rag-tag family. His wife, Abby, who will soon end up in a cage, and the daughter of his dead partner, Emme, are both up and around while he's checking the house for sounds. It turns out to be a stray cat that snuck in through an open window, but audiences are also treated to the undercurrent of family strife within their small family unit.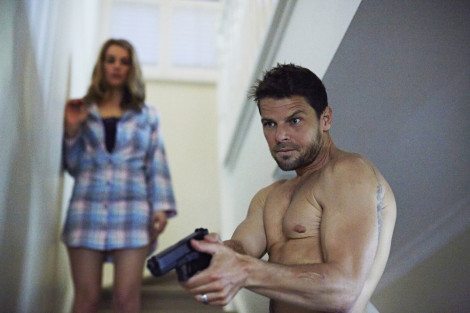 Regan is clearly frustrated by the turnout of the operation and Briggs throws her under the bus to the higher-ups saying that the intelligence wasn't bad, but the people were. Meanwhile, the bodies of the three things they were sent in to capture are brought in and an autopsy is scheduled. They note the limestone in the building, as well as the rabbit cages, and the bloody-cocoon-sarcophagus-alien thing that was also brought in.
Flynn Carol shows up at the FBI regional office and it's revealed that he may or may not be under investigation for his part in a heroin task force where drugs had gone missing. While he's angrily being grilled about his part, it's revealed elsewhere that his wife's picture was at the crime scene in the factory.
Unfortunately, she's confronted by McCarthy at her home after getting glimpses of him for a while. He pins her and takes out her hearing aids before she has the chance to escape. Unfortunately, she doesn't make it far as he blasts some sort of less-than-lethal sonic waves in her direction. It brings forth things from under her skin that don't quite breach the surface, but call into question just what Mrs. Carol might be.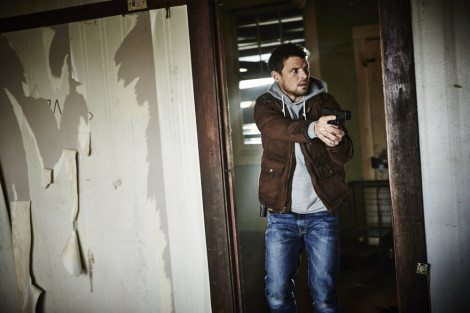 The alien autopsy is gruesome and interesting and the props department should be proud of the work put in on this show already. Everything is slimy and purposeful and the examiner takes the time to point out the evolutionary differences between humans and the Hunters, as they're called.
Without Abby, Flynn isn't coping all that well. He's still having PTSD and dreams that Abby comes home bloody before waking up scared. When he goes looking for Emme, she's not much more sympathetic to him and accuses him of using her for her Ritalin. But she assures him that she doesn't think he did something to Abby. Together, they figure out that Abby had gone somewhere without telling either one of them and Flynn's finally got a lead to go after her.
After identifying Abby's picture in the warehouse, Regan and company have been following her movements as well. It culminates in all of them headed towards the same address where Abby is being held. By the time he gets inside, and with Regan and Briggs watching, Flynn finds his wife and the rabbits already gone. Going through the back door, he notices a bloody handprint on the cellar door and goes downstairs – only to be confronted with McCarthy.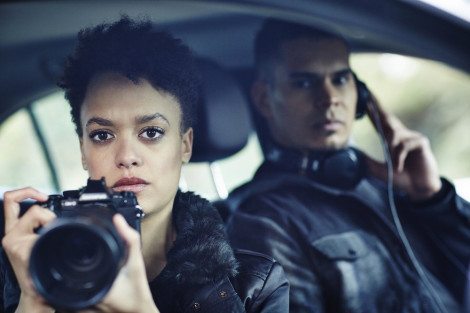 He escapes, but Agent Briggs and Regan bring Flynn to their boss, Truss Jackson, who explains the ETU – Exoterrorism Unit – to him. The meeting doesn't go well, or get very far, but everyone leaves alive, if skeptical. When he gets home, things don't go much better and Flynn decides it's probably best to send Emme to a boarding school to help her cope with all of the different issues she has.
It's soon after that when Regan knocks on Flynn's door and presents him with a cover that transfers him to the Department of Homeland Security and to the ETU. This is where the info-dumps really start to pick up, as Flynn serves as a stand-in for the audience. The Hunters are a new terrorist threat, with people only recognizing them as of 2009. Flynn only gets so much time to freak out about aliens before he's thrust into the boardroom meeting.
Lionel McCarthy hides away as a DJ, but his ties to other Hunters are quickly shown. He's asking Randall Slavich to help him get to Brother Number Four in the Middle East in a coded message found within the remixed song from Orchestral Manoeuvres in the Dark (OMD) that McCarthy has been playing throughout the episode.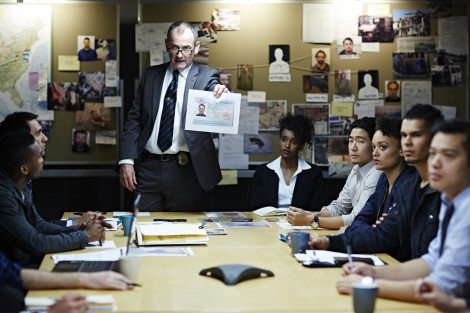 Briggs gives Flynn a sonic weapon, explaining that they're reverse engineered from Hunter weapons that have been seized through various missions, and then they proceed to the airport to attempt to intercept McCarthy. While they're preparing to confront him, it's revealed to the higher-ups that the coded message in the song is the first direct communication and a manifesto to humans about how the end begins now.
Slavich lets McCarthy through security as predicted, but Regan and Flynn follow quickly. When he's wounded, Flynn manages to pin Slavich and ask about his wife. All he tells Flynn is that the Hunters are already inside the ETU and they can't be stopped. When Flynn's distracted, Slavich kills himself.
Meanwhile, Regan confronts McCarthy away from everyone else. He happily greets her with, "Hello Allison" and tries to goad her into harming him. He obviously knows something the rest of the audience does not, but we're not given the final outcome as we hear the shot and see the aftermath of Flynn's capture instead. Regan only shows up to tell them that McCarthy managed to get away.
And there is the pilot episode of Hunters! Are you prepared for the whirlwind of what's to come this season? With such a pulse-pounding, up-and-down premiere we can't wait to see what twists and turns will come about this season!