Synopsis of Part 4 of 6: Scully rushes to her comatose mother's side as she lies on her deathbed. Mulder investigates a series of murders along Philadelphia's skid row that seem to be connected to a graffiti-based urban legend.
Rating: ★★★☆☆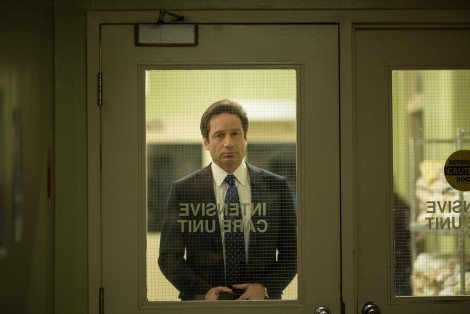 Despite being mostly renowned for a the dynamic of its two leads, some of The X-Files most memorable episodes focus on tearing the characters apart. Many of them specifically do this to focus on the lengths Mulder and Scully go to to protect and fight for one another.
Episodes like "One Breath," "Terma" "Redux" and "Redux II" masterfully do this but all tend to focus on the larger narratives of the plot, namely Mulder's obsession with finding the truth and the lengths Scully will go to to help him in his quest. Some of the better episodes, however, tend to focus on what Scully has given up in that fight. Episodes like "Never Again" and "Beyond the Sea" put the focus squarely on Scully's skepticism and the conscious and unconscious sacrifices she's made.
"Home Again" splits the difference here by mostly putting the focus on Scully as a character with a foot still in a world of mortality and family. As her mother falls into a coma and prepares for death, Scully rushes to her bedside while Mulder is mostly left to deal with an urban legend that's taking lives in Philadelphia slums.
Most of the stylistic language and homages of "Home Again" come directly from some of the show's most memorable, visually distinct episodes. It borrows the idea of the blurred line between life and death from "Beyond the Sea" and "One Breath" while infusing the Trash Man subplot with references to "Grotesque" with its focus on imagery and art leading to death and the stylish noir-horror of "Home," arguably the show's most violent, bloody hour.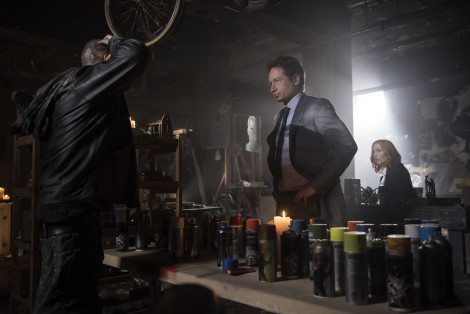 "Home Again" steadily advances the season's larger focus on motherhood and Scully's conflicted feelings on her decision to put William up for adoption, but it is much more interested in checking off boxes by remembering and paying reference to previous episodes. At its best, it works pretty well, particularly when it focuses on the things Scully has given up.
"I don't care about the big questions now, Mulder," a despondent Scully tells her partner as she watches her mother succumb and it's a stark reminder of her humanity. Scully never let the quest for answers consumer her. Despite possibly being an immortal, having been abducted by aliens, and seeing her child develop psionic powers, she's always going to be more interested in the cost of human life and the pain its end can bring.
Her mother's death hurts and she has to come to terms with that in the same ways the disappearance of William hurt her. It's all established well, with plentiful references to Scully's past pains and deeper humanity. However, a host of other references less focused on Scully don't work as well.
Most of these references come with the Bandaged Nose Man. The violence of "Home Again" comes straight from "Home." A murder scene set to "Downtown" bears an uncanny resemblance to the memorable kill scene from "Home" set to "Wonderful, Wonderful." It lacks the wonderful build up or the nail biting tension of the previous but holds a dream-logic sense of horror as the Trash Man disposes of his target.
Those visual references serve as a reminder of just how uncreative some of this episode really is. It's blending a lot of the show's best ideas into a product that does work but it's villain is little different from the Candy Man. The whole thing tends to work well but is as rickety as The X-Files ever has been. There are genuine chills and a horrific tone but whole affair is just considerably less than the sum of its parts, unlike some of the best solo-character focused episodes of the show.