Synopsis for 4×05: Alfredo is back in town, but Sherlock appears to be avoiding him. Meanwhile, a budding archaeologist was killed over something buried in a hole in someone's backyard.
Rating: ★★★★★
After the events of season three's finale, Alfredo had been absent. This week, he returned, and showed up to say hi to Joan and check in on Sherlock. Apparently Sherlock hadn't been attending his usual meetings, and that raised some concerns. Joan insisted that Sherlock was attending meetings, but she'd look into it and see what was going on.
Meanwhile, some poor guy across town was stabbed in the chest before his apartment was set on fire.
With some investigation, it was found that the man who had been killed was a budding archaeologist who had potentially been killed for something he'd discovered. They tracked down a friend of his, who was the owner of the trowel that had been shoved into his chest, and she explained that Eddie had found something big and needed to borrow her tools to excavate. She was cleared of any suspicion pretty quickly, and the investigative team made their way across town to check out the dig site.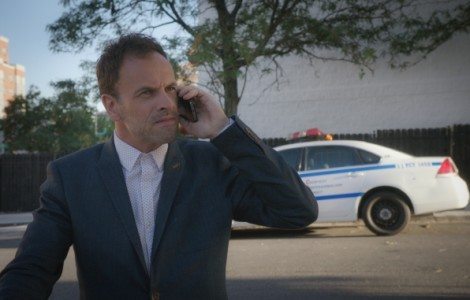 Lucky for them, someone was actually digging in it when they showed up. They pulled the guy out of the hole for interrogation and he said he was just a friend of Eddie's, and didn't know he was dead. They'd met on an online video gaming forum and had discussed searching for a mythical game stash that could earn them millions. Apparently there had been a game released in the 80's called Nottingham Knights that was so terrible, it never made it past the review copy stage.
The company which made the game ended up throwing them all into a landfill somewhere. Due to the rarity and notoriety of the game, people across the world searched for the dump where the games had been stored. If they were to find it, they'd be able to turn around and sell the games to collectors for a steep profit. The guy they'd pulled out of the hole had thought perhaps Eddie had actually found them but had no clue about who would have wanted to kill him.
Since Alfredo had come looking for Sherlock, Sherlock went to find him. They had a little talk about the situation. Sherlock wasn't avoiding meetings, and he certainly wasn't avoiding Alfredo as a whole. Rather, he was avoiding old meetings and old faces that left him feeling like a failure. He'd been choosing other meetings where people wouldn't necessarily know him or his history. They wouldn't know he'd been clean for so long only to have relapsed. He and Alfredo were still friends, but it was hard to go to meetings with him, so he chose to go to others.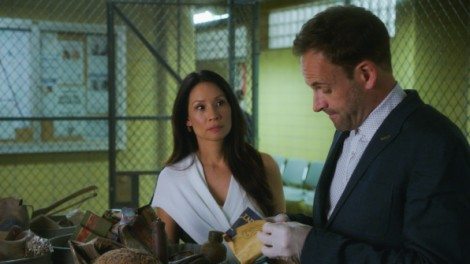 Regarding the case, Sherlock contacted good old "Everyone" to see if they could dig up the identity of another person Eddie had been discussing the games with. The online user had given him valuable information about where the games may have been dumped and they thought perhaps, in return for that information, the user wanted a cut of the profits. They tracked down the suspect, but it turned out he had nothing to do with Eddie's murder. The best part? He'd actually already found the stash of games, and had been slowly selling them off for years. The information he'd given Eddie had been a red herring to throw him off the scent.
Set back to the very beginning of the case, Sherlock was out of potential leads.
He went to a meeting to get his 30 day chip and talked with a gentleman who was eating a doughnut. It may have been insignificant to anyone else, but Sherlock recognized it as the same kind that Alfredo had a tendency to bring to meetings. His theory was confirmed when he found the box, and he realized that Alfredo had gone to the meeting which had been there before the one Sherlock was attending.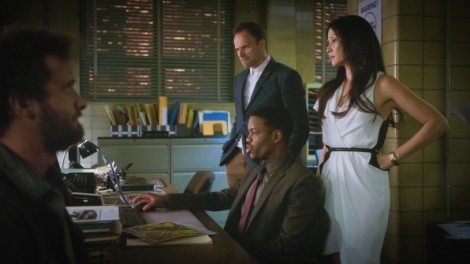 When the video game leads ran cold, they tried to figure out other motives for the murder. They were led straight to the owner of the property where Eddie had been digging. Perhaps it didn't have anything to do with the video games, and everything to do with something else Eddie had found buried in the ground.
A chemical company, Corrigan, had been known to dump chemicals and the site where Eddie was digging may have been one of the places where the chemicals were illegally dumped. They followed the trail back to the company who had bought out Corrigan, and a representative explained that they would have nothing to lose or gain from the discovery of the chemicals. It wouldn't reflect poorly on them because the courts consistently ruled in their favor since they had bought out Corrigan and were not responsible for the actions of a previously immoral company.
Since that trail ran dry, they followed it back to the building owner who had an alibi for the night of the murder. Yet with some investigating, they figured out exactly what had happened. The owner of the property had been worried that the discovery of the chemicals would leave him responsible for paying for the cleanup. Since the company that bought out Corrigan wouldn't be held responsible, it would be his money on the line. On top of that, he had just recently lined up a buyer for the property, and the deal would go south if it was revealed that there were hazardous chemicals in the ground.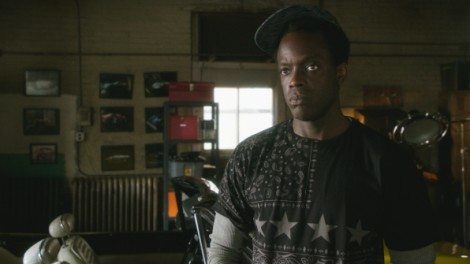 They wanted to bury the chemicals and kill the only person who knew about it. Sherlock and the team linked the building owner to another arson-for-hire case and finally arrested him once they were able to track down the arsonist in question who admitted he'd been hired to kill Eddie. The case was quickly resolved.
Sherlock approached Alfredo once again at the end of the episode and asked him how he was. He'd realized that Alfredo knew Sherlock hadn't been attending any of the meetings in any one location because Alfredo had been. He'd picked up his meeting attendance, which to Sherlock was a sign that perhaps Alfredo wasn't doing well with his sobriety. They discussed their roles and their friendship and Sherlock stepped up to try and support Alfredo just like the other man had supported him.