Synopsis of 4×05: Oliver calls in a favor from an old friend, John Constantine, when things with Sara take a turn for the worse.
Rating: ?????
Constantine, John Constantine, breathed some new life into Arrow's fourth season and did what all great cameos should do, it tied up some nice loose ends with a flourish of fresh style. After the inclusion of the Lazarus Pits, the proverbial magical gates had opened up for the show, allowing a replenished source of stories for the show to pull from.
And while some might have balked at the idea of bringing a character back from the dead, one killed in the previous season to essentially start the entire plot of the season, Arrow managed to do this without too many snags. We've known for a while that Caity Lotz would be returning to the DCTV universe in some form or another; her casting on Legends of Tomorrow cemented that, but with the new moniker of The White Canary, a lot was left up in the air.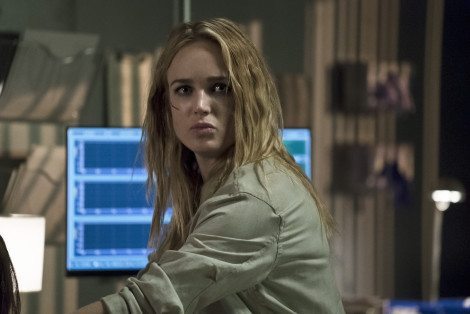 Sara Lance's story took a sharp turn as Laurel's knowledge of the Lazarus Pit, plus the lack of closure she felt after Sara's death, lead her to take drastic steps. Sara's reanimation was never going to be a smooth road. We know enough from Thea's own run-in with the Pits that this was a dangerous and rash decision. Sara's road to recovery in the episode brought about a strong tie-in to Laurel's relationship with Oliver—which had also been in a bit of a limbo—and it gave the show the opportunity to bring in John Constantine.
I'll admit the addition of John into Oliver's past felt forced, then again who hasn't been to Lian Yu at some point or another in this universe? But Matt Ryan's charismatic character jolted the island's story back to life, sending John and Oliver deep into the woods in search for a grimoire.
The story on the island serves merely as a catalyst, giving us a reason as to why John owes Oliver a debt and will come to his aid when they realize they have to save Sara's soul. Honestly, the island flashbacks have started to feel overdone. After four seasons, I think I'm done with them. But this episode was a good example of just how good a flashback can be. Meeting John, seeing Oliver save his life, watching as John gives Oliver the tattoo on his torso—these were all the barebones needed to support the main story.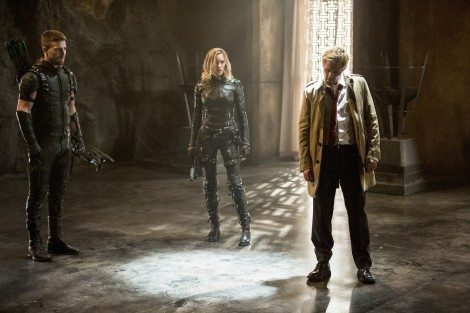 Constantine's appearance wasn't the only great thing about this episode. We finally got some much needed development between Laurel and Oliver. The two have been dancing around one another since last season, and now with the Sara issue coming to a head, we got some movement in their relationship.
Oliver's public life running as mayor threatens his relationship with Laurel, who his campaign advisor suggests is a constant reminder of Oliver's past as a party boy. The thought of Oliver essentially rejecting one of his oldest friendships for something like the position of mayor seems outlandish. Not only did he once love Laurel, but they are still close and my god, he fights crime with her.
But he isn't considering this out of the blue. The two have been on outs for a while, and the very fact he's even considering this is indicative of how far their relationship has fractured since Laurel became the Black Canary. It all culminates to a standoff between the two where Laurel simply states that he doesn't have respect for her. To some extent, she's right. Somewhere along the way, despite the teamwork and proving themselves, Oliver decided he was on a different plane than his team. He's done this with Thea, with Diggle, with Roy, with Felicity, and now he's doing it with Laurel.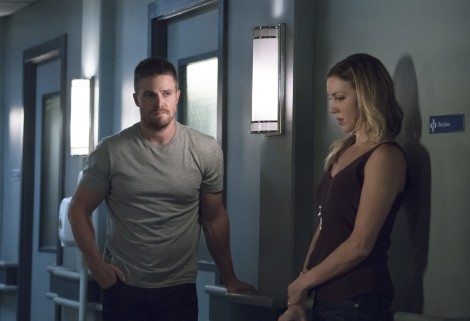 The idea of him taking it all onto his own shoulders also comes with the territory of "this is still about me, this is still my fight and I'm letting you in on it". He's grown, but he hasn't exactly gotten rid of that chip on his shoulder. Oliver hasn't accepted yet that in his absence, they've been saving the city with just as much gusto as he has and were probably doing it better. He hasn't accepted that Laurel has taken her place as the Black Canary—that she isn't just Laurel Lance.
This episode mended a huge bridge between the two. It allowed Laurel to get Sara back, and mend her broken family, and it allowed Oliver and Laurel to fix (some of) their giant trust issues with one another. Laurel confronting Oliver was exactly the kind of jolt he needed to remind him who his friends are and who he should be keeping close to him.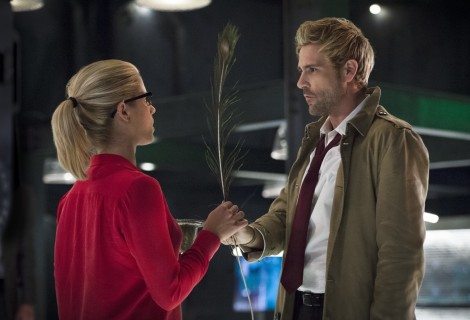 Ultimately, it was a crowning achievement to bring Constantine back onto the screen and do it so smoothly that we definitely wish that he didn't have to go so soon. After his short-lived show, we can only hope that this isn't the last we see of our favorite Hellblazer. He even seems like he knows a bit too much about Damien Darhk; all information we could use given that Darhk gains more and more power with every episode. His small arc with Captain Lance and Diggle filled in some gaps about Diggle's brother and why he was assassinated. But like every good twist, it leaves us with more questions than answers.
And speaking of Legends of Tomorrow, now that Sara's saved, we've got to get our focus back on a certain Mr. Ray Palmer, who, as we learn from Curtis's hardwork, is still very much alive.