Synopsis of: The team gets much more than they bargained for on a trip to an off-grid secessionist town. Weller confronts Mayfair about Daylight. Patterson has relationship issues.
Rating: ★★★★★
Finally an episode that made some great use of the secondary characters! After Mayfair continually stonewalls Patterson about the FBI case that's tattooed on Jane, Weller goes to ask her why. She tells him that Guerrero, the man the case is about, used to be an informant to the FBI and she was his handler. She says when he turned on them and killed a whole bunch of people before going missing, it was a bureaucratic nightmare and a big embarrassment for FBI brass and for her, and she doesn't want anyone digging it all up again. He's pissed, pointing out that the track record of significant and political conflict Jane's tattoos have uncovered make refusing to run this down ridiculous and potentially dangerous. She tells him to go away.
Meanwhile, Jane's hidden stenography tattoo from the last episode is decoded, leading to an address in Michigan. It turns out to be an area controlled by well-armed and dangerous anti-government people. They turned on capitalism and American society after being forced to turn to illegal gun-running to keep their town afloat when the government would do nothing. Weller and the team tell the sheriff of the next town over that they're investigating a cold case and can't reveal any leads (rather than explain the tattoo situation). He tells them it's their funeral, and even the cops don't go anywhere near this place, especially because it's a dead zone – no internet or cell service whatsoever.
When they get there, lo and behold the very first person they run into, is Guerrero!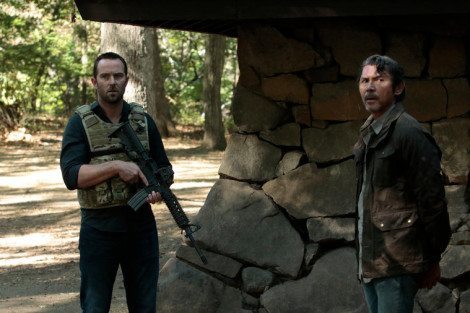 Apparently, he's been hiding out there all this time. Thanks, tattoo fairy. They arrest him, but when they get back to their SUV, the tires have been slashed. And also lots of townspeople with automatic weapons are pouring out of the trees. You know, those minor inconveniences. The team, with an annoying Guerrero in tow, take off on foot through the woods. Jane recognizes a landmark from one of her tattoos, and it leads them to a major weapons cache, and a map that completes another of her tattoos. This map leads them to a helicopter which Jane, as it turns out, can fly. They book it out of Michigan with Guerrero.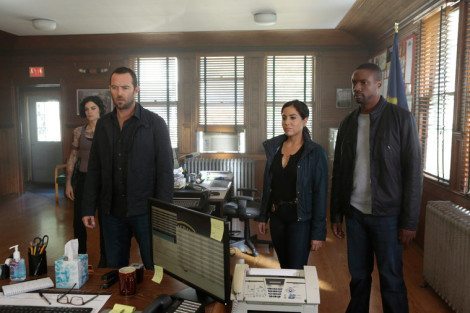 Elsewhere, Mayfair catches Patterson and her boyfriend David working on Jane's tattoos together (I'm honestly still not sure how she just happened to find them? Presumably she tracked Patterson's phone, but she really had no reason to at the time.) They get in trouble with a capital 'T' and Patterson nearly gets fired. Mayfair lets them off the hook, but it was all too close to home, and Patterson breaks it off with David. Before all the hullabaloo though, they managed to use yet another tattoo to track down a particular book in a particular library and discover someone(s) have been using it as an analog way to communicate in code, circling different letters on different pages. It's big, whatever it is. And it's the most elaborate tattoo solve to date.
Back at the base, Weller watches Mayfair question Guerrero and realizes they've never met before. He calls her on her story and she promises to tell him something only three other people in the world know.
Like I said, this episode actually focused relatively little on Jane and Kurt. It was about Mayfair's secrets, Patterson's struggle with a job that she loves but "takes all of her," leaving no room for a "normal" life – something reflected to varying degrees in all the characters. We got a lot of fantastic Reade/Zapata banter (my favorite) and a great scene where Jane and Reade are left alone to watch Guerrero and are forced to bond. Their relationship has been strained from the beginning, and this was a lovely moment of open trust – the first we've seen between them. It was subtle too, there was no big declaration or near death experience, he simply stops her on the way to shoot some people and says "I got you". That's it. And that's all that was needed.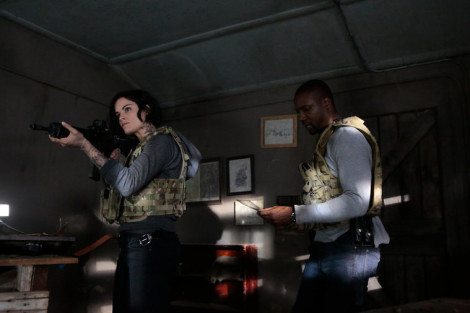 Presumably, whatever DaVinci Code nonsense is going on in that book, has something to do with Operation Daylight, which has something to do with Guerrero. It seems likely that Guerrero is innocent, and probably former CIA. But that's just me.