Secret Coders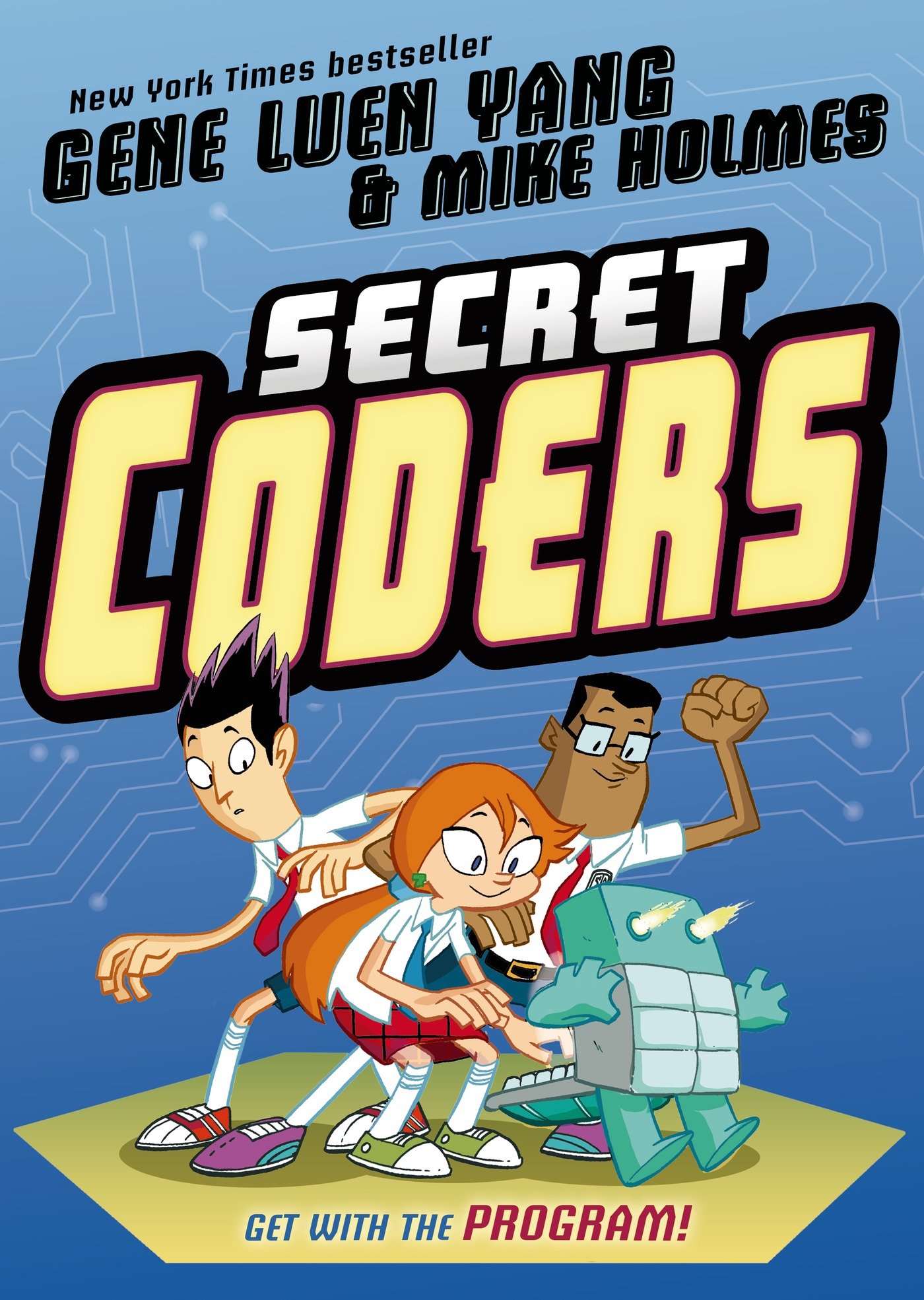 Author: Gene Luen Yang
Artist: Mike Holmes
Series: Secret Coders #1
Release Date: September 29, 2015
Publisher: First Second
Genre(s): Middle Grade, Graphic Novel, Coding, STEAM
Rating: ★★☆☆☆
Review Spoilers:  Low
GoodReads | Amazon
I wanted to love Secret Coders. I really did. I love the idea of STEAM programming in general and when I was working in community programming I tried to focus a lot of programs around the idea of getting kids excited about math, science, and engineering. More recently, teaching kids the basics behind coding has become a new educational initiative. Secret Coders is a book that takes that idea to heart and tries to make coding fun.
Telling a story like this in graphic novel format was a fantastic idea. Coding, after all, is often something you are going to learn best by seeing examples. Secret Coders follows a young girl named Hopper who attends a new school called Stately Academy. There are many unusual things going on around campus and she and her new friends become determined to discover the secrets behind their strange school.
Obviously the book is meant to try and subtly teach kids about coding but it's not entirely subtle about it's educational aspects.
The book gives readers a number of puzzles to solve in order to move the story along. The puzzles aren't too complicated and are meant to slowly introduce readers to coding. However, the book has a few moments that become almost condescendingly similar to old school Blue's Clues episodes. It doesn't really seem necessary to prompt kids to try and sort the puzzles out themselves. They'll either want to do that or they'll read on and see how the characters solve them and learn that way. Adding in the prompts effectively ruins the 'secret' that this is meant to be educational.
But, honestly, I can forgive that.
My biggest problem with this volume of Secret Coders is that it doesn't tell a complete story. It ends on a cliffhanger and that is incredibly frustrating especially when you're trying to get kids to work for the story. It's unfulfilling to go through the book solving problems only to get no real resolution in the end. Kids deserve some sort of pay off and I thought that in that regard the book failed them.
Is Secret Coders a good idea? Yes, I think it is. I think that this book has come closer to embracing STEAM principles without coming off as too preachy than the majority of comparable books on the market. And I absolutely love that the main character is female. We can't have enough empowered, brainy heroines. But ultimately Secret Coders fell flat and felt very unfinished in the end.
I love Gene Luen Yang and I love First Second Books. So I have a lot of hope that this series could get better. But until another book in the series has come out to give readers a more satisfying end to the story – or at least continuation of it – I'll have to recommend readers pass on this one. I'd hate for other readers to end up frustrated by the lack of any sort of real pay off at the end. Check back on this series when the second book releases in 2016!


A review copy of Secret Coders was provided by the publisher via NetGalley in exchange for a fair and honest review. Nerdophiles was in no way compensated for this review. Our opinions are ours and ours alone.