Synopsis of 2×05 Galavan tasks Penguin with burning down several Wayne Enterprise buildings, which gives birth to a new Firefly. Gordon and the strike force attack Penguin's finances. Bridgit and Selina go on the run after killing a cop.
Rating: ★★★☆☆
There's a weird divide throughout "Scarification" between the super heroic haven Gotham City will become and the pulp-crime-ridden city it is in Gotham. On the one hand, there's a host of gang-related plot developments here but there's also a ridiculously-campy superstore for crime and an eyeball scanner that feels like they would be right at home in any number of today's Batman comics. It adds up for a little bit of a mixed bag but it's also probably the best this show has been all season.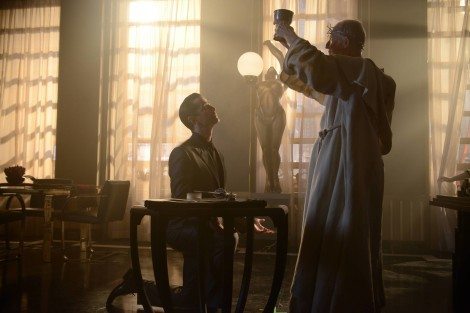 "Scarification" has the same problem a lot of Gotham episodes have had this year. There are a lot of characters with less than compelling motivations, a focus on a handful of characters who seem entirely superfluous to the narrative and a lack of care for life and death that seems at odd with the show's sense of heroism and self-sacrifice. Still, there's at least a feeling of the show starting to come together. There's a focus on the corrupting nature of crime, the way just a taste of illicit money and power can drive a person to become what they never thought they were capable of. In a show that has always claimed to be about the way characters and a city evolve to become one of the darkest places in the DC universe, it's interesting to see that transformation in a personal way.
Theo continues to push Penguin to complete his plans for ascension but the kingpin of crime is starting to bristle under the authority. He wants to bring Galavan down and while he hires a group of arsonists to complete his assignments, he's more interested in figuring out Galavan's motives. This is complicated by the GCPD focusing their investigation on Penguin by targeting his wallet and, effectively, making Penguin even more desperate but he catches a break when he's able to identify a relic's importance to both the Galavan and Wayne families.
Canny Batman fans will recognize the allusion to the Wayne family's less-than-savory past as a mishmash of a host of Batman stories, none-more than Grant Morrison's "The Return of Bruce Wayne," "Batman RIP," and "Batman and Robin Must Die!" I've never been the biggest fan of casting the Wayne family as villains partially because Morrison's own stories tend to regard those historical events at least partially as elaborate set-ups by a cadre of multi-millionaire supervillains including, maybe, Satan himself.
Now, I don't think we're going to be getting references to the Black Glove or Dr. Hurt in Gotham partially because I'd be genuinely surprised if anyone writing this show has read those stories but there is an appeal to having a gnarled root in the Wayne family tree. In the same way, I like the idea that Galavan's plot ties him to Bruce as well as Gotham's darker history but his plot is still dramatically inert.
Theo's rapidly become the least exciting part of this show, at least partially because he's not a particularly convincing mastermind. His attempts at manipulation are so transparent but, somehow, way too complicated and full of holes, that it's not particularly satisfying to watch him roll-over Gordon and Cobblepot. He's just dull, wearing the same shit-eating grin regardless of whether he's winning or losing. He doesn't seem afraid or surprised or even, really, human. Even the moments with his father, where it's clear he's supposed to be a triumphant, evil, would be killer, he acts like a computer, talking in the same idiotic chess metaphors you've heard a million times before in a million better shows.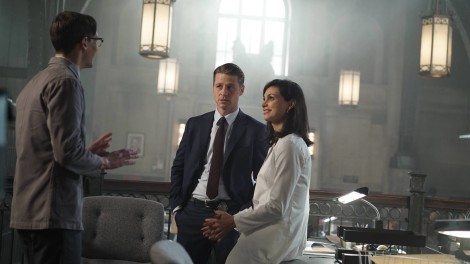 It's weird to have Gotham fail in continuing to make Galavan a compelling villain after having so much time to establish who he is and continuing to add more and more detail into his motives and plans. However, it's exciting to see the show finally begin to build Gotham City's setting and minor characters and the way it establishes a new Firefly here is interesting and genuinely the most compelling thing Gotham has done this year.