Release Date: October 23, 2015
Cast: Vin Diesel, Elijah Wood, Rose Leslie, Ólafur Darri Ólafsson, Julie Engelbrecht, Michael Caine
Directed by: Breck Eisner
Genre: Action, Fantasy
Surprisingly, The Last Witch Hunter is not based on a comic book or novel series. A Constantine-like (2005) supernatural action movie, The Last Witch Hunter substitutes demons for witches and seems to have a lot more action. The film follows Kaulder, played by Vin Diesel, as he attempts to save humanity from the wrath of witches.
We get more glimpses of what the movie has to offer as Summit Entertainment has recently released two new clips and a preview featuring Ciara's cover of "Paint it Black." All three promos tease us with some awesome effects and action.
"Wake Up" Clip
The immortal Kaulder [Vin Diesel] is in a trance between the past and present due to a spell, while battling an evil warlock enemy.
"Trouble" Clip
Kaulder performs a spell to reveal hidden dark magic to Dolan 37 [Elijah Wood].
"Paint It, Black" by Ciara
Summary: The modern world holds many secrets, but the most astounding secret of all is that witches still live amongst us; vicious supernatural creatures intent on unleashing the Black Death upon the world. Armies of witch hunters battled the unnatural enemy across the globe for centuries, including KAULDER, a valiant warrior who managed to slay the all-powerful QUEEN WITCH, decimating her followers in the process.  In the moments right before her death, the QUEEN curses KAULDER with her own immortality, forever separating him from his beloved wife and daughter in the afterlife. Today KAULDER is the only one of his kind remaining, and has spent centuries hunting down rogue witches, all the while yearning for his long-lost loved ones. However, unbeknownst to KAULDER, the QUEEN WITCH is resurrected and seeks revenge on her killer causing an epic battle that will determine the survival of the human race.
Thoughts: The trailer covers a lot of what we see in the latter two promos. With the "Wake Up" clip, we get a better sense of the fighting and action sequences that seem pretty entertaining. While The Last Witch Hunter and Constantine may appear to have a lot of similarities – main character with a sidekick, different "realities" effected by the supernatural, impending doom – The Last Witch Hunter definitely kicks up the action. Seeing the beginning of Kaulder's life may bring a new perspective. I had to double take a few times to remind myself I was not watching Vikings and that Kaulder is not Ragnar Lothbrok.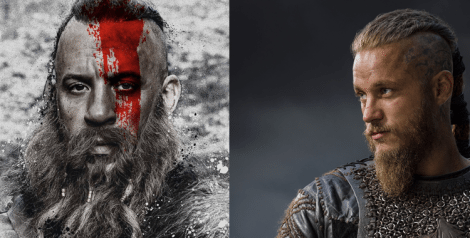 I'll definitely be more interested to see how the movie does. I was a bit hesitant at first, but after seeing more clips, I think it might not be as bad as I thought.