"The game is coming to its end."
Finally, now that Mockingjay – Part 2 tickets have gone on sale, we can watch the conclusion of the Hunger Games series. With three movies grossing over $2.2 billion around the world, most of us are in anticipation for the final chapter in the franchise. Mockingjay – Part 2 concludes the story of Katniss Everdeen, a daring volunteer from District 12, taking the place of her sister in the Hunger Games. Having survived the Hunger Games twice now, Katniss has reluctantly become the symbol of the districts' rebellion against the Capitol. In Part 2, Katniss forgoes her safety in District 13 to help liberate the oppressed citizens of war-torn Panem.
As Panem grapples with a revolution, now in the final "game," the girl on fire is not alone in her fight against the Gamemaker obstacles as her friends and the Panem citizens have enlisted in the fight as well. Peeta, Gale, and Finnick will all fight by Katniss's side as they try to achieve their final goal: taking down President Snow. They not only fight for survival but for the future of Panem.
Whether or not we have already read the books, we mostly can guess at the movie's end. Although the Hunger Games movies have always been predictable, they have proven to be heartfelt, action packed, and empowering films. Mockingjay – Part 2 not only will provide closure to the series but make up for Mockingjay – Part 1's lack of a punch. Everything Katniss and Panem has been put through leads up to this.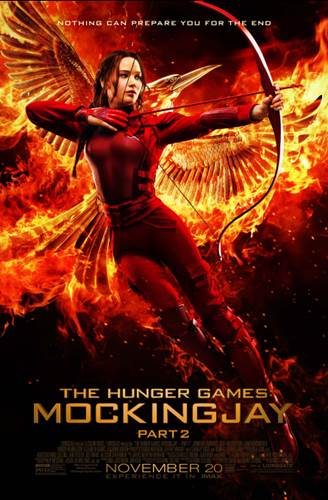 The final poster release does its best to summarize how far Katniss has come. Katniss is in the foreground, almost donning the wings of the Mockingjay in the background. Her 'flightless' stance exudes freedom and her bow and arrow – strength. Over all a great metaphor for Panem. While not a Phoenix, the flaming Mockingjay still represents a Panem in rubble rising from the ashes of destruction and tyranny.
Catch the last Hunger Games movie in theaters November 20, 2015. If you are able to purchase tickets within the first 24 hours via Fandango, MovieTickets, AMC, or Cinemark you will receive a Bonus digital download copy of the Hunger Games: Mockingjay – Part 1. Fandango users will receive an exclusive, never-before-seen clip from the upcoming film as well as a personalized, commemorative movie ticket to share online.
THE HUNGER GAMES: MOCKINGJAY PART 2 Showtime's will begin 7pm on Thursday, November 19, and starting on Wednesday, November 18, fans will have the option to screen a double feature of THE HUNGER GAMES: MOCKINGJAY PART 1 and THE HUNGER GAMES: MOCKINGJAY PART 2. THE HUNGER GAMES DOUBLE FEATURE will be a premium experience including exclusive on-screen content and premium giveaways, allowing moviegoers to see THE HUNGER GAMES: MOCKINGJAY PART 2 a full 24 hours ahead of Thursday's advance shows.