King #1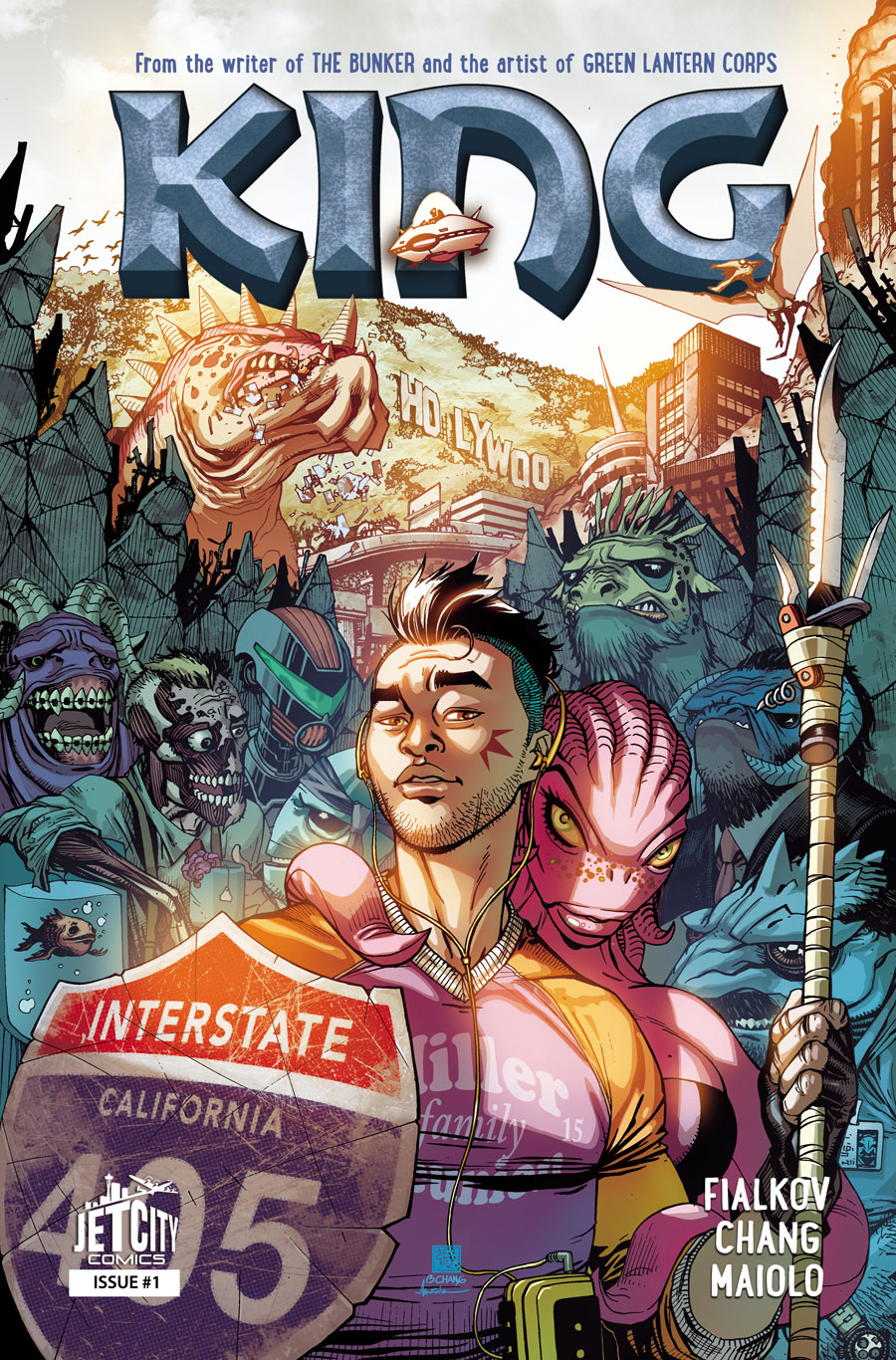 Author: Joshua Hale Fialkov
Artists: Bernard Chang and Marcelo Maiolo
Release Date: August 19, 2015
Publisher: Jet City Comics
Genre(s): Sci-Fi
Rating: ★★★☆☆
Review Spoilers:  Mild
King is the last man on Earth. He's not exactly the most stellar example of humanity but he's all that's left in a world that has in some ways literally gone to hell. California is a mess and the world has descended into chaos.
Humanity has been replaced by mutants, hybrids, aliens, killer robots, and Elder Gods. So King's position as the last human around is not really all that enviable.
There is some hope for Earth, though.
King works for the Department of Reclamation whose sole task is to track down random artifacts from the old world. One of those items? The Seed of Life. They're a rare item that could potentially reboot life on Earth as we know it.
Of course, it's not as easy as grabbing it and going. Nope. When you've got killer robot bears and evil sisters hanging out, things… are going to get complicated.
Overall, the story is pretty decent. I like the worldbuilding a lot and the crazy character designs. I just wasn't all that connected to the story. The roving band of motorcyclists and the constant threat of being eaten by your neighbors. I don't know. It was almost too comical.
Also: why does a biker gang have a price on King's head and why hasn't someone taken him at this point? I mean… he lives at a fixed address. He's not hard to find. I don't know.  Things like that always bother me.
Easily the best part of this book was the artwork. The character designs – as crazy as they are – were pretty great. I really appreciated the creativity.  It's really cool and the colors are all very bright. It kind of reminded me of Sunset Overdrive. It's a very colorful end of the world.
All in all, I'm interested in seeing how the rest of the book plays out. If nothing else it'll be interesting to see what's going on with King and his sister Queen.


A review copy of this title was provided by the publisher via NetGalley in exchange for a fair and honest review.