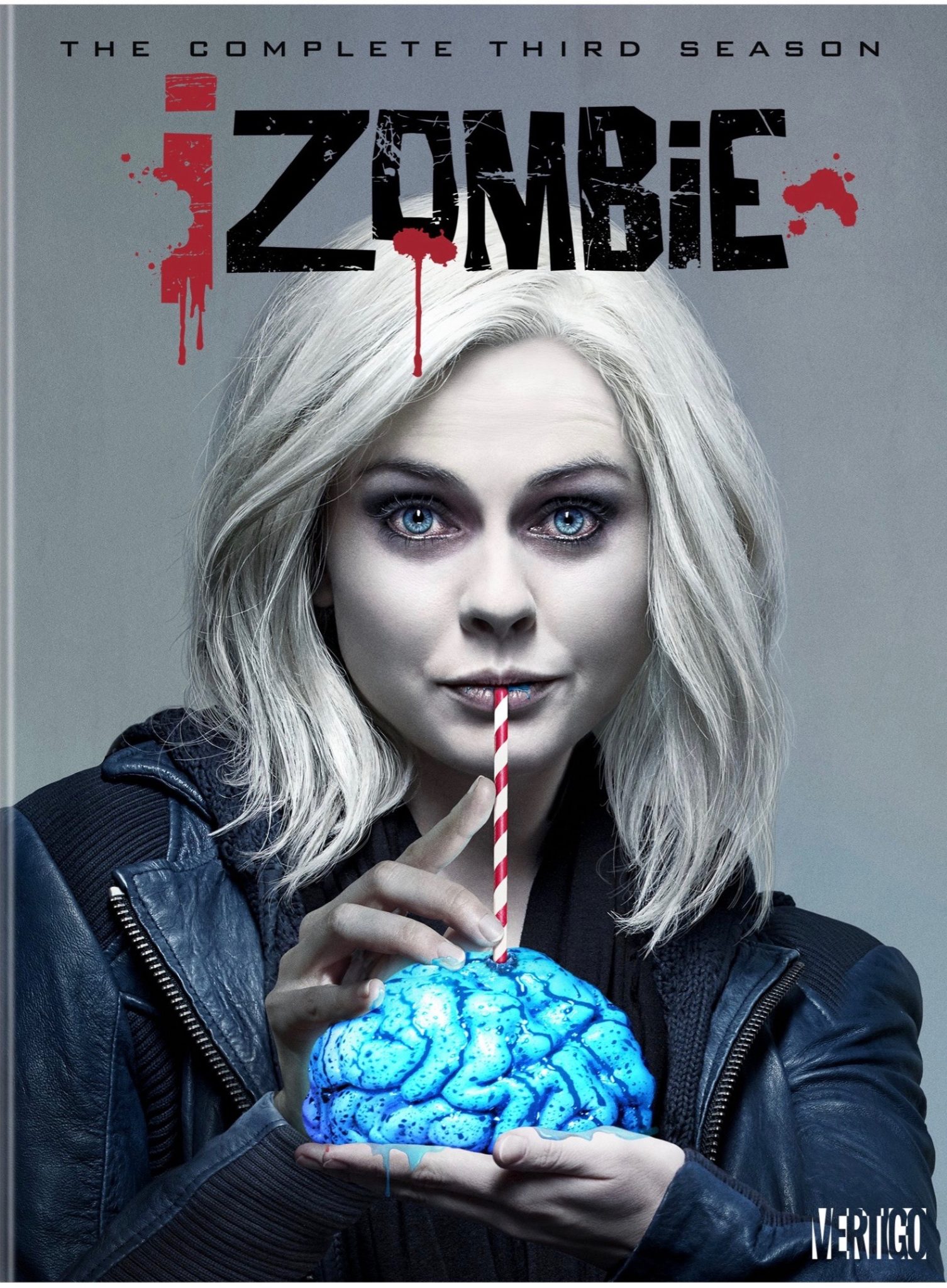 Release Date: October 3, 2017
Cast: Rose McIver, Robert Buckley, David Anders, Rahul Kohli, Malcolm Goodwin, Aly Michalka, Molly Hagan, Nick Purcha
Network: The CW
Extra Feature Rating: ★★☆☆☆
Rating: ★★★★☆
Review Spoilers: None
iZombie has been one of those interesting shows to watch because each season is so different. The writers do a great job keeping viewers engaged for the most part.
Season three of iZombie was way different than all the other seasons and I really enjoyed all the twists and turns in the plot. Well, except for one: the whole Major and Liv not being able to be together thing makes me unhappy. But that's all part of being invested in the show emotionally, right? Check out my thoughts below on the season, special features, and my overall thoughts on the entire DVD for season three.
Season Review
iZombie: The Complete Third Season DVD includes all original 13 episodes from the season along with a few deleted scenes. This season was by far the most interesting to me because we got to see more of Liv and others step out of their comfort zones. Liv discovered that there are way more zombies living in Seattle than she expected. Fillmore Graves, a private military contractor, has a zombie army on standby waiting for the day humans discover their existence and start an all out war. To be honest, I've been kind of waiting for the war to come since season one, ha!
With that said, this season, things definitely took a turn for the worse as an undercover journalist infiltrated the zombie conspiracy group and got pretty close to Ravi and wrote an article that basically exposed Liv as a zombie. This was great because it got Liv to tan and wear a wig. It was definitely nice to see her in human form.
Major finds acceptance among the military army, and begins to find his purpose in life again. He makes friends and surprisingly, Liv even dates one of the soldiers with his blessing! But that doesn't last for long because Major decides to take the cure and things get pretty interesting for him.
Liv and Clive investigate the murder of a zombie family that may set off an all-out zombie-human war. Ravi's former boss at the Center for Disease Control shows up in Seattle to investigate the Max Rager massacre. Her sudden death helps unravel a bigger cover up than anyone could have ever expected.
Blaine finds living as a human with no memory of his evil past is more blessing than curse. Peyton pulls at a thread in one of her cases that may lead to the villain that's pulling all the strings.
Meanwhile, Liv continues to take on a various personalities. There were some episodes where things were really interesting, like Liv taking on the traits of a dominatrix, a JACKASS-style stunt man, and a pre-school teacher. My favorite was Liv becoming a conspiracy theorist though, it aligned so well with everything else taking place on the show.
Special Features
The special features in all honesty aren't that special. Most of the deleted scenes feature Major searching for Natalie (zombie prostitute) and Don E building his customer base for his zombie only club. Don E's deleted scene was actually really interesting and I think it would've been cool to see him build his zombie clientele on a real episode.
The only thing that's really "special" is the recording of the 2016 Comic Con panel, which is approximately 30 minutes that fans get to indulge in, featuring most of the main cast members and two of the show's producers. Fans who haven't been to Comic Con or who enjoy watching the casts in conversation will enjoy this special feature.
Final Thoughts
Overall, the season three DVD of iZombie was pretty great. I'll never turn down an opportunity to binge-watch one of my favorite shows. iZombie: The Complete Third Season DVD will be cherished by those who are fans of the show looking to add to their fandom collection.